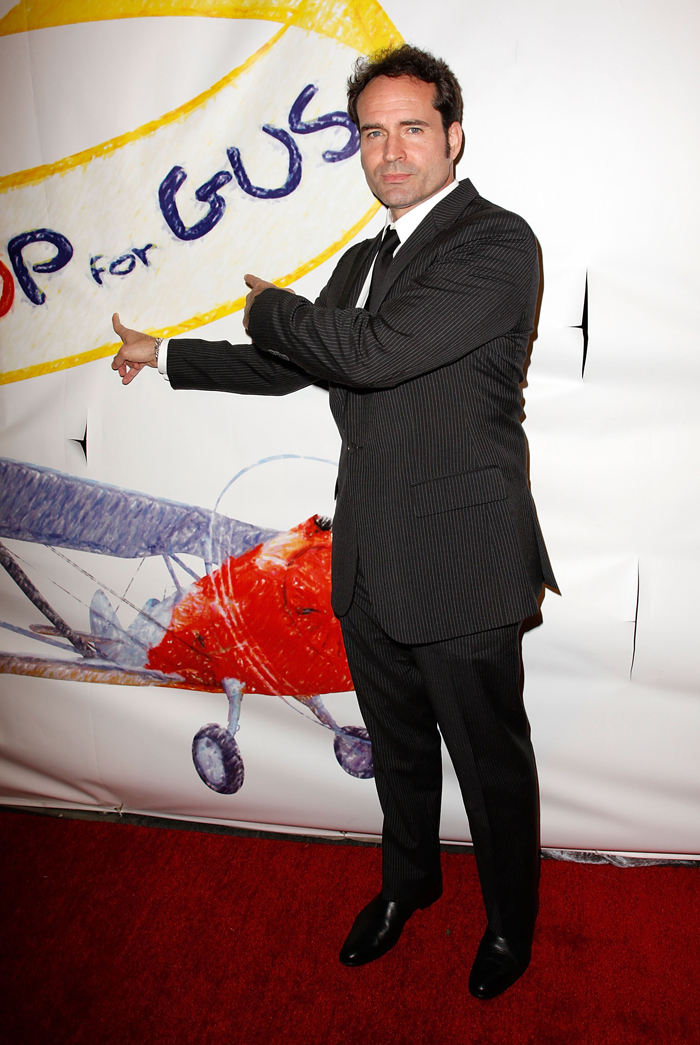 You haven't forgotten Jason Patric, have you? Dude peaked in the 1980s and will forever live on in infamy as the skeptical recruit of The Lost Boys. He also edged into gossip territory in the 1990s after he ran off with Julia Roberts while she was engaged to poor Kiefer Sutherland. That was some juicy stuff, but all parties recovered and moved onto different partners.
On a more serious note, Jason is neck deep in a very serious custody battle for his biological son. This is no cut-and-dried case because Jason is considered a "sperm donor" in the eyes of the law. Here's what happened: Jason was dating a woman named Danielle Schriber for years. They broke up in 2009. Jason then gave his sperm to Danielle. At some point, they got back together as a couple and were seen on a happy family beach trip in 2011. Then Jason and Danielle broke up, and she kicked him out of Gus' life. Jason went to court but was denied all custody rights in February 2013. Late last year, Jason made it known that he was going to keep fighting for his parental rights and was promoting legislation to grant parental rights to sperm donors under certain conditions.
Fast forward until now. Jason is seeking to change the official story. He hasn't been allowed to see Gus in over a year, but Jason says he and Danielle were very much together when he donated the sperm. He says they tried to conceive a child for years, but she could only get pregnant through in vitro. I'm pretty sure the law would be on Jason's side if he and Danielle had been married, but that's not how it went down. Here are more details:
Jason Patric insists he was not merely a sperm donor to his ex-girlfriend of 10 years, Danielle Schreiber, with whom he's currently locked in a bitter custody battle over their 4-year-old son, Gus.

"I was a willing co-parent and still am," Patric, 47, who hasn't been allowed to see the boy for one year and counting, insists in an interview with PEOPLE. "Danielle and I tried to conceive a child for three years. The only reason we did in vitro fertilization is because she could not conceive naturally. That does not make me a donor."

Schreiber, 41, a massage therapist, argues that that's exactly what Patric was. "When Jason offered me his sperm, it was under the condition that his donation never be made public and that he would not be a father to the child," she has stated. "I chose to use a known donor over a stranger, but only after I knew the law would protect my ability to make the best decisions for my son."

Patric says their relationship soured after he broke up with Schreiber in June 2012, when Gus was 2. Soon, he says, she began withholding access to the boy. After he filed a paternity case for custody a month later, a Los Angeles judge eventually ruled in Feb. 2013 he was a donor and therefore, by California law, not the natural father.

Having abandoned hope at amending the law, Patric is now hoping to win a pending appeal on the custody ruling. He's also since launched Stand Up for Gus, an L.A.-based effort to raise funds for awareness of parental alienation.

Schreiber, however, has filed a restraining order request against Patric, to forbid him from speaking about their son in public or private without her permission. A hearing is set for April 17.

"I had a loving relationship with my son and it's gone now," says Patric. "Danielle is completely erasing me from my child's life. I'm leaving a public trail so he'll know I did everything I could to be with him, that he wasn't abandoned."
[From People]
This is a heartbreaking story no matter what — and especially if Jason's side of the story is true. Jason has appealed the court's ruling that denied him custody rights. The appeal will be heard in May. Jason's new foundation, Stand Up For Gus, has created a new website for the cause. The foundation seeks to fight parental alienation under a broad brush. Jason has recorded a heartening video that he shot in Gus' bedroom:
Jason vows to "fight until I'm dead" to regain rights to see his son. The case will be heard again in May. Here are some pictures of Jason's late 2013 gala to raise funds and awareness for the Gus foundation. Matt Damon and Sarah Silverman lent their mugs to the cause. Jason really shouldn't have invited Mel Gibson, whose face doesn't help any cause.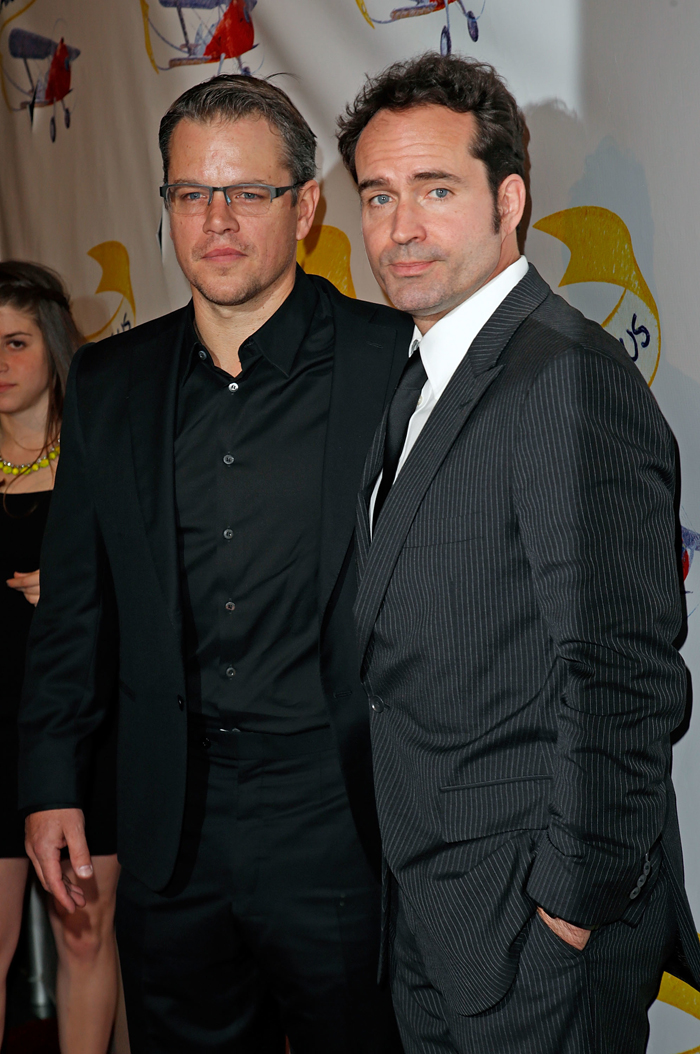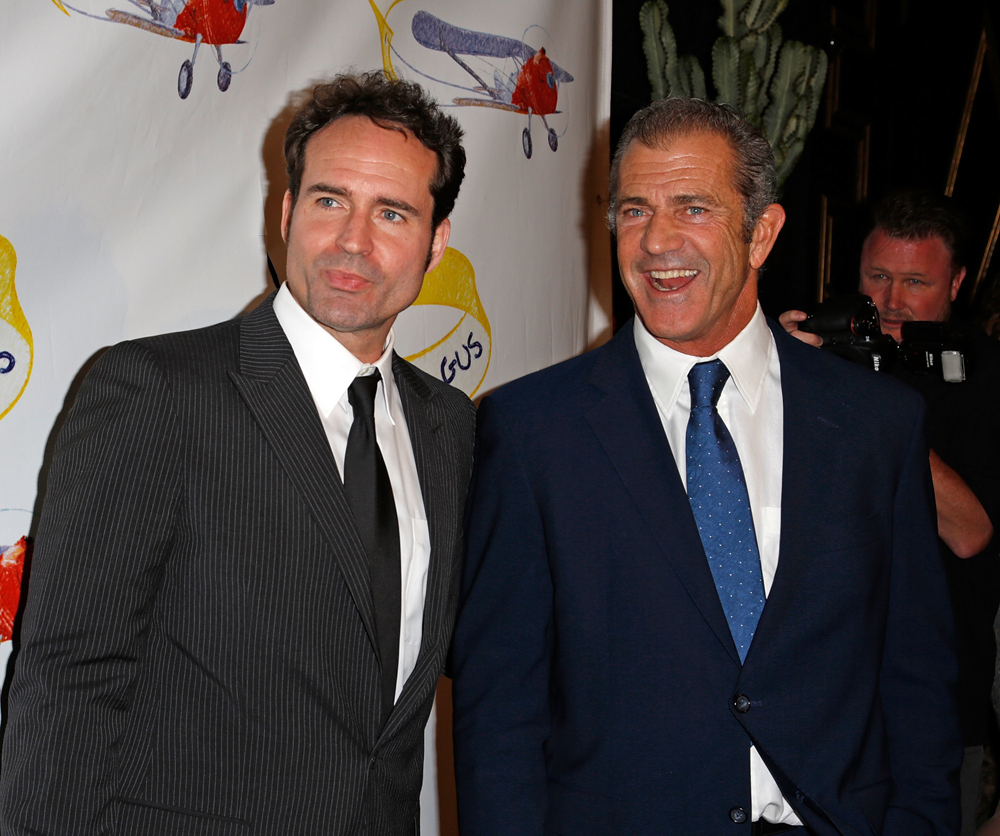 Photos courtesy of WENN