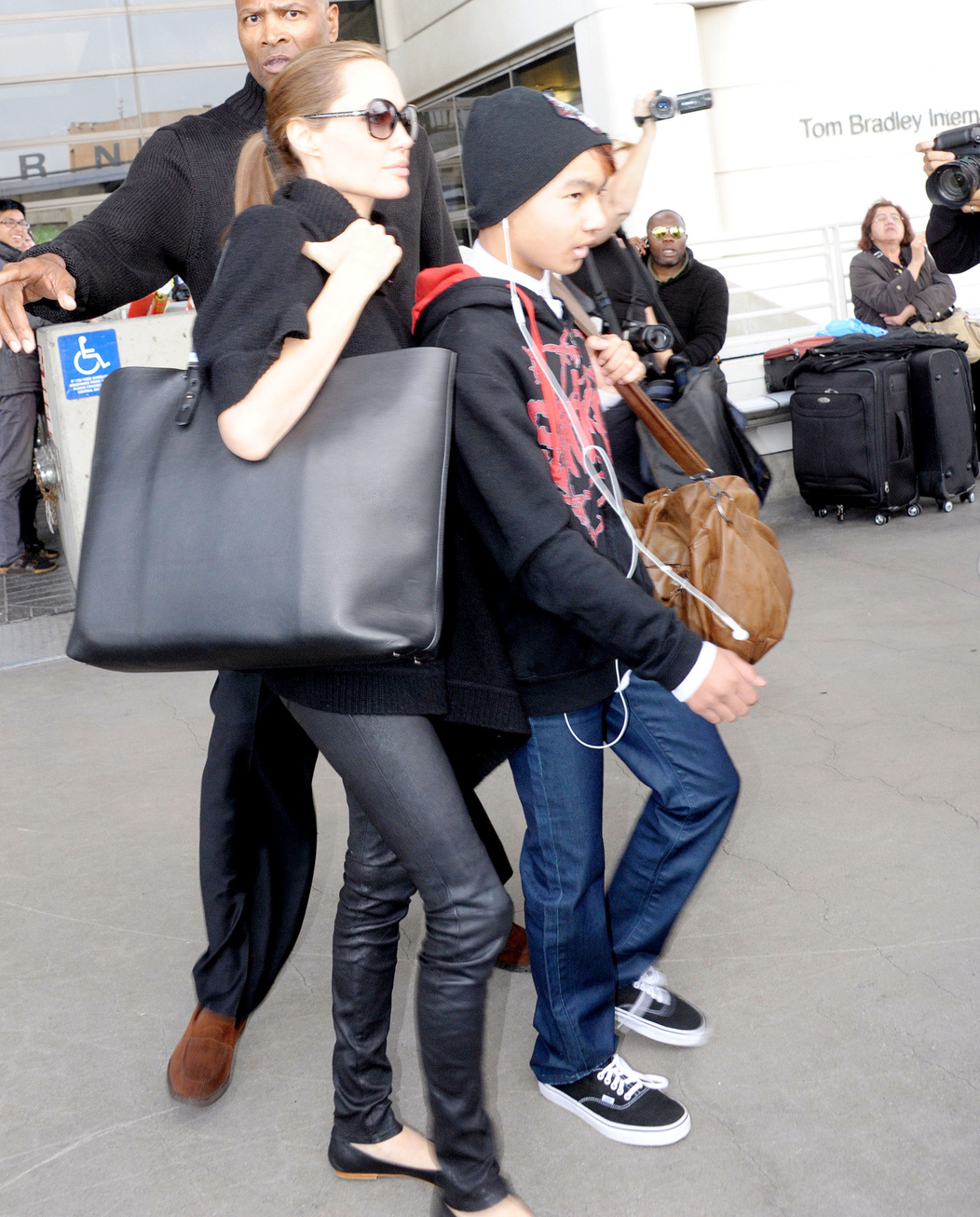 Here are some photos of Brad Pitt, Angelina Jolie and Maddox Jolie-Pitt arriving at LAX on Monday. They must have flown out of London in the wee hours Monday, right? Like, they just slept on the plane, because they were allegedly partying all night after the BAFTAs (more on that in a moment). All in all, I guess Brad and Angelina spent two nights away from the younger kids. Which… I don't know, is that something we need to get judgmental about? Especially when they brought their oldest kid to London for some alone time with his parents?
I've been wondering about the big black bag Angelina has been carrying lately – it was her one piece of carry-on luggage to and from London and it looks like she could carry half of her wardrobe in there. There's room for SO MANY sack dresses! Well, we have an ID on the bag. It's the Everlane "Portfolio" bag and it costs $425. You know what? $425 actually seems rather affordable as far as celebrity must-have bags go. Usually the "it bag" costs $990 or something.
As for their partying in London, E! News says Brad and Angelina partied with Lupita, Chiwetel and Steve McQueen. YES.
12 Years a Slave was a big winner at the BAFTA Awards on Sunday evening and the stars celebrated in style following the awards show.

Brad Pitt and Angelina Jolie, as well as Lupita Nyong'o, BAFTA winner Chiwetel Ejiofor and director Steven McQueen attended the Entertainment One's BAFTA After Party at the London EDITION hotel, hosted by Grey Goose.

Pitt and Jolie, who looked sleek as ever in their coordinated tuxedos, held hands as they walked through the crowd and chatted with McQueen, Nyong'o, Ejiofor, rapper Tinie Tempah, screenwriter Terry Gilliam and other guests. The Fury actor took off his bow tie—possibly inspired by Jolie's undone look—and the couple stayed for most of the night.

The highlights included McQueen leading a toast in front of the star-studded crowd and Tempah dancing with Nyong'o.
If you go to that E! News link, you'll see that Brad happily posed with Lupita too. Which just goes to show you that Angelina is not concerned about a possible crush between Brad and Lupita and that Angelina definitely didn't toss The Leg around and make Brad cry and run from the room. If anything, I still think that Lupita is more Angelina's type than Brad's type. I need more details from this party. I want to know if Brad discovered Angelina and Lupita in some dark corner, whispering sweet nothings to each other. And then I want to know if he cried and ran from the room.
Anyway, YAY they're back in LA. Come on, Oscar campaign. More photos! Give some interviews! Do something.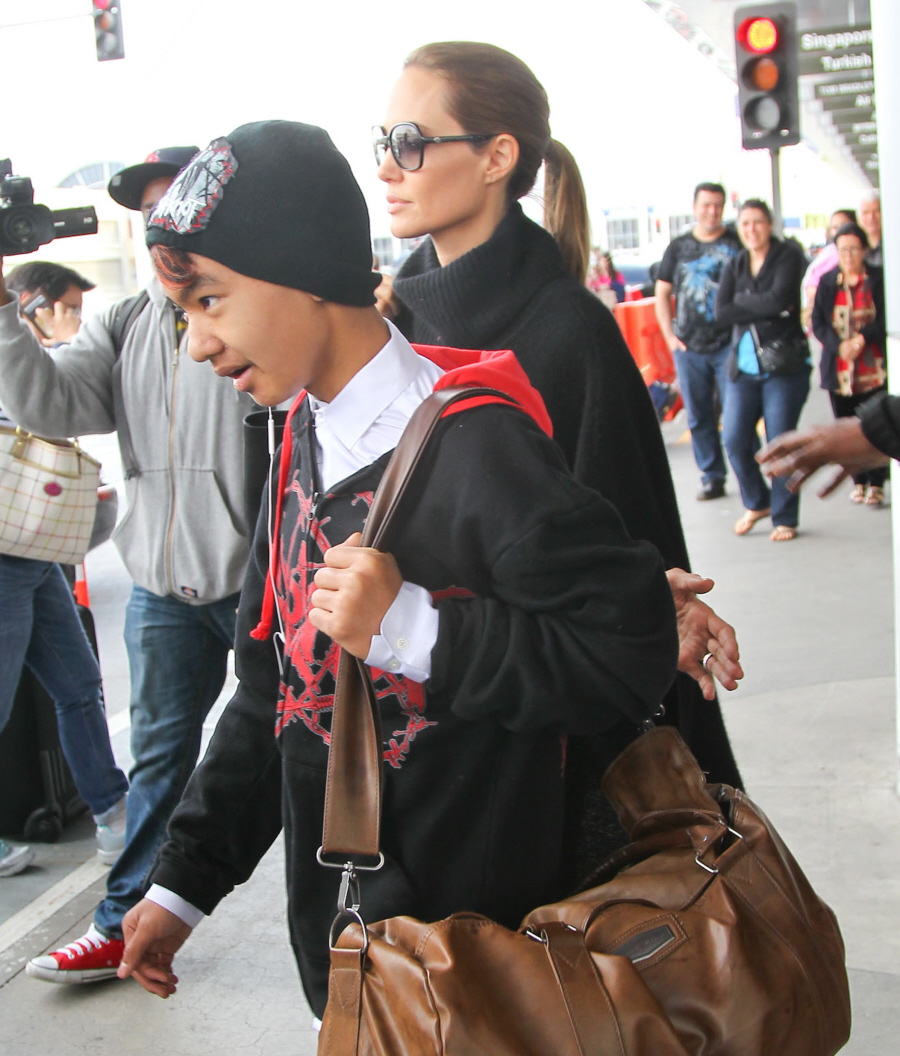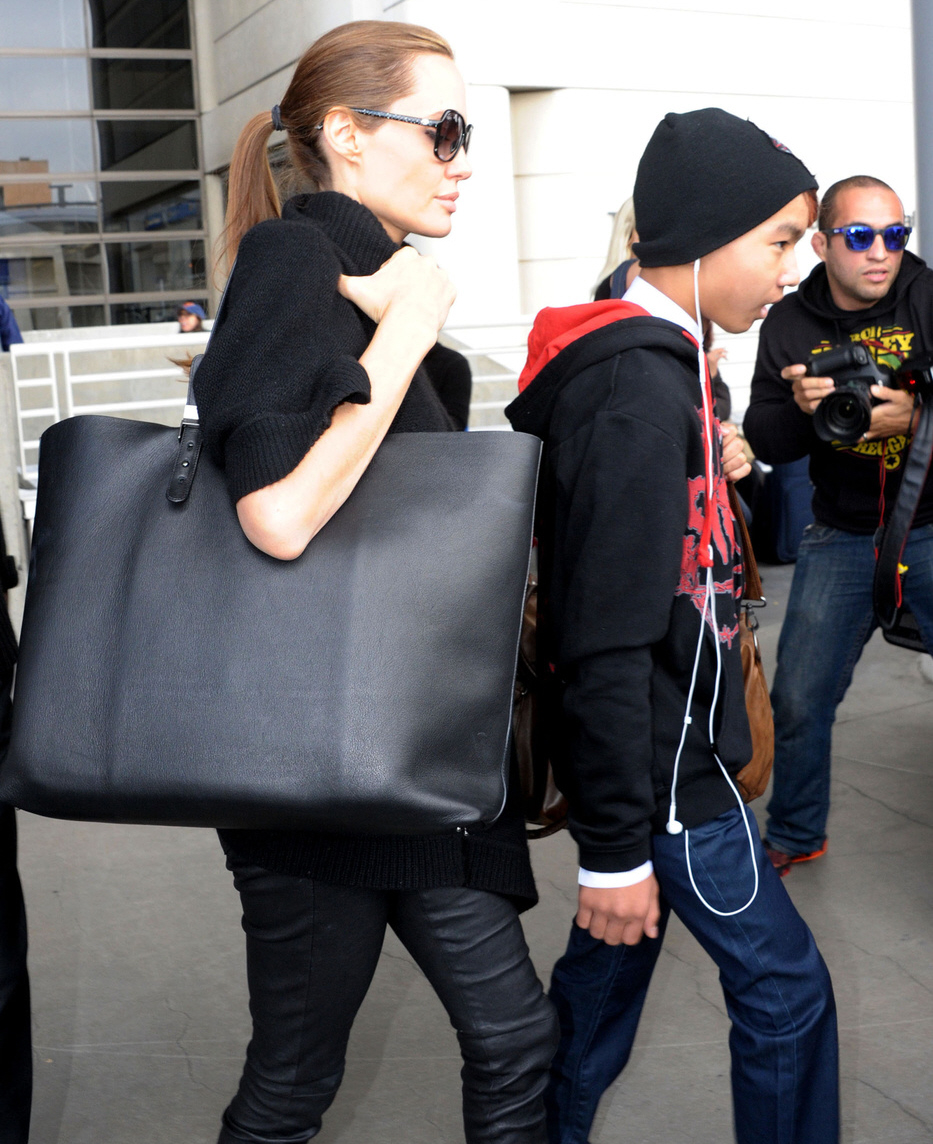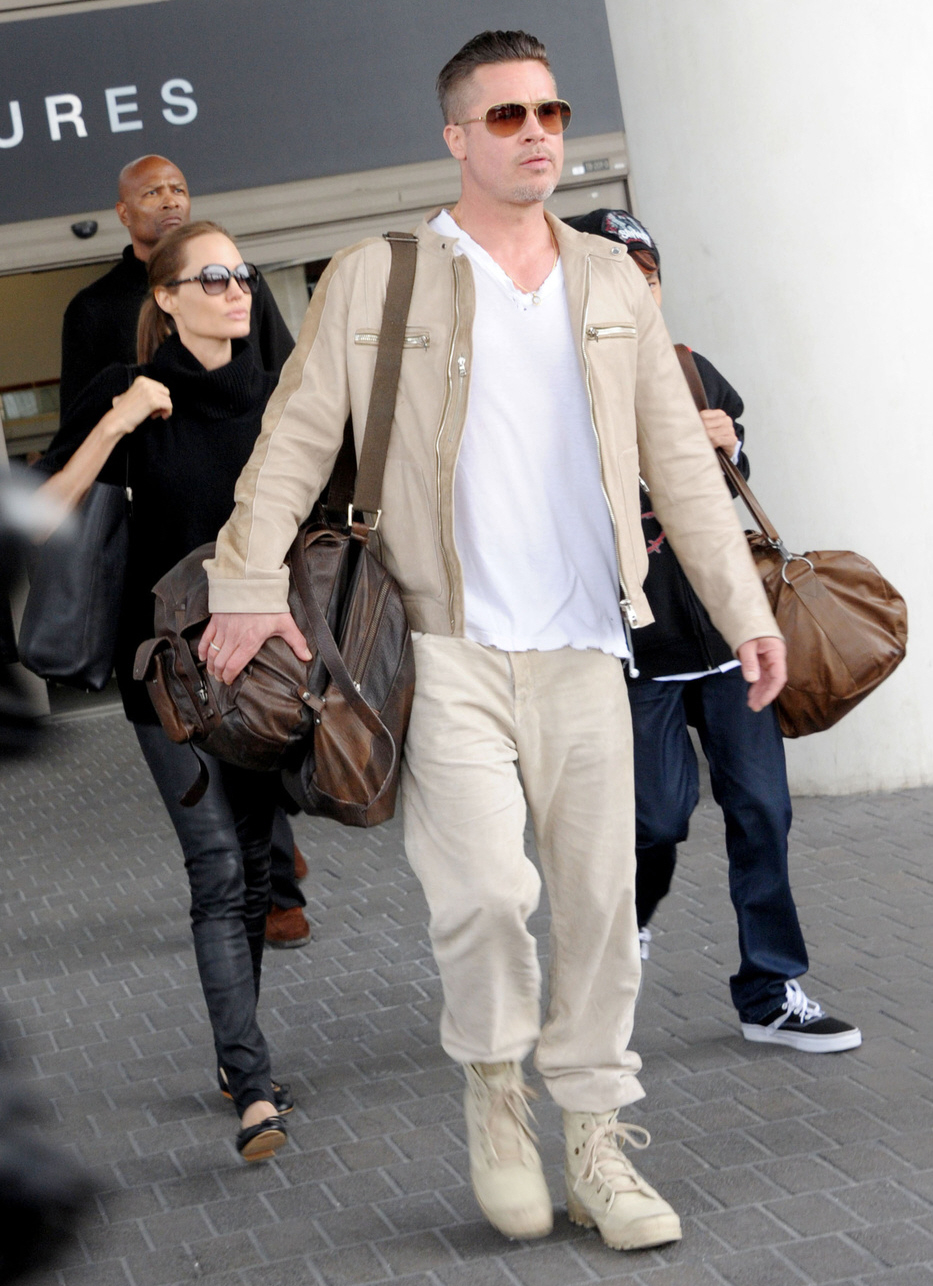 Photos courtesy of Fame/Flynet and Pacific Coast News.