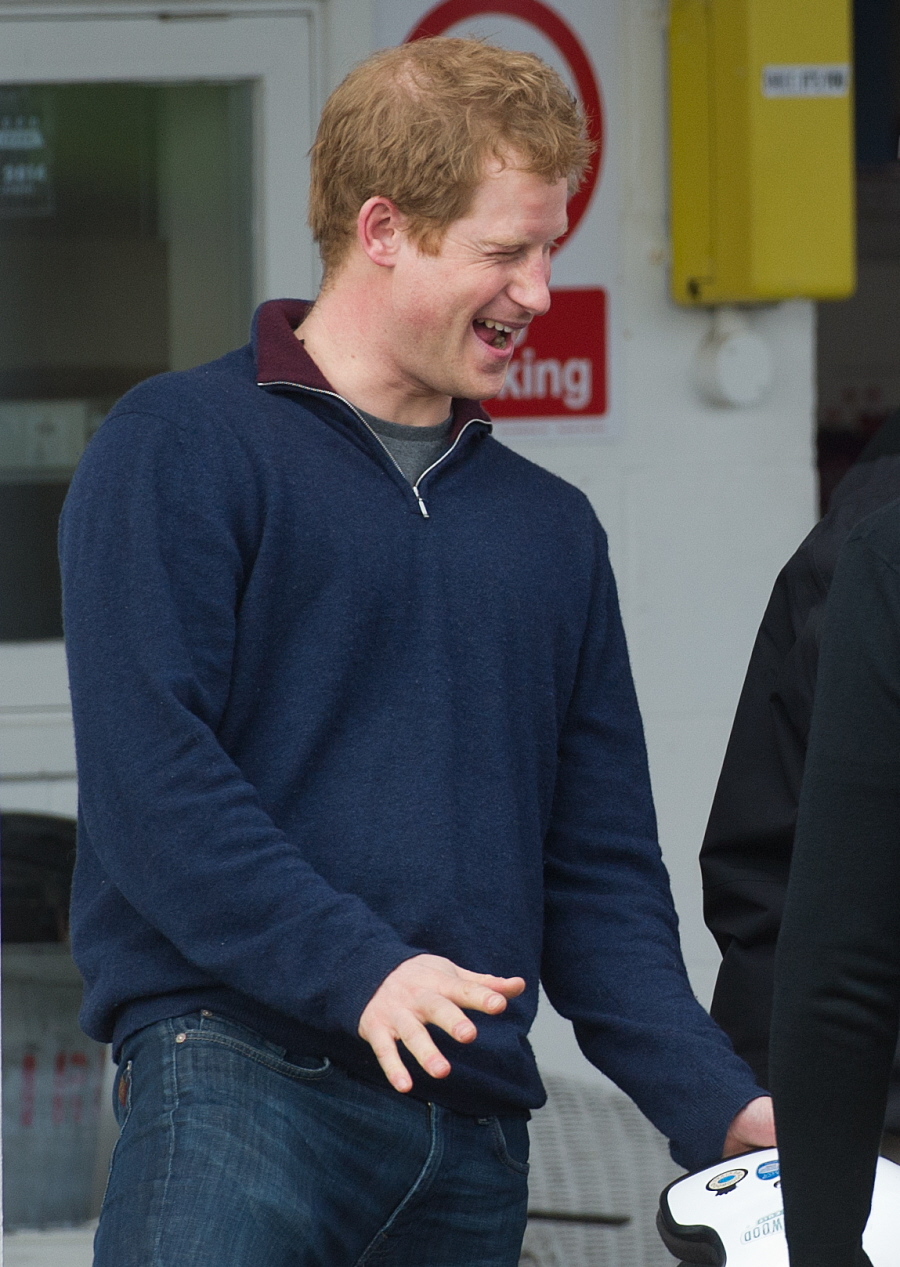 Here are some weekend photos of Prince Harry visiting the Boultbee Flight Academy in Goodwood, then trying out some cars on the Goodwood Circuit. I've read articles about Goodwood and their annual car show/race whatever. It seems like a somewhat cool thing, and it was only a matter of time before our favorite ginger party prince found his way there. I just have to say one thing about his appearance: that sweater is nice. It looks nice on him. He should wear that "jumper" style more often.
Anyway, as we've discussed for more than a week now, Prince William and Harry went on a boar-hunt in Spain a few weekends ago. Duchess Kate was not in attendance, but William's ex-girlfriend Jecca Craig was there. William got the brunt of the criticism. It was HIS ex-girlfriend and he was the one in the midst of a "gap year" to focus on conservation and anti-poaching initiatives after all. While hunting wild boar doesn't exactly run contradictory to those efforts, the optics of "going on a holiday for bloodsport" didn't look good. Well, it looks like William saw that he was getting the brunt of the criticism and magically, The Daily Mail got their hands on a photo – from 2004! – of Prince Harry crouched over the dead body of a buffalo he had just shot – you can see the photo here.
A smiling Prince Harry crouches over the body of one-ton water buffalo moments after he shot it dead on a hunting trip. This photograph has emerged less than a week after the young royal pledged to do all he could to save Africa's critically endangered wildlife. And it also follows worldwide condemnation of another royal hunting trip just ten days ago when Prince William went boar shooting in Spain.

Harry, who is also known to stalk stag, is likely to face similar attention following the publication of this picture, which has not been seen before in the UK. It was taken in November 2004, when the then 20-year-old was on a gap year trip to South America shortly before he enrolled at Sandhurst military academy.

The prince spent several months working on the El Remanso polo farm in Argentina. During the trip, he and his then girlfriend Chelsy Davy joined an expedition to hunt big game, staying at a private lodge in the province of Entre Rios. The ranch was owned by Count Claudio Zichy-Thyssen, one of the country's most powerful landowners with more than 170,000 acres stocked with game.

A firm called CH Hunting organised the shooting party. The company offers huntsmen the chance to bag red stag, wild deer, puma, antelope, boar and birds such as doves and pigeon. But the water buffalo, which can turn deadly if wounded, is the 'trophy kill' for any Argentinian hunter.

At the time, a local newspaper claimed the head of the animal in the picture, and that of a wild boar shot by Harry, were embalmed so they could be shipped back to the UK as a gift for the prince. It is not clear whether this ever took place.

A Kensington Palace spokesman declined to comment on the photo last night.

But a senior royal aide said: 'It would be a great shame if the publication of this picture were to detract from the efforts being made by the three princes to curb the appalling illegal wildlife trade. Like his father and brother, Prince Harry has always been a strong supporter of the campaign to protect endangered species.'

Speaking at a conference on Thursday, Prince Charles – flanked by his two sons – warned that the imminent extinction of some of the world's most precious species would have 'dire consequences for humanity'.

The heir to the throne told the meeting of international leaders in London that the 'appalling' illegal trade in ivory, rhino horn, tiger parts and endangered animals was 'annihilating our threatened wildlife'.

There is no suggestion that any member of the Royal Family has ever shot an animal illegally. In 1961, on an official visit to India with the Queen, Prince Philip, a former president of the World Wildlife Fund, shot a tiger at Ranthambhore, while a guest of the Maharaja of Jaipur. On the same trip the royal – once a keen big game-hunter who shot stag, pheasant and grouse until recently – killed a crocodile and six urials, a type of mountain sheep. His actions prompted widespread condemnation from British and Indian politicians. But, significantly, they were not against the law at the time.
The good news is that they had to go back a decade to find some bad stuff on Harry. The bad news is that it feels like St. James Palace – or perhaps Prince William's press secretary? – keeps a file of all of Prince Harry's embarrassments or misdeeds so they can pull one out if necessary whenever William is getting bad press.
Now, is it possible that The Daily Mail just happened to get their hands on this photo this week and they decided to run with it immediately and this is all some huge, unnecessary conspiracy? Of course. But isn't it more likely that this is just a naked attempt to push some bad press on Harry so everyone will stop yelling about Will?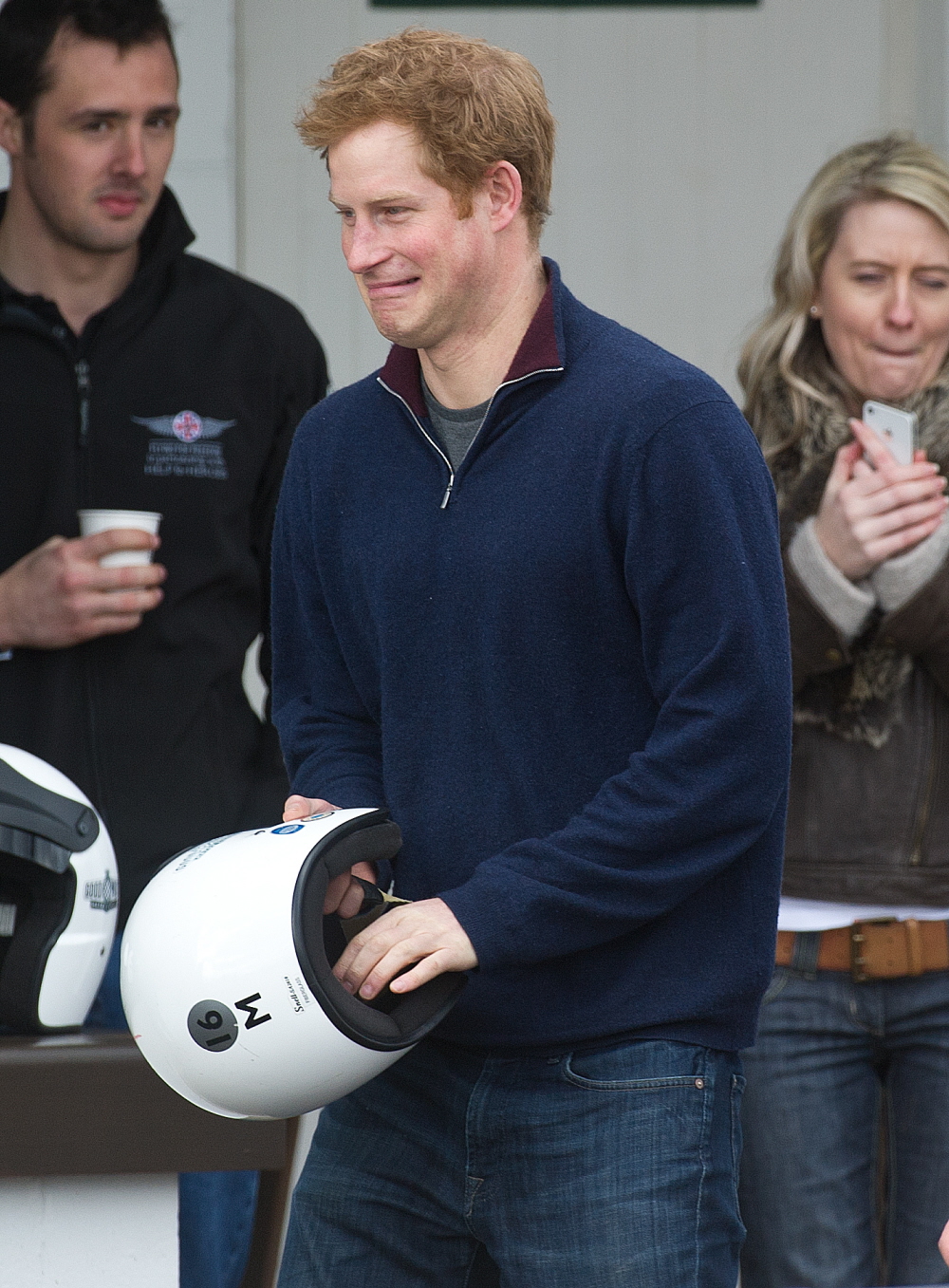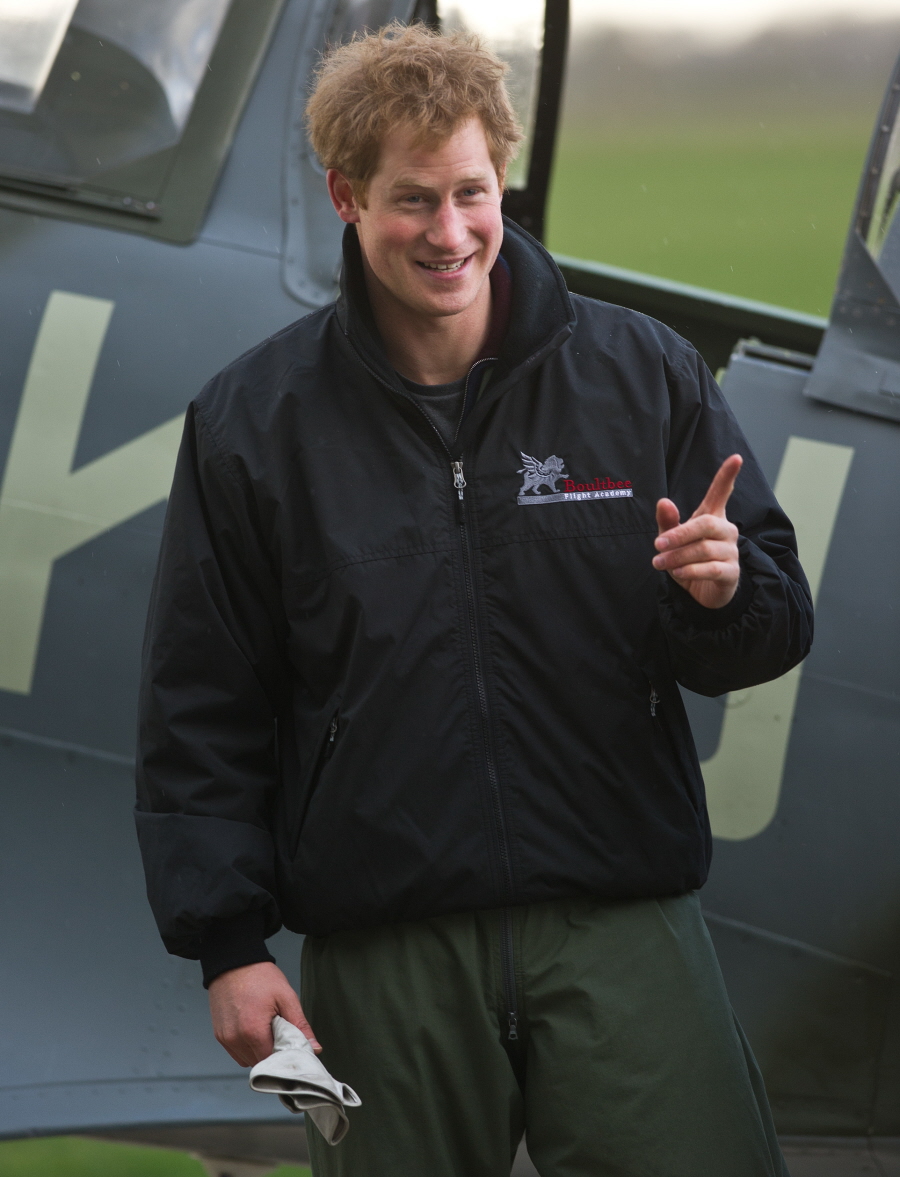 Photos courtesy of WENN.