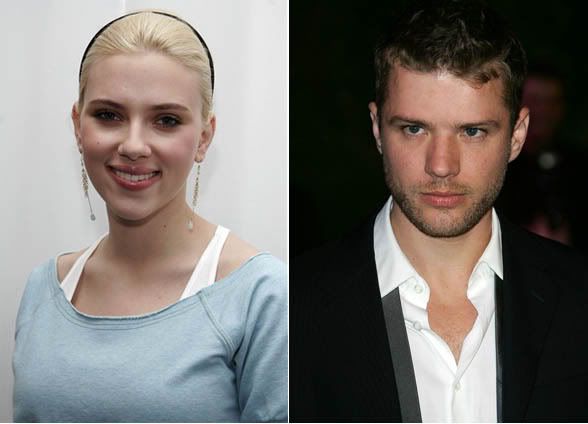 There's a rumor in this week's Star magazine that I haven't heard anywhere else that Scarlett Johansson and Ryan Phillippe are hitting it.
The scant evidence that Scarlett and Ryan are together seems to be the fact that they were both at the same movie premiere and then at a new L.A. restaurant at the same time, Parc.
A source says that The Nanny Diaries star has been quieting dating Ryan Phillipe, 32, a divorcing father of two. Still, the blonde cuties have been trying to keep their romance hugh-hush, sources tell Star.

On March 16, both attended an L.A. movie premiere but "didn't show any affection toward each other, perhaps for fear that someone would notice," says a source. The next evening, the couple hung out together at a new L.A. restaurant Parc. When it came time for Scarlett to leave, she exited with a girlfriend and "went to great lengths to conceal her face with a red coat," says an eyewitness.
[From Star Magazine print edition, April 9, 2007, via Sammie's Effluvia]
I've read a few stories about this new joint Parc and it seems like a lot of celebrities are going there. I wouldn't be surprised if they just met up randomly and then made small talk.
All of Hollywood is one big clusterf*ck, but somehow I don't think this is true. That line about how they didn't show affection was particularly laughable. Both of their reps deny it too, and Star quotes one as saying it's a "total fabrication." If they were even seen out together, it seems like the reps would be using the tried and true "friends" excuse, so it sounds like BS to me.
Ryan Phillippe was said to have hooked up with logic-challenged Ashlee Simpson a couple of weeks ago and to have gone back to her haunted mansion for a little one-night exorcism. Scarlett Johansson was last linked with Justin Timberlake.
Here are Scarlett Johansson's GQ outtakes, courtesy of TotallyCrap.com. It's really amazing how many ways a hot woman can be posed to look bored and f&**able. I think these are from a 2004 issue, but I'm having trouble finding out the publication date. Let me know if you know the date.