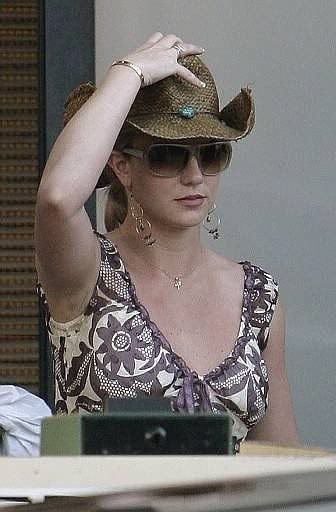 Britney Spears, who never completed her high school degree at The University of Nebraska at Lincoln Distance Education program, certainly didn't attend home economics class. Her privileged upbringing didn't give her the chance to learn basic skills that most of take for granted. According to Star Magazine, she had to be taught how to cook, clean up after herself, and do laundry. The 25 year-old mother of two even needed a lesson on how to make coffee:
The 10 Things Britney Learned in Rehab!
At Promises, Brit leanred how to beat her addiction – and so much more! "She was shown how to do things on her own, things that would make her feel like she was growing," says a source. "It's part of the rehabilitation."
1. How to do laundry
2. How to load a dishwasher
3. How to make coffee
4. How to play tennis
5. How to cook grits
6. How to iron
7. How to dive into a pool
8. How to do her own nails
9. How to make tuna salad
10. How to clean her bathroom
[From Star Magazine print edition, April 9, 2007 via Sammie's Effluvia]
It sounds like these are the skills that every rehabber at Promises is taught, but somehow I don't think that Britney was competent at any of these tasks. She may know how to do them, but whether she bothers to is another issue. I remember reading that she had to be goaded to make her bed in rehab and that she wanted to hire a maid to pick up after her. She was also said to let her various dogs poop all over her mansion without cleaning it up back when she was first living with K-Fed. It's not so much of a stretch to assume that she doesn't know how to do laundry if she can't pick up after her dogs.
Famed record producer Timbaland, who worked with Justin Timberlake on FutureSex/LoveSounds, says FutureSex/LoveSounds ">he never offered to help Britney with a comeback album, and that "People just put anything out… you know how it works."
Britney's first single is due for release in August 10th, 2007 according to the latest news from a German media firm which represents record companies. Her real producer says her latest work will be "Toxic times ten."