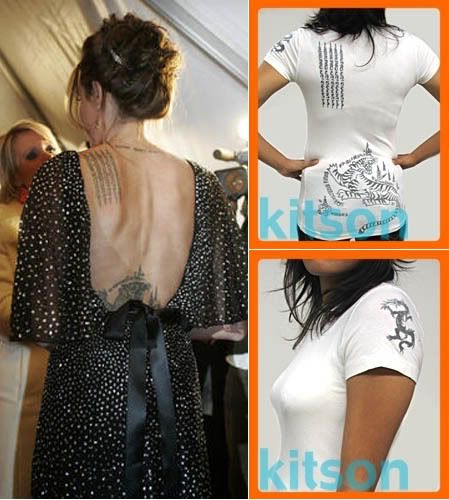 For only $58, you can sport a white t-shirt adorned with Angelina Jolie's tattoos, which at least one eldery person was said to have mistaken for newspaper ink.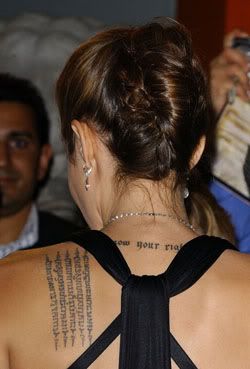 LA shop Kitson, where Nicole Richie picks up the latest in overpriced bangles in between bouts of fainting, is offering the shirts, exclusively designed for them by Public Library. They feature printing on the inside for that realistic tattoo look.
You can also purchase shirts with Johnny Depp and David Beckham's tattoos, according to an article in Star magazine. Johnny Depp's tattoo shirt must be sold out, though, because I couldn't find it on the Kitson online store.
Here is some information about Angelina Jolie's tattoos. This is a reprint of an earlier article we posted here.
Angelina's tattoo on her back left shoulder blade is a magical Khmer incantation which is said to read:
May your enemies run far away from you.
If you acquire riches, may they remain yours always.
Your beauty will be that of Apsara. (a celestial dancer from Khmer mythology)
Wherever you may go, many will attend, serve and protect you, surrounding you on all sides.
The tattoo on Angelina's left shoulder is a recent one and contains the coordinates of Zahara and Maddox's birthplaces. It's in the place where a tattoo with the name of her ex, "Billy Bob" used to be, and appears above a black dragon, which looks like its in the process of being lasered off.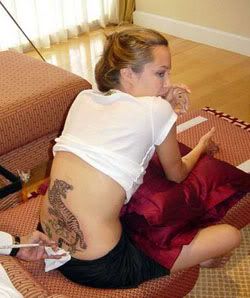 I wonder if she'll get another tattoo soon for Pax Thien. Maybe she'll add a few more numbers to her shoulder for him. At that point this T-Shirt will be obsolete, but it looks like it's already out of date since the black dragon is there and they left out the latitude and longitude tattoos for Zahara and Maddox. It also looks like they missed the "Know Your Rights" tattoo on the back of her neck. They probably figured there wasn't any use trying to make the shirt completely accurate since Jolie is bound to get a new tattoo every few months.