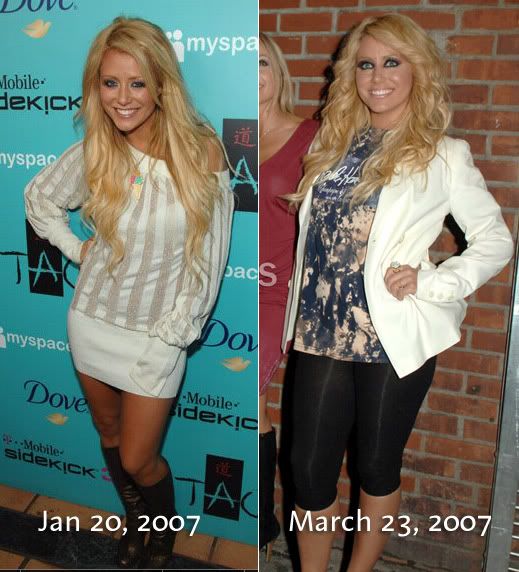 Danity Kane's Aubrey O'Day recent weight gain and changing appearance sparked rumors that she was pregnant. Media Take Out, which isn't known for having accurate celebrity gossip, was the first to claim that she was knocked up and went as far as to guess that it was Diddy's since he has such motile sperm and was thought to be sleeping with her.
In a surprisingly coherent and well-written entry directly on her official myspace page and not in the blog section, she says that's all untrue and that someone doctored the photo evidence:
OFFICIAL MESSAGE FROM AUBREY: In light of the recent and quite absurd rumors of my pregnancy, I would like to state very clearly that I am not and have never been pregnant, nor has my relationship with Diddy been anything more than strictly professional. I am extremely thankful to be a part of Danity Kane and a Bad Boy artist and it is disappointing that one edited photo could challenge my integrity as an artist. These rumors should serve as another unfortunate reminder of how much influence the media can inflict on public opinion. I'd like to thank everyone for their support and for sticking with me through this. AUBREY O'DAY
Commentors on Oh No They Didn't where we found this news note that it's pretty surprising that she writes so well. She does have another person writing for her in her blog section called Leda, so it's possible that a publicist wrote this on her behalf.
There were multiple pictures from that day that made her look big. In some she didn't look as large, but it seems to me as if the angle of the photos, not an individual edited photo, was to blame.
She has gained some weight, not that that's a telltale sign of pregnancy. People say that if she wasn't having a relationship with Diddy, as has been rumored for some time, why was she seen out at Sundance with him holding his hand? Maybe she was just being friendly.
Other commentors on ONTD note that they saw Danity Kane in concert recently and she was gyrating on stage like all the other band members. One person says that "a friend" saw her out at a club and thought she did look pregnant. If that was true, it seems like she would ignore the rumors for a while instead of officially addressing them.