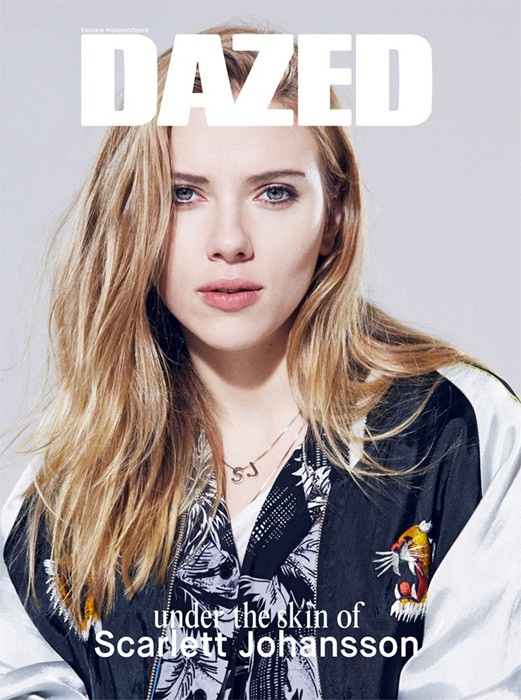 Scarlett Johansson covers the Spring Edition of DAZED, which I guess is either an off-shoot or a new version of Dazed & Confused? I have no idea, really. I can barely keep up with these lower-tier magazines. ScarJo is promoting… well, that Under the Skin movie where she plays an alien or something. She's also promoting The Winter Soldier, the Captain America sequel. Marvel recently announced that they were developing a stand-alone Black Widow film for Scarlett, although from the way Kevin Feige made it sound, this would be several years away and they don't even have much of a story right now. Scarlett would be the first female comic-book heroine to get a stand-alone film at Marvel. How does that make you feel?
In a recent interview – and this might be the DAZED interview, I really can't tell – ScarJo talked about the Black Widow and aliens and such. Some highlights:
Developing the Black Widow: "I like the way Black Widow has been developed as an intelligent and complex female character. Instead of being sexual ornaments to the male superheroes, Black Widow has been given an interesting storyline and she has the kind of depth that allows you to do serious work and that's why audiences have responded to these films."

Being engaged to a Frenchman: "Look, I'm with a Frenchman. I think jealousy comes with the territory. But I'd rather be with someone who's a little jealous than someone who's never jealous. I didn't think I was a jealous person until I started dating my current, my one-and-only… Maybe in the past I didn't have the same kind of investment. Not that I liked my [former] partner less, I just wasn't capable of it or caring that much."

Super-heroine films: "I would never have expected this but it's been a really pleasant experience. A lot of the superheroine films that were made in the past were not very good but Joss (Whedon) has got away from the hair-flipping, hands-on-hips kind of posing and created a very credible, professional, dangerous, and mysterious superhero in Black Widow. I'm very fortunate to be a part of these Marvel films because they have a lot of substance, actually. Even though the size of the films is just gigantic, the characters and the conflict and inner turmoil between all of us is really complex."

Black Widow: "I love playing her and it creates a positive image of a sexy, intelligent, and formidable young woman. She's not an ornament, she's a vital presence in the films and not simply there because she struts around in a tight-fitting suit. Her physicality is a big part of her image, but she's also a smart and imposing kind of woman."

Sexualized roles: "Over the years I've been very fortunate to collaborate with cosmetics campaigns and clothing campaigns, to be photographed by the best photographers and make beautiful pictures and all of that stuff. I've been able to use it to my [looks] to my advantage in some ways. In other ways, it can be very frustrating at times because I've always thought of myself as being a character actor and you can be placed in this specific stereotype that the media puts you in, but the fact is that a lot of the work that I've done isn't necessarily overtly sexual."

Living in NYC: "In New York I can walk everywhere and no one ever bothers me. People in New York, when they see a celebrity, they look, shrug their shoulders, and continue on. I live a relatively normal life, ride the subway, going to the grocery store, walk down the street. I don't live in hotels, or get bodyguards. And, if ever I have a problem, I just jump in a taxi."
I've only seen Scarlett as the Black Widow in Iron Man 2 and The Avengers, and I was not impressed with her at all in Iron Man 2. I thought she was decent in The Avengers, though. Mostly I think Marvel keeps her around so it won't be a full-on sausage party and because Scarlett is known as "the hot girl." Plus, she was ornamental in Iron Man 2. They gave her a bigger part in The Avengers (but even then her role was somewhat negligible), and from what we keep hearing, she's got a bigger role in The Winter Soldier. Is Marvel just slowly building the character or are they just keeping her around so Marvel will look like they don't have a woman problem?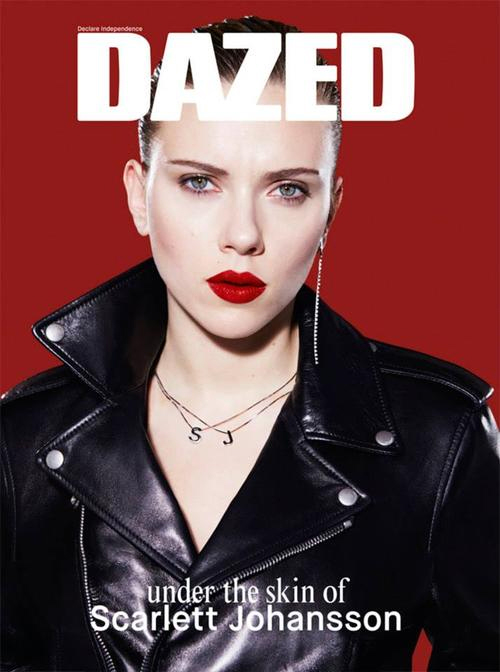 Photos courtesy of DAZED, WENN.