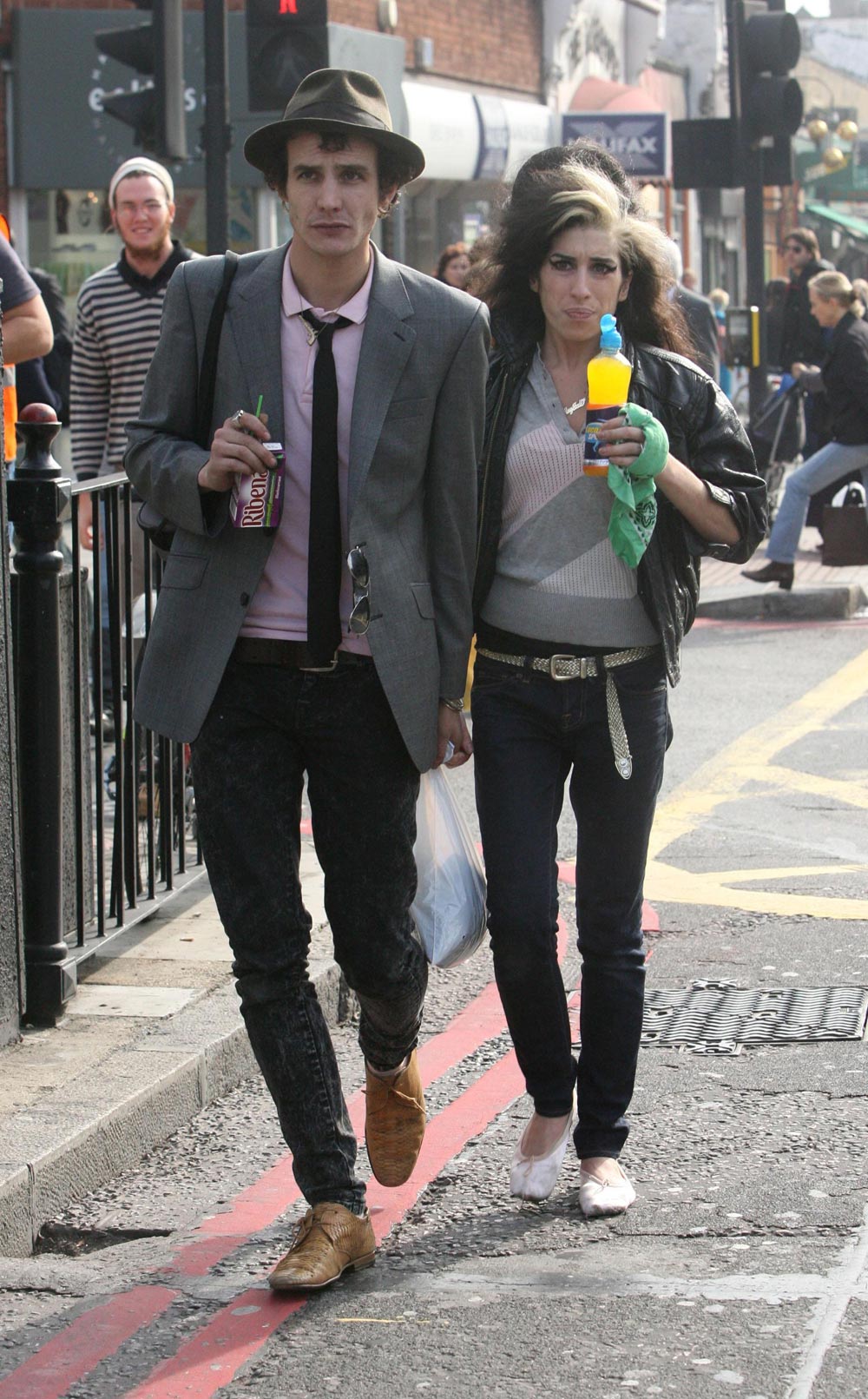 Amy Winehouse's divorce from Blake Fielder-Civil is getting as predictably hostile as one would expect. Blake and his lawyer are currently working on compiling a list of all the men Amy has slept with since their wedding. Their ultimate plan is to try to blame her for the breakup of their marriage – not Blake, or his equal amount of slutting around or getting himself thrown in jail.
IT'S starting to get nasty between Amy Winehouse and hubby Blake Fielder-Civil as the jailbird sets about compiling a dossier of his wife's bad behaviour, with the help of her former lovers. The Amy and Bl-aaake Show continues as Fielder-Civil, currently serving time in prison for assault and trial-fixing, wants to list all of the Back to Black diva's misdemeanours in court, helped by celebrity lawyer Henri Brandman.

And top of his list is contacting those who Amy is said to have had romances with during their stormy marriage. "He wants to put together a case arguing that Amy is ultimately responsible for the breakdown in their marriage," a source tells theBuzz.

"Blake is totally serious about this. He's hired a top lawyer and is compiling a file of Amy's errors throughout their short marriage, he's even decided to contact the men Amy's meant to have slept with. Blake wants them to testify to prove that Amy was unfaithful during their marriage." Ouch!

Amy, 25, and Blake, 26, tied the knot in May 2007. And since Blake has been locked up, the rehab star has admitted to affairs with her former personal assistant Alex Haines and more recently, aspiring actor Josh Bowman who she met while holidaying in St Lucia.

At first, it was the five-time Grammy Award winner who wanted to start divorce proceedings, but Amy later changed her mind in an attempt to save the shaky relationship – then Blake decided to file for divorce.
[From the London Paper]
It infuriates me that Blake would try to pin the breakup of their marriage entirely on Amy. While he is a loser with nothing going for him, I'm not going to say Amy is completely without fault. She hasn't treated her addictions either and has obviously had affairs. But so has Blake. And Amy doesn't seem to be blaming everything on him – in fact she's constantly making excuses for the jailbird. He never brought anything to the marriage, but he's more than willing to take away as much as he possibly can.
The drama between the two is so thick, it's hard to say what a judge will and won't believe. Let's hope Amy gets great representation, and they somehow end up with a fair split.