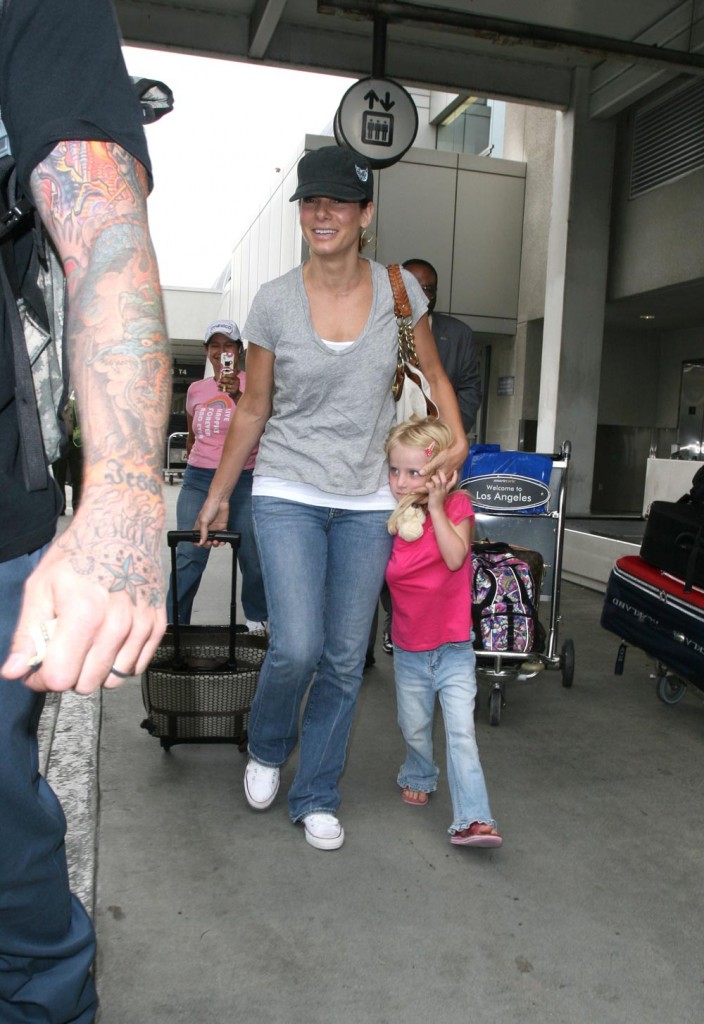 As we reported in December, Jesse James' ex-wife, pornstar Janine Lindemulder, has been sentenced to six months in prison for tax evasion. She has to report for incarceration on March 10, and on that date Sandra Bullock will become a full-time mom to Jesse's daughter, Sunny.
Already close to Sunny — the two are often seen at the playground — Sandra takes on this new responsibility under difficult circumstances: On March 10, Sunny's mother, former adult film star Janine Lindemulder, 40, will head for federal prison to serve a six-month sentence for income tax evasion. While Janine is behind bars, an Orange County, Calif., court awarded temporary full custody of Sunny to Jesse.

"Sandra will be fantastic as a full-time mom," says actor Denis O'Hare, her co-star in her upcoming film The Proposal. "Jesse's daughter is lucky to have Sandra in her life."

The role of stepmom is not new to Sandra: She's also close to Jesse's two older children, daughter Chandler, 13, and son Jesse Jr., 10, from his marriage to Karla James.

"If the court gave Jesse James custody of Sunny, well… that's her daddy. He should take care of her," Janine's aunt, Marjorie Lindemulder, tells OK!. "I just hope and pray for everyone involved."

As for Sandra, the challenge appears to be a blessing. "I don't see the difference in having blood-related kids or children who come with your husband," she said last spring. "I am very blessed."
[from OK!]
Janine has also been accused by Jesse of abusing their daughter Sunny, and she will have to spend another six months in a federal-run facility after she is released from prison. It will be interesting to see if she regains full custody of her daughter Sunny after she comes back, or if there will be a custody battle.
It's very sweet that Sandra is quoted in the article as saying that it doesn't matter whether her kids are biological or not. Children are children, and they need to be taken care of in a good home. Although there were rumors that Jesse left Janine for Sandra, Jesse and Sandra's marriage always seemed stable and in photographs they always seem so happy. Hopefully that will translate to a loving full-time home for Sunny.
Sandra, Sunny and Jesse James are shown at LAX on 7/27/08. Credit: Bauergriffin