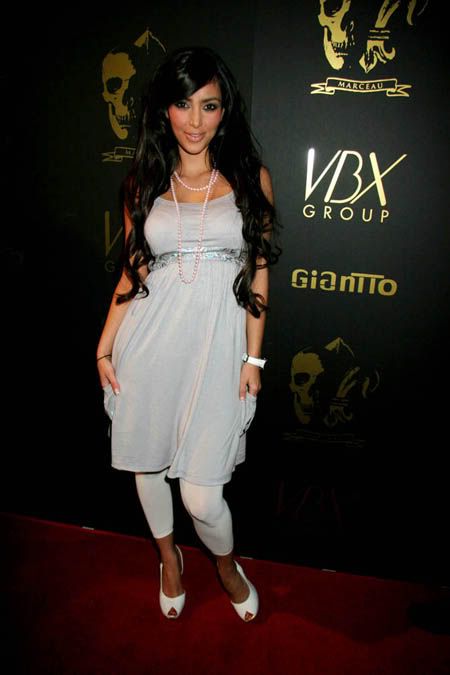 Kim Kardashian, Paris Hilton's former BFF, sure pissed off her old publicist. Publicist Jonathan Jaxson posted a nasty rant about her on his website. (Site has automatic music. No permalink available) He says she was more than willing to release her sex tape and that she was behind the entire thing despite saying that she didn't want it released. It's kind of hard to get his point as he just seems to be mad at her for firing him or taking advantage or something. I think he's saying that she's a manipulator who jerks people around.
Jaxson claims Kim stopped hanging out with Paris because she wanted the spotlight all to herself, and that it was Britney's people who called Paris and told her "The Animal" was no longer available to be friends. Britney's camp was afraid that Paris was ruining her image.
Also Kardashian supposedly saw Britney doing coke and knew she had sex in a club bathroom with some random guy.
He makes a weird statement about how she only dates black guys and it's unclear what he's trying to say except that she make him jump through hoops for her and he's upset about it:
Cheers to a new chapter in my life. Blogging. Celebrity blogging. F*** selling it to others, I am going to type it all here for you to see. This is from a, now, former publicist who at one point or another worked with these stars in some manner.

I guess this is what happens when you threaten someone legally and are bitter of some of those in the entertainment industry.

4.02.2007
KIM KARDASHIAN

This is one woman who has completely used and abused my contacts and work ethic. She will remain semi-famous until Hollywood decides to focus their attention on the real women of Hollywood who work hard for what they have…

I guess you get the spotlight you have always wanted when your [sic]
1) Rich
2) Dad's Famous
3) You sleep with celebrities.
4) Tag along with some of Hollywood's hottest and #5
5) Release a sex tape and having someone act on your behalf as your publicist to Page 6 the same day as if you really didn't know!!!

THE DISH ON PARIS AND KIM
The wannabe is Kim Kardashian, known as Paris Hilton's former BFF. That is right, former. As this former gal-pal was tired of Paris Hilton's ways and wanted her own spotlight. Kim claims to not have ever partied with drugs or alcohol, however I have pictures to prove otherwise. She claims that is all that Paris did and it got real old not only partying with her at all times, but being her 'sidekick….

KIM ON BRITNEY
While in NYC during Fashion Week this past February, Kim also spoke in regard to her ties with Britney Spears. It was from Kim's mouth that said Britney had her people contact Paris and say they couldn't hang out anymore because Paris wasn't good for her image. Hell, what is then?

Kim also spoke at the fact Britney Spears was in NYC and kept texting Kim to hangout and go bowling or something while in NYC. Kim declined as she was afraid Paris would get mad and the fact that she saw Britney get cocained [sic] up and heard of her screwing a guy in a nightclub bathroom.
[via Hollywood Rag]
He goes on to talk about how Kim made sure to avoid Paris Hilton at fashion week for fear of getting in a fight with her. He also said she tried to make her ex Nick Cannon jealous by attempting to get seated next to him in the front row at a fashion show. He tells a rambling story about how she somehow screwed up a gig he got for her interviewing celebrities backstage at the Heatherette show for Extra TV.
If this guy is a legitimate publicist despite his bloated Flash site, he's not going to get much work after dissing his old client so openly. He seems to really hate Kardashian, but other than ripping on her for asking him for favors, which was his job, he doesn't really have a point. It's kind of juicy to hear that Britney screwed a guy in a bathroom, but that's not surprising for her and until there are pictures or video it's not that interesting.
This publicist needs to write more clearly if he wants to diss celebrities effectively. You have to have an angle.
Here's Kardashian at the Marceau fashion show on 3/29. Check out our fellow blogger from Hollyscoop interviewing her. [via]