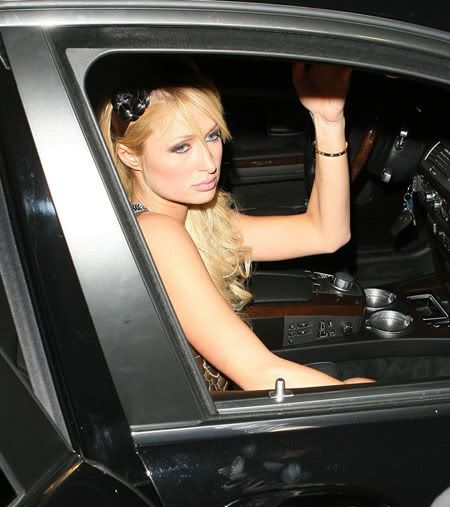 Nick Cannon has a new sketch comedy that premieres tomorrow night, April 5th on MTV called "Short Circuitz." (site has automatic video.)
Paris Hilton did a bit for the show in which she pretends to hawk "What would Paris Do" bracelets that help guide wearers through difficult life decisions. A Paris-esque ditsy blonde is then shown consulting her bracelet after getting pulled over for DUI, when she takes the magic jewelry's advice and starts getting amorous with one of the police officers.
Paris filmed the bit at her house in early January. She was pulled over for DUI back in September of last year, and was placed on three years probation. Back in January she was willing to make fun of her predicament, but she's since been busted twice for driving with a suspended license and prosecutors are recommending that her probation be revoked. It's possible that she could spend some time in jail, but given her legal resources it doesn't seem likely. Now Paris in jail would make for good comedy.
Paris' lawyers have threatened to sue if that clip is included in the show:
Paris Hilton acted in an MTV comedy sketch featuring a drunk ditz getting pulled over for DUI – but last week, her lawyers threatened to sue the network if it wasn't deleted from tomorrow's debut episode of "ShortCircuitz." Viewers of the sketch comedy show, exec-produced by Paris pal Nick Cannon, will not get to see a phony infomercial with Hilton shilling "What Would Paris Do" bracelets, The Post's Don Kaplan reports. In the sketch – which was included on a copy of the show sent to TV critics last week – the action shifts from salesgirl Paris to "real-life" situations in which people look to their bracelets for advice. In one instance, a leggy blonde in a short skirt is busted for drunken driving. After checking her Hilton bracelet, she starts grinding on one of the cops as if he were a stripper pole. "I can't arrest you, you're too fabulous," says the officer.
Cannon and Paris Hilton are friends because they have that Kim Kardashian connection and both go out of their way to avoid her.
Wayne Brady, Ice T, Lil Jon and Snoop Dogg are among the celebrity guests featured on "Short Circuitz" according the preview clip available on the MTV website.
Here's Paris with his spokesperson Elliot Mintz at Teddy's on 3/29. That was the night after she got pulled over for driving with a suspended license. She does look like she's trying not to be miserable, and I have to say that her top is so cute. [via]