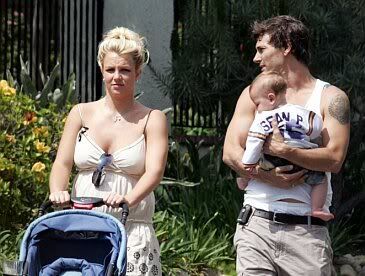 I'm kind of confused over the Britney Spears and Kevin Federline divorce settlement now. I reported that it would cost her $17 million according to In Touch, but then TMZ was touting her iron-clad prenup and claiming K-Fed would only get a measly million, which US Weekly disputed.
Now MSNBC's The Scoop is saying that K-Fed is going to make out better than expected with $13 million and custody of the boys four out of seven days of the week. They also say that Britney and Kevin had some good-natured jabs at each other while hashing out their settlement and that Britney called Kevin her "biggest mistake." This seems to have come after K-Fed shot her down when she asked him if he really wanted to go through with the divorce. They also say that K-Fed was playing Britney by making it seem like they would get back together to try to give her incentive to finish rehab:
"Do you really want to do this?" Spears asked K-Fed as the two met to discuss final details of their divorce, reports to the upcoming issue of the tab.

K-Fed said yes, and his estranged wife replied, "You're the biggest mistake I've ever made, but thank you for my babies."
Story continues below ↓advertisement

Then the two puffed on cigarettes for a 15-minute smoking break, then hashed out the financial terms of their split, according to Star.

The tabloid also claims that Federline led Spears to believe that the two would get together after she got out of rehab so because he wanted to encourage her to stay in the treatment center.

Among the details, according to the tab:

A 2004 pre-nup called for K-Fed to get $250,000 for each year of their marriage, but Spears upped that figure to $500,000 to speed up the negotiations.
He receives half the proceeds from their Malibu mansion, which is on the market for $13.5 million.
$25,000 a month in child support for each of the couple's two children until they reach 18. He also gets custody of the boys four days a week.
Federline gets to keep all the gifts Spears bought them during their marriage.
He's forbidden from writing a tell-all about their marriage.
25k a month in child support is more than Diddy shells out for two of his kids, but then K-Fed is going to get the boys for most of the week. It looks like Britney's public freak out did cost her something.
There are stories in this week's Enquirer and Star magazines that Britney's boys didn't recognize their bald mom and that they seemed scared of her when she returned after a month away at rehab:
When Britney was reunited with [her boys], her heart was shattered.

She didn't put on a wig to cover the hair she'd shaved off in a headline-making emotional break-down – and Sean looked frightened.

"He wouldn't stay in her lap," revealed a source.

"I think Sean was scared of her and wanted his Dad. It was as if the kids didn't recognize her!

"Britney started crying and told Kevin: 'I am ugly and Sean hates me.'

"It was her worst nightmare come true…

"After her first visit with the boys, Kevin was upset that Britney freaked out. So for the second visit, he sent the kids with a bodyguard and nanny to Britney's place.

"But Britney says that Sean cried when she tried to hold him. And when she tried to talk to Jayden, he started crying and made a sad face."
[From The National Enquirer print edition, April 9, 2007]
That's sad for Britney and all, but given how much we've seen her out since she got out of rehab it's not like she's trying to make it up to her kids for being away. Considering how much she's worth, that settlement seems fair. To a guy like K-Fed it must be like winning the lottery.
Britney met with agents at the William Morris agency yesterday. They say she has no goal for her career, but is full of scattered ideas.