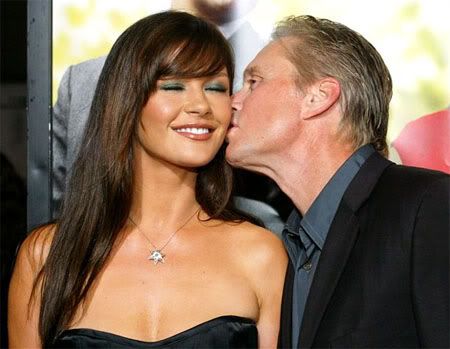 Michael Douglas and Catherine Zeta-Jones' six and a half year marriage might be in trouble. There's a story that they're fighting over their careers. What's more is that Catherine was seen holding a co-star's hand while Michael was quoted joking that he wants to get a film role in which he can kill his wife.
The source is Britian's Grazia Magazine, though, and they're notorious for making up shit. At first I read this on Splash News and did some working preparing the post or else I wouldn't bother to report it. The only paper that I could find that covered the Grazia report was Metro, UK and now they've removed their article on it, so take it for what it is.
Here's Splash's recap:
Catherine Zeta Jones was spotted eating alone yesterday days after a long term friend of the star spoke out to a UK magazine sparking rumours that the stars eight year [sic – they married in November, 2000] marriage could be trouble. Catherine who is married to Michael Douglas, has reportedly experienced more downs in her marriage of late than ups. Their most recent row being in New York during a ceremony when Michael accepted the role of an ambassador with the UN. Catherine reportedly was in tears.

Strains have also developed due to Micheal's happiness for a quiet life at home, while Catherine has strong desires to make another film and earn another Oscar. Rumours were fuelled further when Catherine recently held the hand of her co star from No Reservations at an awards show in Miami, days after Michael joked he'd like to star in a movie with his wife so he could do away with her.
It's probably true that Catherine was seen holding a co-star's hand and that Michael made that joke about killing her, but I doubt there's anything more to this story. If Catherine was crying when Michael accepted a UN ambassadorship it probably means she was proud of him or touched.
Catherine Zeta-Jones, 37, and Michael Douglas, 62, have made their marriage work since November, 2000 despite a 25 year age difference. They have two children together, a son Dylan who will be seven in August, and a daughter Carys who turns four on April 20th. Catherine Zeta-Jones and Michael Douglas share the same birthday of September 25th.
I was amazed that she hooked up with him back when they first got together, and wouldn't be overly surprised if they split up, but it doesn't seem like there's much to this story.