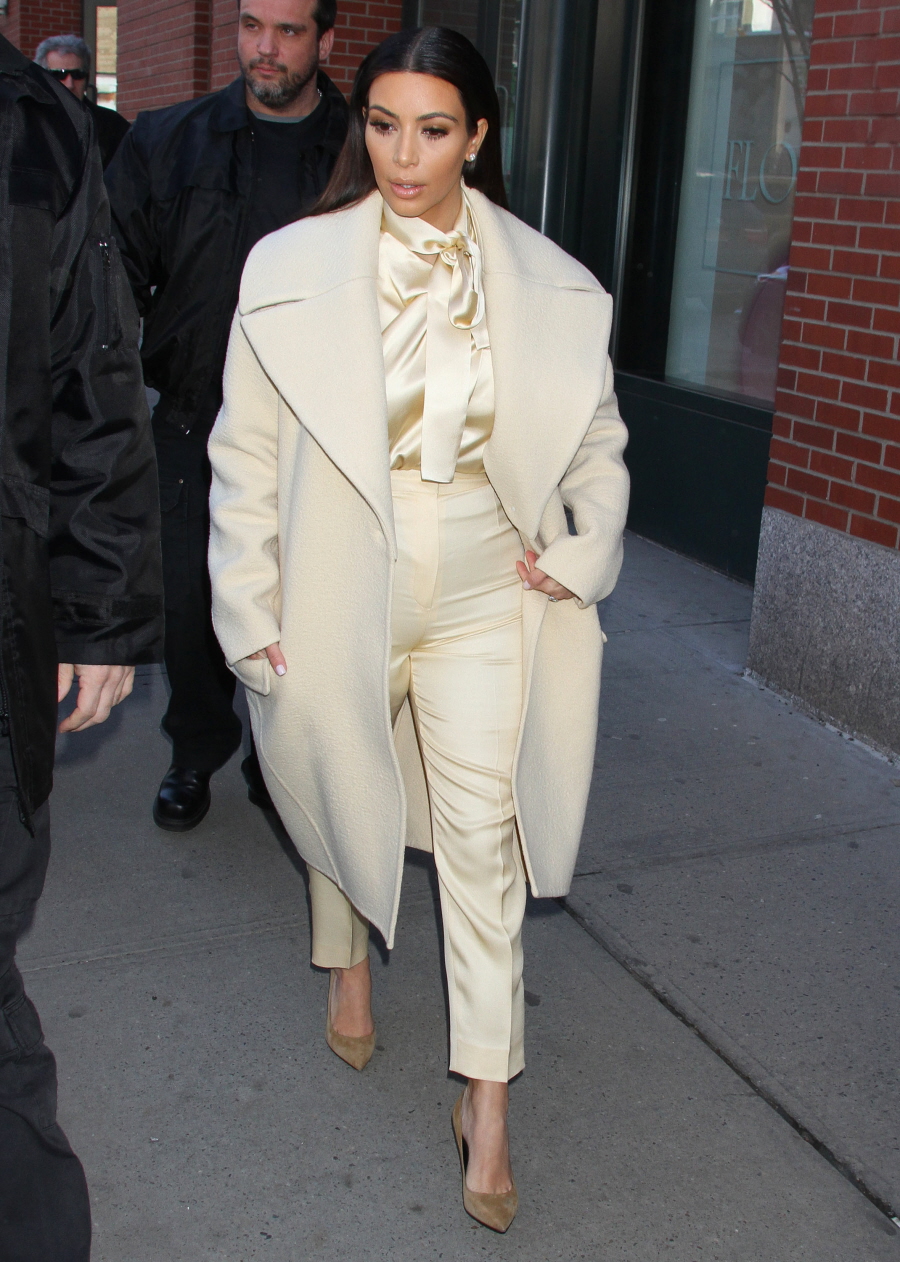 OMG. LOOK AT THIS OUTFIT. These are photos of Kim out and about yesterday in NYC. She had been wearing some cuter ensembles, but we can always trust Kim to self-sabotage. Seriously, who had the brilliant idea of putting a thick girl into high-waisted SATIN pants and a high-necked satin blouse?!?!? There are six-foot-tall, size-zero models who couldn't pull off satin pants and a matching blouse, so you know Kim shouldn't even attempt it. Plus, she always increases her alien-catface look when she does a center part and slicks down her hair. It's not just a bad outfit – it's horrible styling overall. Awful. Just awful.
Anyway, you know how Kanye West's main BFF is Riccardo Tisci, the head designer for Givenchy? Hubert de Givenchy is probably rolling over in his grave with where Tisci has taken the House of Givenchy, but whatever. Tisci gets a lot of love from fashion people, and Tisci has transferred some legitimacy onto Kanye and Kim. I always thought Tisci was passive-aggressive in the way he styled Kim, but I've read some interviews with him, and it does seem like he's genuinely fond of both Kanye and Kim and he considers them friends. So here is Tisci offering his friendship once again, by comparing Kim to… Marilyn Monroe.
According to one of fashion world's most prominent figures, Kim Kardashian is poised to be this generation's American icon. In his latest interview with The Sunday Times, Givenchy designer Riccardo Tisci likened the reality star to another famous bombshell, telling the British publication that Kardashian is the new Marilyn Monroe.

"I met her as the girlfriend of a good friend," Tisci said, referring to their first encounter through Kardashian's beau, Kanye West. "I just wanted a moment with her to understand — and I fell in love. She's the Monroe of our age. People think she's like a doll, but actually she's tough and clever."

He explained, "It's not so much the beauty of people, but the talent, the roots and the intelligence that concern me. I love people who are not scared to fight for their own rights and have their own point of view. The world is big: the music world is big, the art world is big and the fashion world is big, but I think you can recognize a tribe in the similarity of people."

But Tisci isn't the first person to have made the comparison. Last November, Kardashian's fiance West slammed Vanity Fair for putting model Kate Upton in a Monroe-themed photo shoot for its 100th issue, claiming that the mother of his daughter is more deserving of that gig.

"I have a love-hate relationship with the paparazzi, but actually I love them because they are empowering us. They are empowering us over Vanity Fair that want to say that Kate Upton is Marilyn Monroe," he said. "Kate Upton ain't Marilyn Monroe, Kim is Marilyn Monroe."
I'm starting to wonder if Yeezington is Prof. Higgins and Tisci is Col. Pickering and Kim is their Eliza Doolittle – their very special doll that they get to style and play with. Who will take credit for this satin look, though? And even then… I think it's stupid to compare Kim to Marilyn. Not as stupid as comparing a crackhead like Lindsay Lohan to Marilyn, but it's still tacky and dumb. Besides that, Kim seems to want to be Elizabeth Taylor (without the acting talent).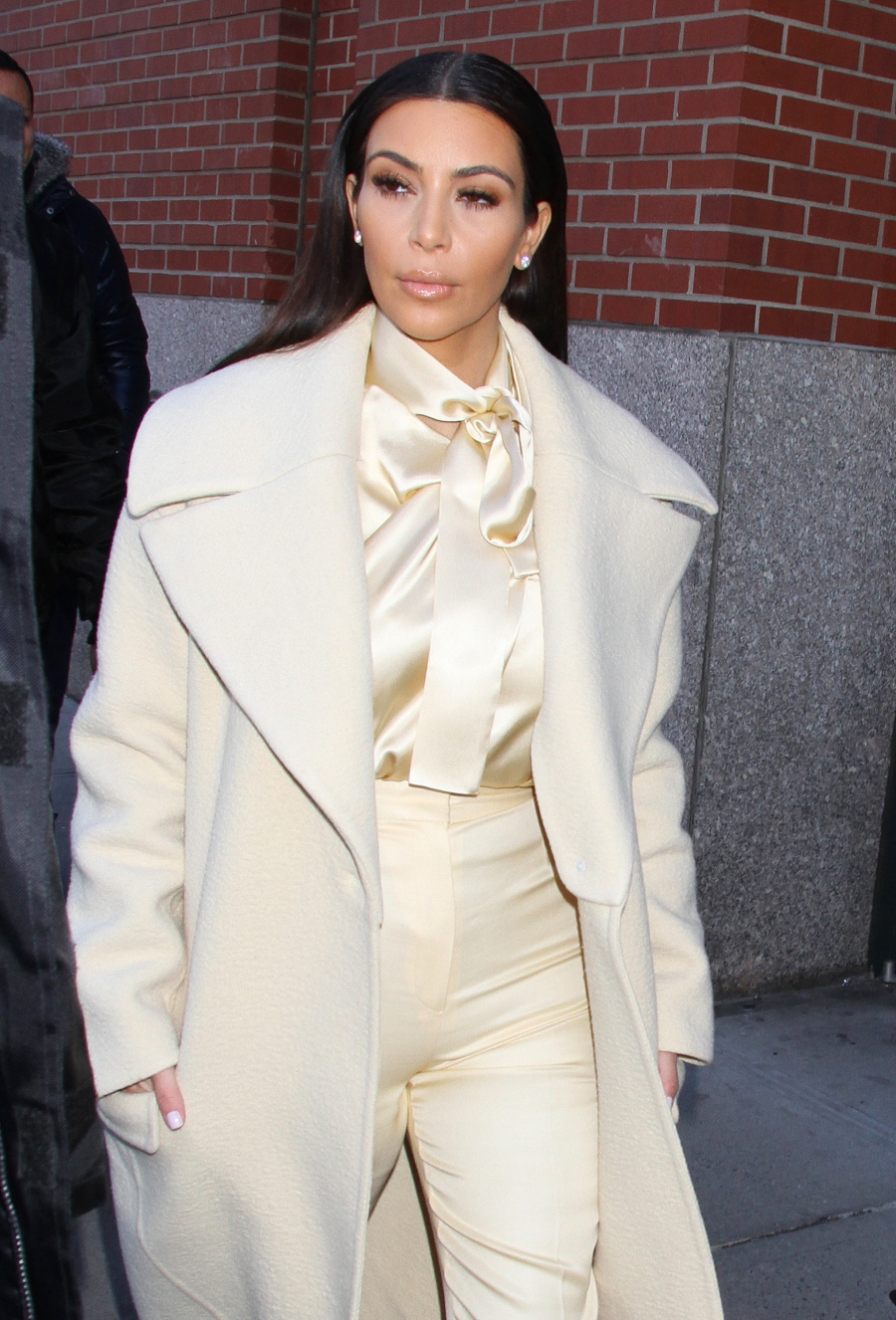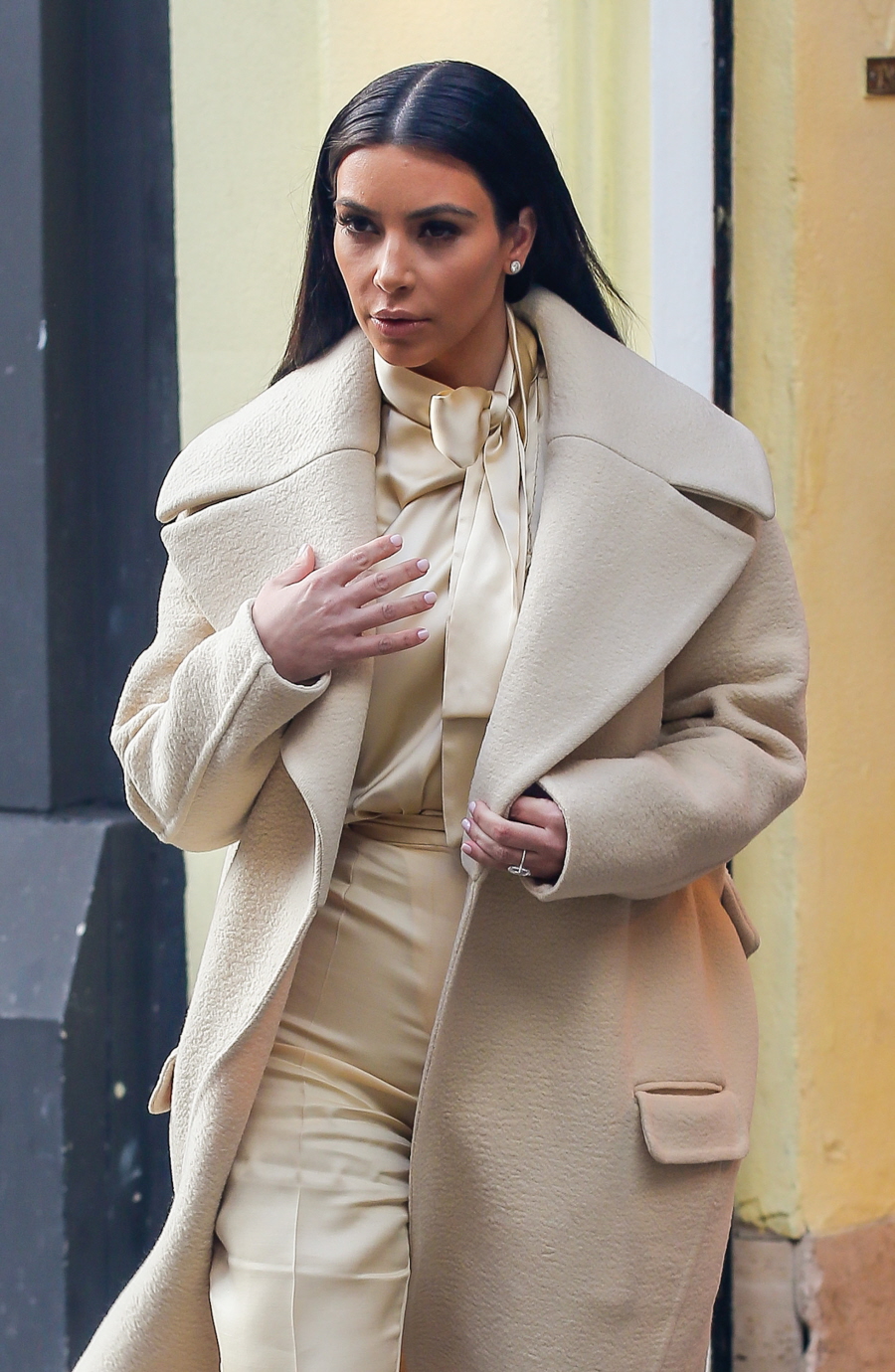 Photos courtesy of Fame/Flynet.