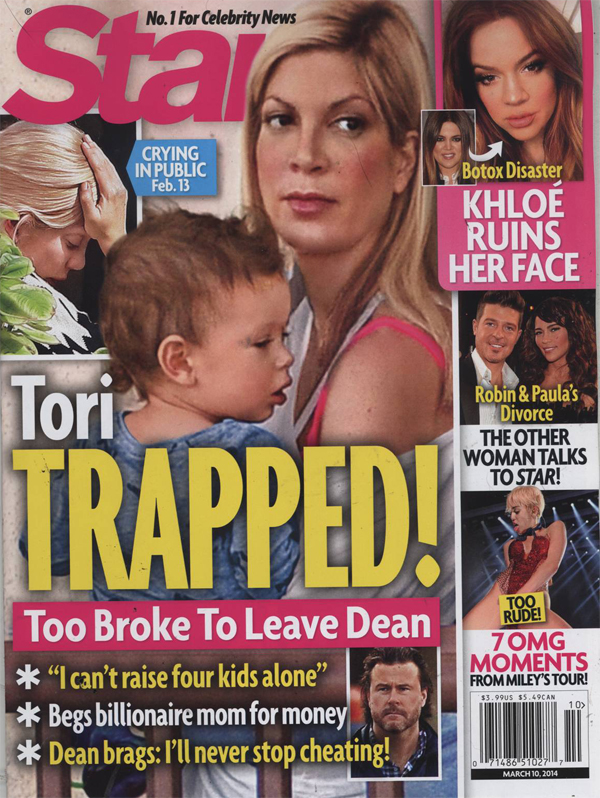 I don't know how Tori Spelling does it. She consistently manages to get coverage in all three major tabloids. Tori gets a story in each tab this week, but this Star cover is the best one. Star has a huge cover story about Tori being "trapped in her marriage," and the cover features grumpy Dean McDermott's face as he exclaims, "I'll never stop cheating!" Here comes another classic entry into the neverending saga of Dean's wandering wang and the long-suffering Tori.
What's funny about all of this drama is that the tabloids wouldn't run these stories if two conditions weren't met: (1) Someone in Tori's camp is supplying all of the ready-made details; and (2) People must be interested in reading this stuff because they're buying it. Star has featured Tori on several covers over the past year, so she must move copy for them. So they gave her another three-page story about her decision whether to give Dean the boot. I left out several paragraphs in the excerpt below about money because we're all tired of hearing how poor Tori Spelling is. What is new? Tori has apparently decided she'll never love Dean again, but she has decided to take him back anyway:
"This is your last chance. Don't blow it!" Those were Tori Spelling's decisive words, issued to her wayward husband as he begged her forgiveness following their nasty split earlier this year. Even though Dean McDermott cheated on her with a 28-year-old Canadian beauty in early December — among other trysts, Tori learned — friends say the star has finally, reluctantly agreed to take him back.

According to friends, Tori was on the verge of filing divorce papers just weeks ago, but she has since changed her mine. And now, even as rumors fly that Dean has been flirting with other women while in rehab, Tori has resigned herself to allowing her philandering husband back into her life. "In the end, Tori decded to take Dan back because she just couldn't do this alone," a pal tells Star. "But she'll never forget the heartache he caused her with all his twisted lies. She made the decision based on practicalities, not with her heart."

As Dean checked himself into rehab for "personal issues" on Jan. 23, in a desperate attempt to save his marriage after the cheating scandal broke, Tori, meanwhile, was forced to face the world alone, juggling her hectic home life with kids Liam, 6, Stella, 5, Hattie, 2, and Finn, 28 months, with her demanding work schedule for the upcoming ABC Family show Mystery Girls. "She wanted a fresh start and thought she could take on all the responsibilities of running the household, raising the children, and launchign ehr new show while her heart mended, but she got completely overwhelmed by it all," a friend says. "She became very weepy. She was constantly on edge and had a terrible time sleeping. It was making her physically ill, and she finally had a breakdown, at one point yelling, "I can't raise these kids alone!"

"Even though she hated herself for it, Tori finally capitulated and slowly began allowing Dean back into the family," another source reports. Suddenly he was there at her side as she escorted the children through their daily routines. They started to look like a family again.

"Tori wanted to be strong," the first insider adds. "She recognized that the relationship was dysfunctional; she had gotten used to living with a man who cheated for years, took her money and was verbally abusive. But she just couldn't leave him."

Despite Tori's begrudging decision to reconcile with Dean, there's a very real possibility that he might cheat again. After all, he was married to actress Mary Joe Eustace when he and Tori first hooked up, and he's apparently had a string of lovers since their 2006 wedding too.

"Dean has bragged to his buddies about all the attention he gets from women," reveals a friend. "He wants to work things out with Tori because he needs her financially. But privately, he's said he's not sure he'll ever be able to stop cheating on her."

Even now, as Dean fights to win back Tori's trust, rumors have swirled that he's been getting cozy with other women while in rehab! "He just can't help himself when attractive women are around," the friend explains. "He may not physically be hooking up with these women, but Tori sees flirting as emotional cheating. She wants to believe Dean when he swears the rumors aren't true, but it's hard for her to believe anything he says anymore."

"The bottom line is: Tori will never be able to love Dean the way she once did even though she wants back that image of the picture-perfect family she created," the friend adds. "She feels so terribly burned that it will take a long time for her to trust Dean again. She's lost a tremendous amount of respect for him. And right now, that loving feeling is totally gone."
[From Star, print edition, March 10, 2014]
"Dean has bragged to his buddies about all the attention he gets from women." *vom* See, that's where I begin to doubt this whole infidelity story. Dean might think he's a ladies' man, but I don't think that means what he thinks it means.
This week's issue of InTouch has photos of Tori crying on her front porch as a friend consoles her. A friend says "Tori always looks like she's just finished crying. Her face is gaunt; she's been dressing haphazardly. She keeps saying she's fine, but everytime I see her, she looks worse." The Enquirer says Tori's been leaning on Jennie Garth as they work on their new crime comedy show together. They are presumably swapping stories on how douchey their husbands are. Or in Jennie's case, her ex-husband, Peter Facinelli.
Here are some photos of Tori on Wednesday afternoon. She's smiling all over the place as she leaves an office with some friends. Maybe she's a better actress than Donna Martin would have us believe.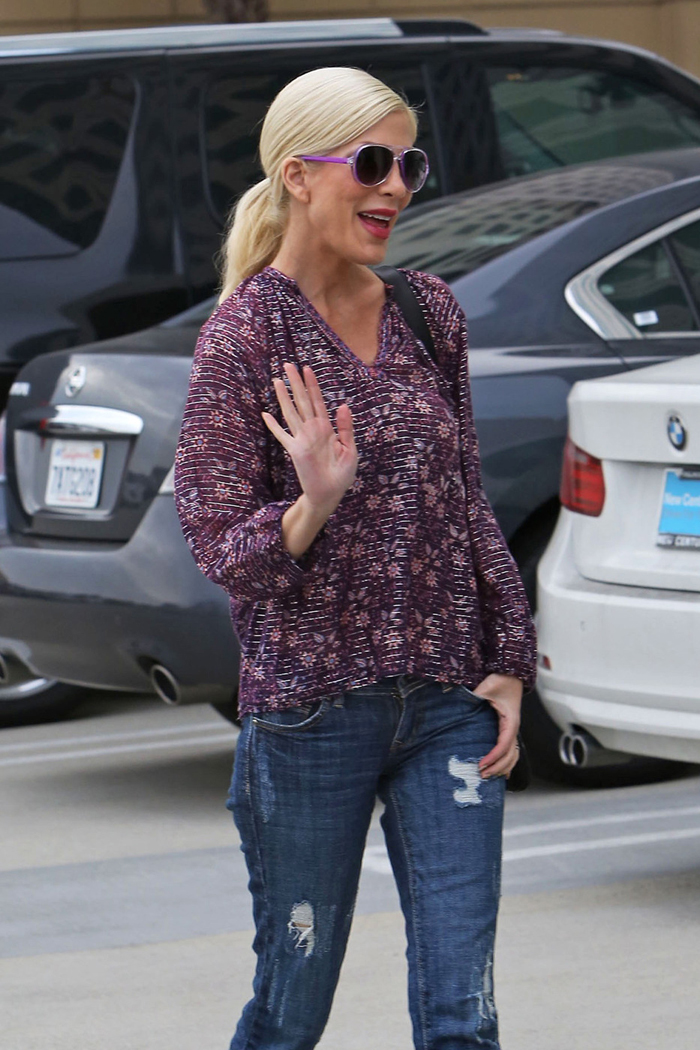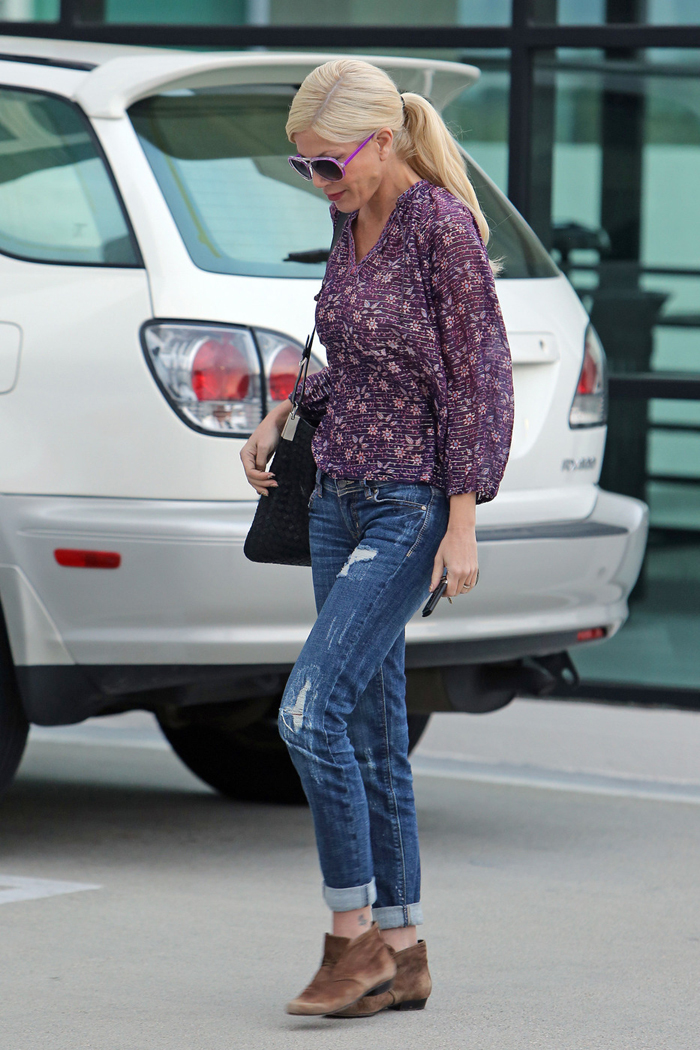 Photos courtesy of Pacific Coast News & Star