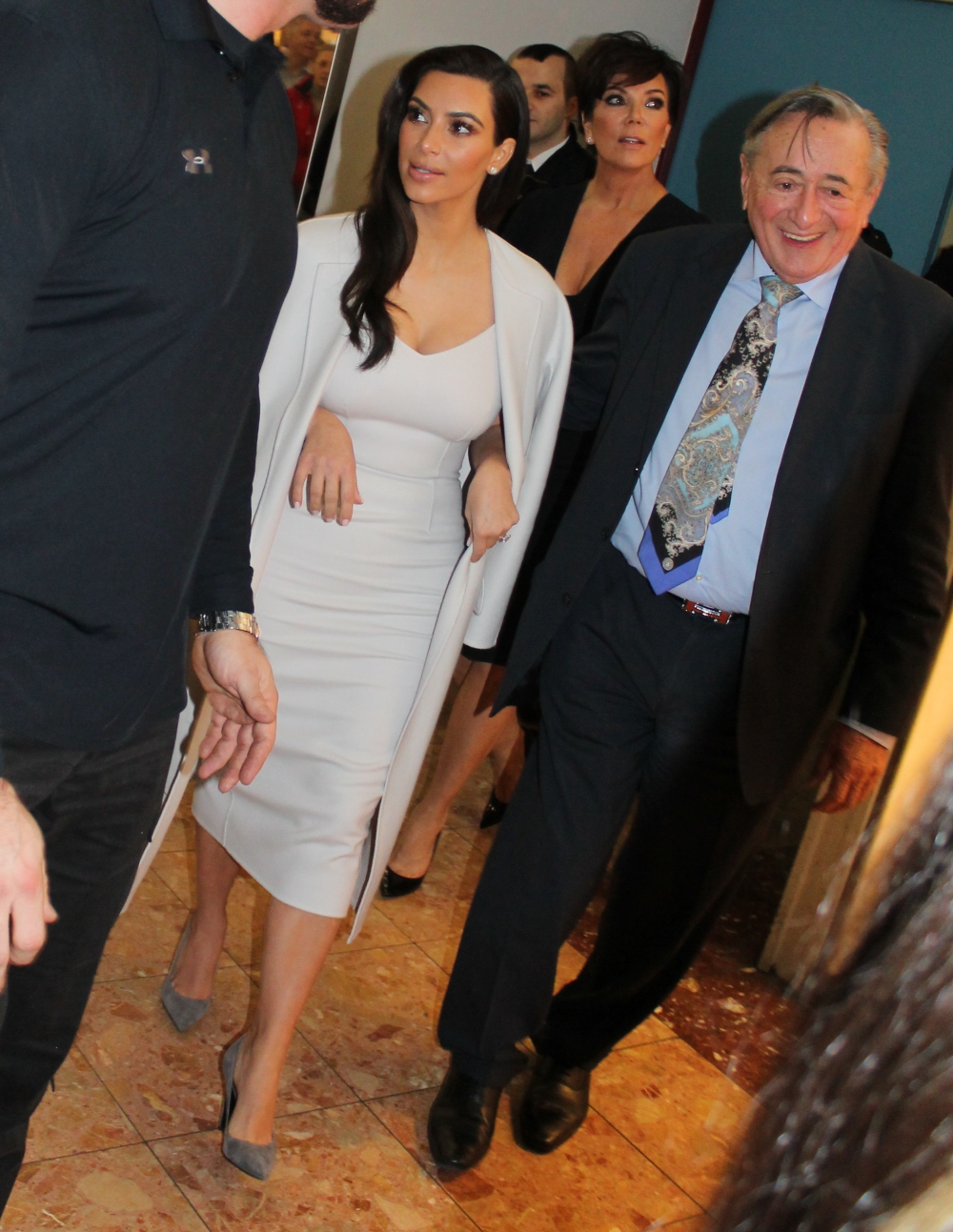 Kim Kardashian worked as an escort yesterday. For real. You know how there's that rich old dude named Richard Lugner who, every year, pays some American or European famewhore six figures to be his "date" to the annual Vienna Opera Ball? In the past, Lugner has asked/paid for Paris Hilton, Lindsay Lohan, and Carmen Electra. This year, it was Kim Kardashian's turn. Lugner reportedly paid $500,000 for Kim (and he got Lucifer's Homegirl for free). He's not only paying for the Opera Ball date, he's also paying for the lady to come to his mall in Vienna and make a personal appearance with him. For Lugner, this is all marketing and international press. Well, I'm including some photos from the mall appearance (Kim in the white outfit) and you can see photos of Kim at the ball here.
As you can imagine, nothing is ever that simple with the Kardashian family. Before they even made it to the Opera Ball last night, Lugner was already bitching to the press about dealing with Kim:
Austrian businessman Richard Lugner has made a tradition of paying starlets big bucks to accompany him to Vienna's annual Opera Ball. This year, RadarOnline.com has learned that he paid Kim Kardashian $500,000 to be his date. But he's not getting his money's worth! Just hours after Kardashian's arrival with mom Kris Jenner and baby North West, Lugner spoke out to local media to complain about how Kardashian had stood him up to film scenes for Keeping Up with the Kardashians!

"Kim is annoying me," Lugner told reporters. "Because she's not sticking to the program."

Only hours after her arrival, Lugner claimed, the reality star stood him up to go to a Schnitzel restaurant with her mom Jenner, and film scenes for her reality show.

"She's filming and so she doesn't want to have me around," he said. The 81-year-old angrily insisted, "The guest should be with me and not anywhere else that is not agreed upon."

And even when it comes to scheduled appearances, Kardashian has made it clear she won't follow his schedule. Though Lugner had told press he would dance with her at 11:45 p.m. during the ball, Kardashian said in a press conference that she'd have mom Jenner take her place, explaining, "I'd rather watch the dancing."

Kardashian was set to attend the ball Thursday night, and Lugner revealed he had already taken special measures to make sure he was ready for the spotlight: He told reporters he had gotten fifteen shots of Botox, saying, "What's good for [Kim] is good for me too."

Despite the drama, Kardashian is hardly Lugner's worst date of all time. That honor surely goes to Lindsay Lohan, who didn't even show up for her scheduled appearance in 2010 after she missed her flight.
I remember that Lohan thing. I believe that the Cracken even kept the money too. Anyway, if you were thinking that Lugner sounds like a creepy, crotchety old dude, you're probably right. If you were thinking that Kim sounds unprofessional, like she can't follow the simplest of instructions and like she regrets letting Lucifer's Homegirl talk her into this situation, you're probably right about that too. Because after the mall appearance, things got even worse at the Opera Ball:
Kim Kardashian stormed out of the hoity-toity Vienna Ball after some white dude working the event came up to her in black face, pretending to be Kanye West! Kim was paid $500K to be the guest of Richard Lugner, an Austrian businessman who has a long history of paying starlets half-a-mil to be his arm candy at the Vienna Annual Opera Ball.

Lugner just did an interview trashing Kim for not sticking to the program, saying, "Kim is annoying me."

But we're told she was taking pics with Lugner when a guy who was working the ball came up to her … IN BLACK FACE acting like he was Kanye. She walked away from the guy, but had to stay another hour and a half.

The final straw. A short time later a guy came up to Kim and asked her to dance. She said she wasn't a good dancer, and then the guy responded, he would dance with her if the orchestra played "N****rs in Vienna."

Kim is saying there were other problems. She told her people Lugner was aggressive, at times grabbing her and imploring her to lose her security. She said Lugner was trying to be alone with her. And, we're told a lot of this was caught on tape because Kim was shooting for her reality show.
Yep. WTF?! The blackface thing is absolutely crazy and yes, Lugner does not sound like a nice man whatsoever. I don't know which side to come down on though – it was his money and he wanted $500,000 worth of Kim. If she didn't want to get with the program, she shouldn't have said yes to the appearance. That being said, Lugner does sound… gross.
I really don't get her dress at all either…
What do you think of Kim Kardashian's glamorous Vienna Opera gown? http://t.co/KSElfRryTu pic.twitter.com/AkSzo5FoPo

— Harper's Bazaar UK (@BazaarUK) February 28, 2014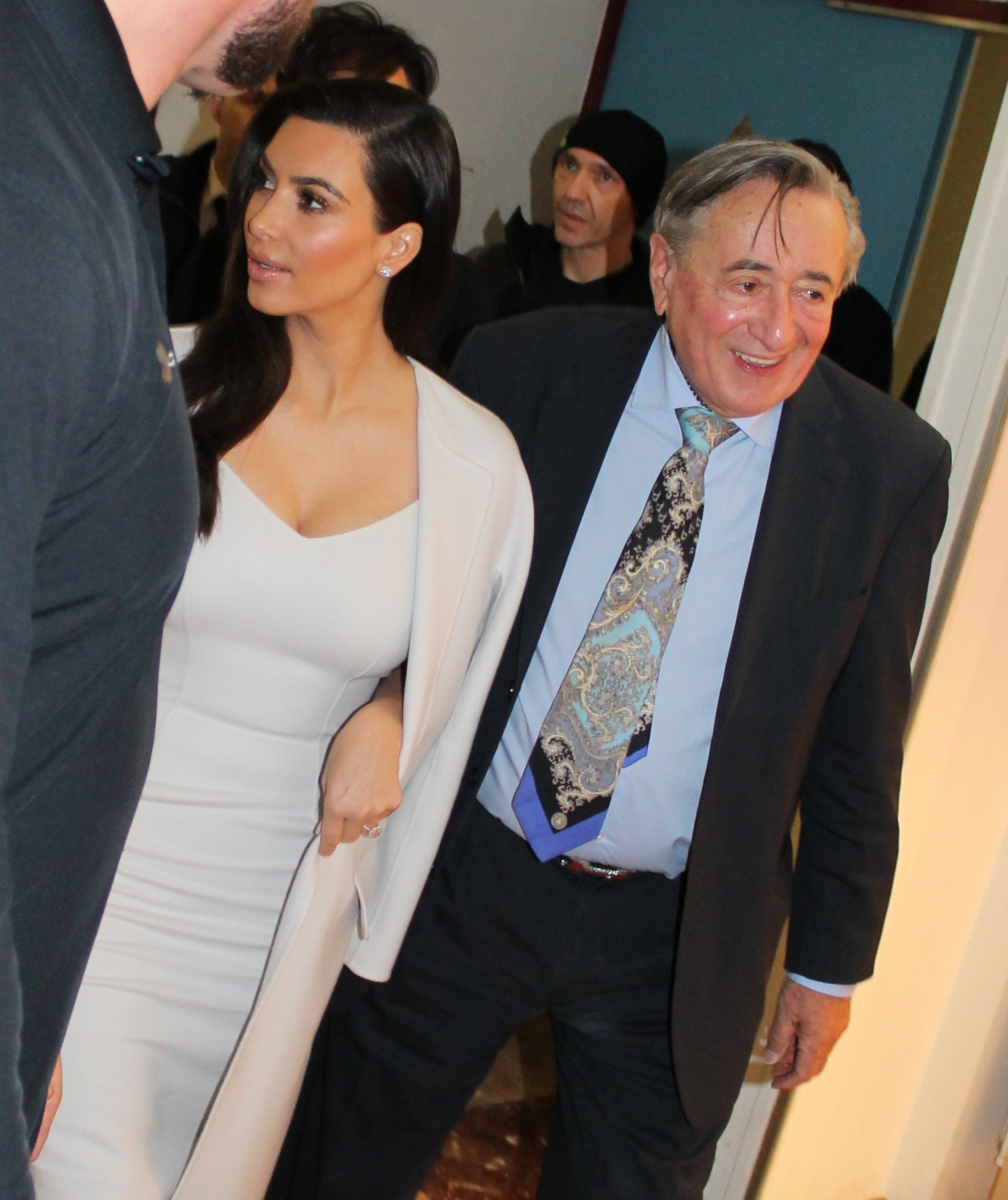 Photos courtesy of WENN.