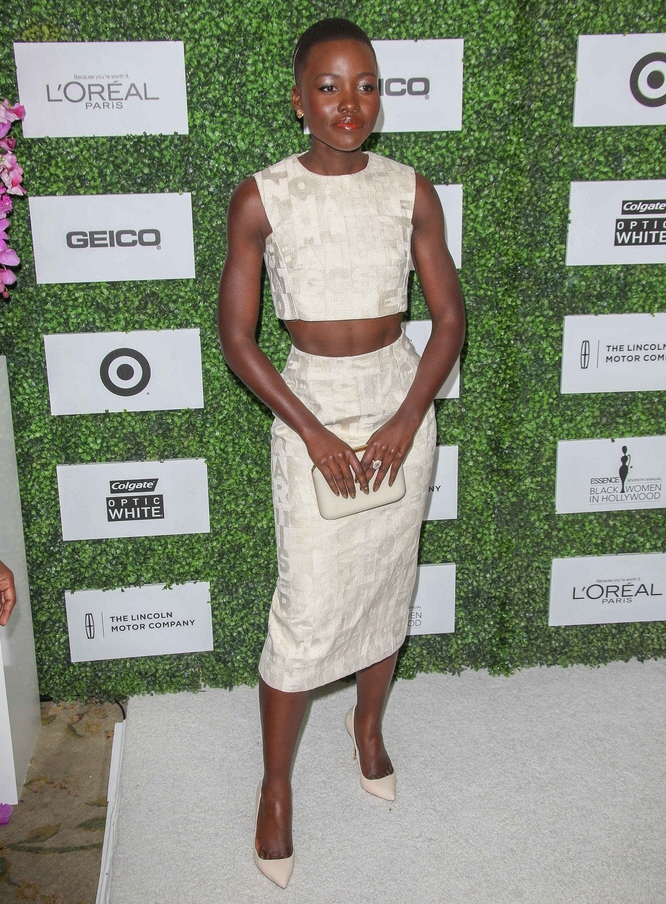 I already covered the fashion from yesterday's Essence event in LA – go here to see. Essence got a really wonderful turnout for their annual ladies' luncheon, and many of the ladies looked fantastic. I actually thought, fashion-wise, Lupita Nyong'o didn't really stand out. But Lupita always manages to stand out in other ways, even if her Giambattista Valli crop top ensemble is questionable. Lupita attended the luncheon because they were giving her an award for "Breakthrough Performance". During her speech, Lupita talked about her skin, about praying to God to make her lighter and about positive, dark-skinned role models for young women. I LOVE HER.
Nyong'o received the Breakthrough Performance Award and got real in her speech. This year's Oscars famously mark the third time that a POC has been nominated for the Best Director Award in the show's history. As Steve McQueen competes for the top honor, the stars of his 12 Years a Slave – Chiwetel Ejiofor and Lupita Nyong'o are also the favorites in their own categories – Lead Actor and Supporting Actress. And because even this qualifies as an unusually diverse lineup of nominees, the topic of skin color has tended to come up a lot in the past few months.

Instead of shying away from a subject that she clearly finds difficult, Lupita Nyong'o faced it head on, as she addressed the guests at Essence Magazine's seventh annual Women in Hollywood luncheon.

''I got teased and taunted about my skin,'' Nyong'o began, on stage in a ballroom at the Beverly Hills Hotel, according to Boston.com. ''My one prayer to God was that I would wake up lighter skinned. The morning would come and I would be so excited about seeing my new skin that I would refuse to look down at myself until I was in front of the mirror because I wanted to see my face first. Every day I would feel the disappointment of being just as dark as the day before.''

In an eye-opening testimony, Nyong'o recalled how she tried to bargain with god to make her skin lighter, so that she would avoid being taunted and teased by other children. Nyong'o said she tried to bargain with God by vowing to stop eating sugar cubes and to never lose her school sweater again, if she could only see a change in her skin tone. It wasn't until she discovered Sudanese British supermodel Alek Wek that she began to believe in her own beauty.

"She was dark as night and was in all the magazines and on runways," Nyong'o said. "My complexion had always been an obstacle to overcome. I couldn't believe that people were embracing a woman who looked so much like me as beautiful. It was perplexing and I wanted to reject it because I had begun to enjoy the seduction of inadequacy. But a flower couldn't help but bloom inside of me."

Nyong'o said she would also like to inspire young women.

"I hope that my presence on your screen and my face in magazines may lead you, young girls, on a beautiful journey," she said. "That you will feel the validation of your external beauty, but also get to the deeper business of being beautiful inside."
[From Contact Music & HuffPo]
Bless her. I love her so much. This reminds me of what Viola Davis discussed during her Oscar campaign for The Help – Viola talked about her natural hair a lot, about being a dark-skinned black woman in Hollywood and the perceptions of inadequacy, of being less-than. I think Lupita's message works on two levels. One, young women will understand that even someone as beautiful as Lupita had some bad moments when it came to loving herself. And two, Lupita is just another much-needed role model for young black women, on every single level. And if Lupita doesn't win the Oscar… I will cry.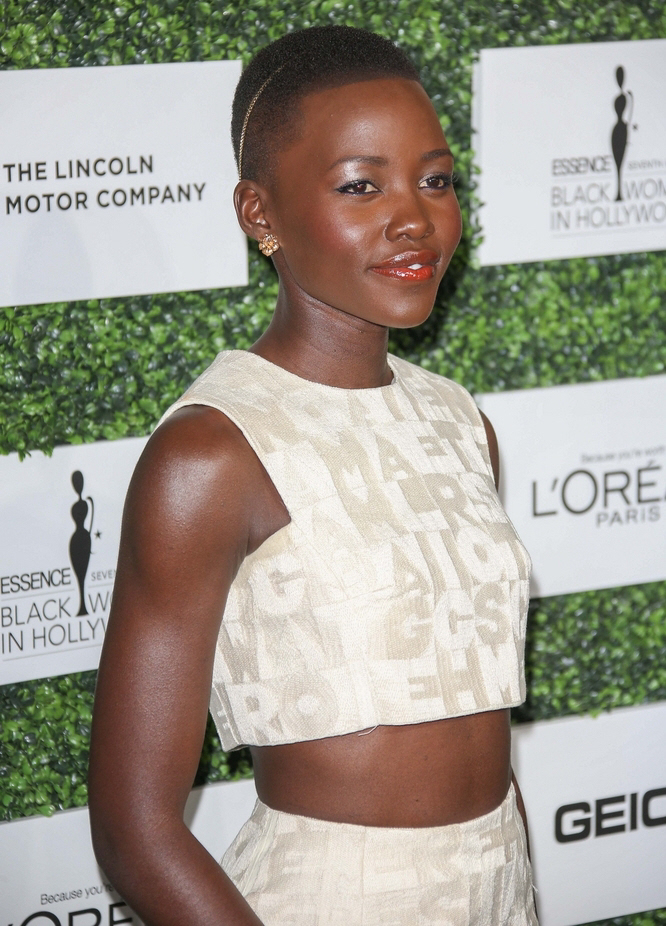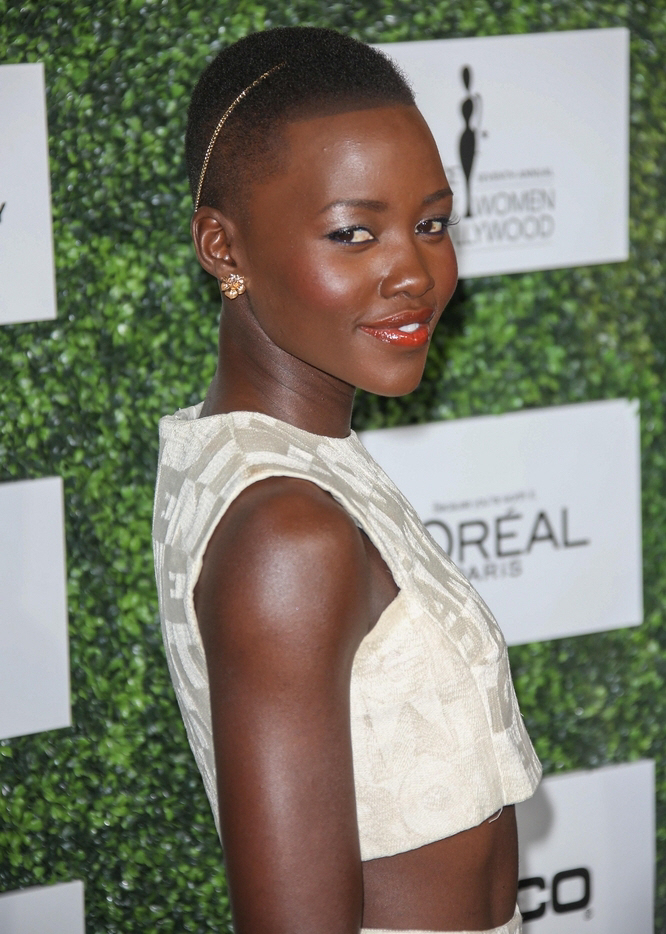 Photos courtesy of PR Photos.