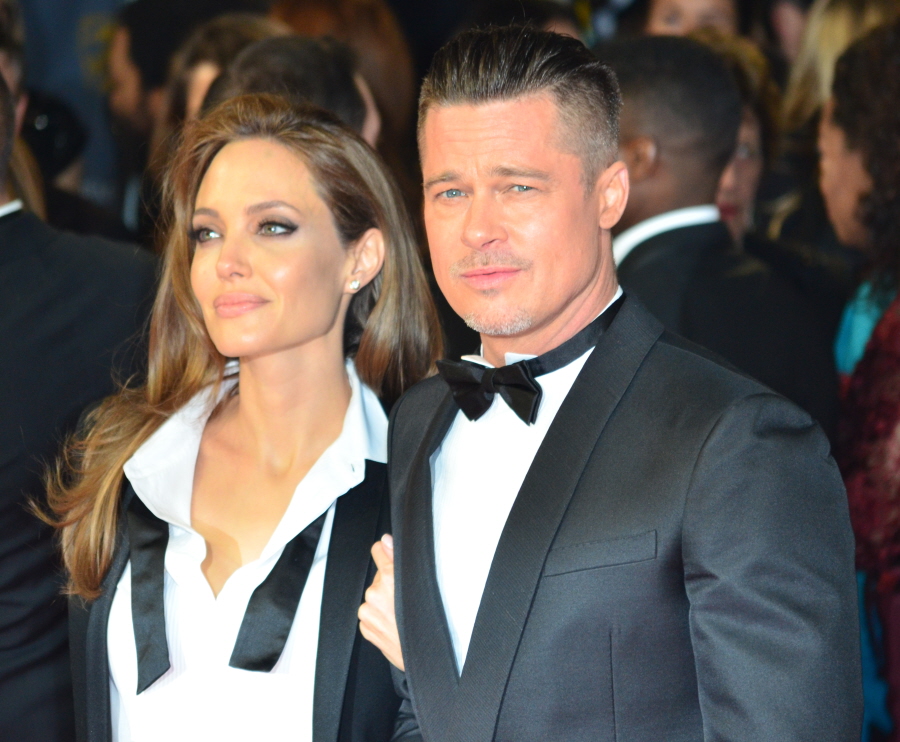 I'm starting to get giddy with anticipation for Brangelina at the Oscars. What will Angelina Jolie wear? I hope she doesn't go with Versace again. Not after that black velvet disaster that brought us The Leg of Doom. Perhaps Saint Laurent. She's also worn Jenny Packham several times the past few years – I wouldn't mind seeing her rock a Packham gown at the Oscars. Oh, and I bet we get a Jolie preview at the Independent Spirit Awards too, which will be Saturday night. 12 Years a Slave is up for a bunch of awards, and she has a history with the Spirits too. Back in 2008, Angelina debuted her baby bump (she was pregnant with twins Knox and Viv) at the Spirit Awards. YAY!!!
Oh, and here's a hint about what she's going to wear at the Oscars – silver peep-toe pumps. We know for sure because she was at the Oscars rehearsal on Thursday and she told the college student workers that she wore her Oscar shoes because "After you've done this a few times, you learn to wear the shoes you're going to present in." She also introduced herself to everyone as "Angie" and joked about not falling as she walked the stage. So… silver peep-toe pumps. Is she going to wear a light metallic? Or white? Will it be a sack dress? TELL ME!
And even more Jolie-Pitt news. Next up: Us Weekly claims that in addition to undertaking the most difficult project of her career by directing Unbroken, apparently Angelina was taking cooking classes at the same time? Because of course.
Chef Jolie! Angelina Jolie learned how to cook from her personal chef while in Australia directing Unbroken, a source tells Us Weekly in the Mar. 10 issue. The gorgeous movie star mom, 38, recently overcame her kitchen-phobia, after learning a few healthy tips and culinary tricks from the pro, the insider tells Us. This will be a big lifestyle swap for the children, who are the "worst eaters," according to the source. And feeding six kids with different food preferences is no simple task: The Jolie-Pitt kids "want to eat different things at different times," the source adds.

Jolie, who once famously admitted that son Pax, 10, was a better cook than her, decided it was time to take control. The source tells Us that the mom is "very proud" of her new skill. (Back in 2011, Jolie boasted that she and fiance Brad Pitt cooked their own Thanksgiving turkey. "We were very successful and very proud of ourselves," she joked to Anderson Cooper in an interview.)

Jolie, who up until early February had been filming Unbroken since late 2013, was joined by her six kids on the Gold Coast. Pitt, 50, who was busy filming upcoming movie Fury in London, oftentimes flew over to spend time with his beautiful brood. But after months apart, the family has reunited in full and returned back to the West Coast ahead of the Oscars.

"Since Sydney, everyone is in sync," another insider told Us of the Jolie-Pitts.
Do you judge Angelina harshly for not being a regular at Whole Foods and for letting her kids eat Cheetos? Well… don't judge too much, because I'm pretty sure Angelina and Brad have employed private chefs this whole time, so it's not like the children were just scavenging for whatever they could find. And that's who taught her to cook – her "personal chef." Besides, why can't Brad learn how to cook too? Why is it just about Angelina being a terrible, Cheeto-pushing mother? THE LEG DEMANDS PROCESSED FOODS.
In other Angelina news, British Foreign Secretary William Hague announced this week that he and his main homegirl Angelina will be co-hosting a summit on war-time rape this June in London. Hague was in Washington to receive an award, and his speech was all about women's rights, victim's rights and war rapes. During his speech, he cited Angelina and her film In the Land of Blood and Honey, saying: "Sexual violence is often one of the first things that happens as soon as conflict or instability take hold. Yet it is usually the last thing to be taken into account by those ending wars or rebuilding nations… We must remove rape and sexual violence from the world's arsenal of cruelty." Hague and Jolie have worked together on this specific issue before, and they've also traveled together to Democratic Republic of Congo to highlight the issue of warzone rape. Hague is a full-on Brangeloonie. It's kind of awesome.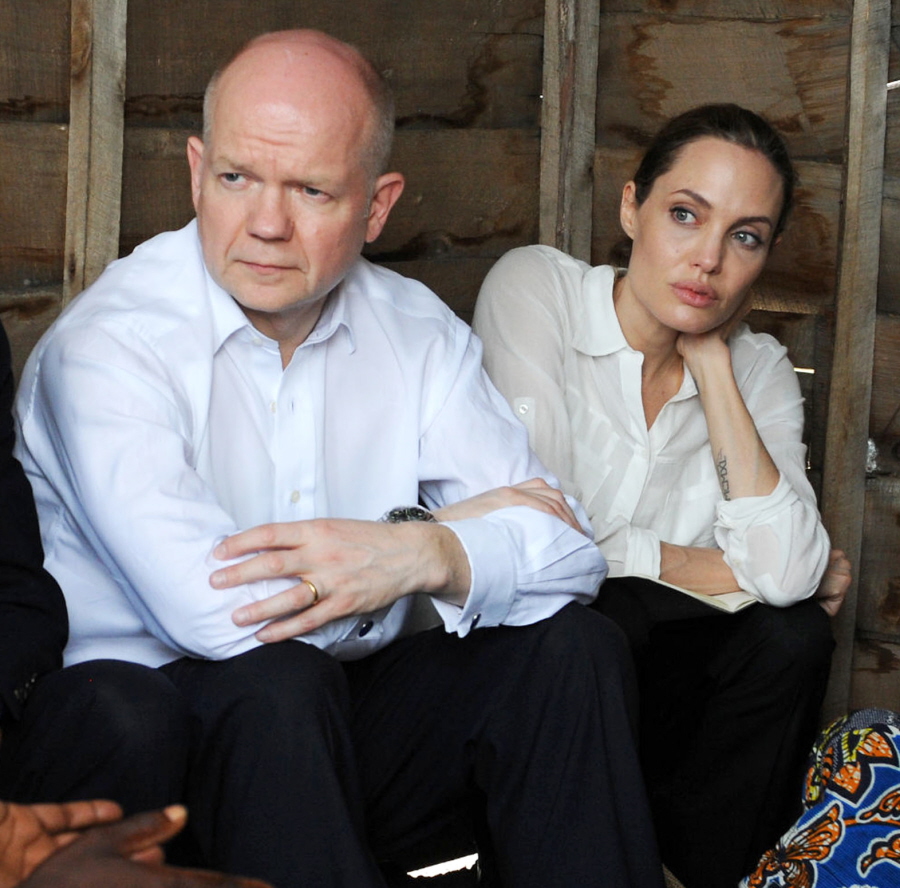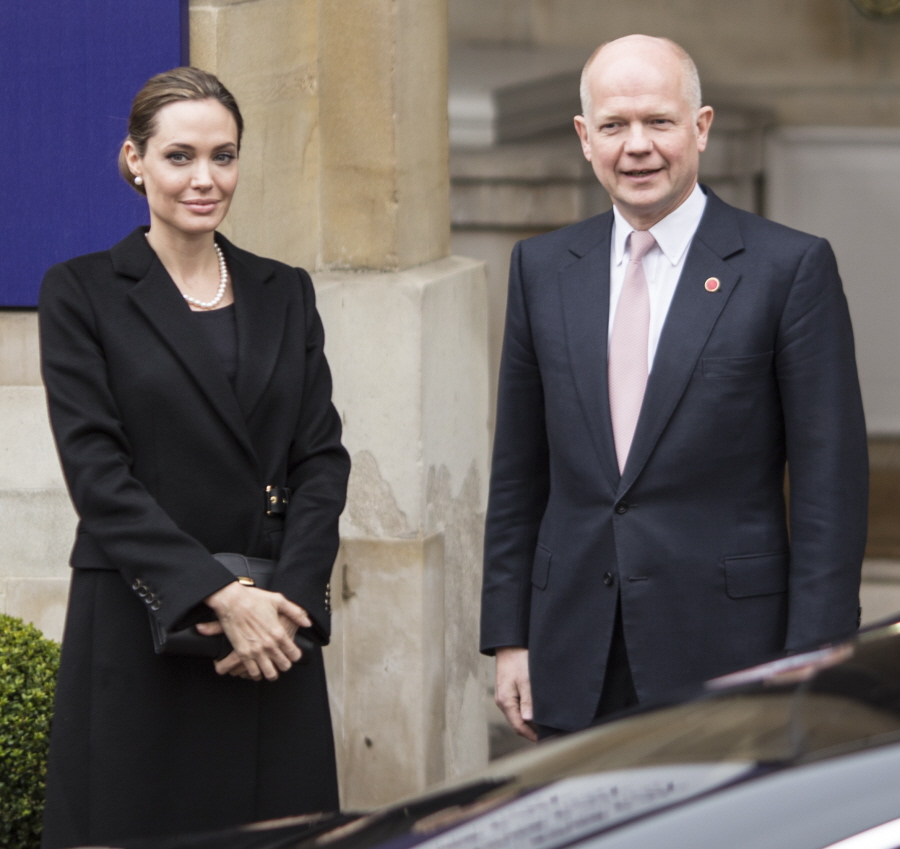 Photos courtesy of Joe Alvarez, WENN, Fame/Flynet.