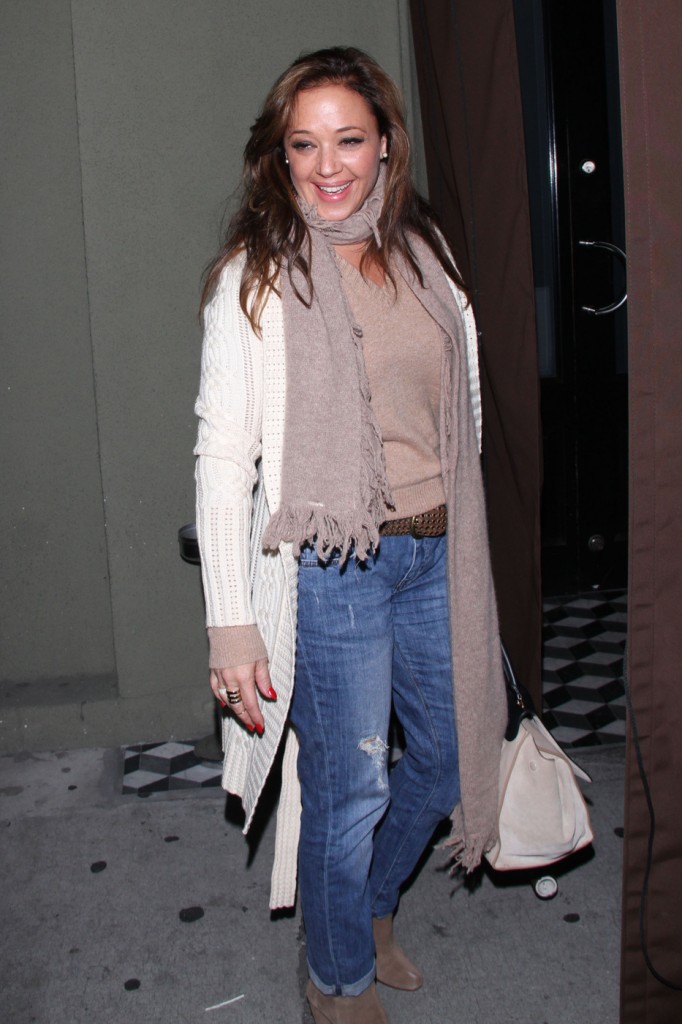 Last summer, Leah Remini left the Scientology cult carefully, and with a series of admissions that she meted out. First there were "sourced" stories in the media, followed by a vaguely worded statement confirming the news, then more details from Leah's sister. Leah's sister said that Leah was being shunned by cult members she's known for decades, whom she considered her oldest and dearest friends. Leah confirmed that she had lost friends after leaving Scientology but she didn't get into the nitty-gritty of what she went through.
Leah gave her most extensive interview to date about Scientology to Buzzfeed. It's well worth a read, and you can see it on their website. She explained how her family got into Scientology when she was a child, how hard that life was for her and her sister, and how she eventually broke into acting. Leah also talked about leaving her gig on The Talk and how she eventually left Scientology. Leah realized she didn't want that kind of life for her daughter, and she began to grow disillusioned with how hypocritical the "church" was. Here's some of that part, and this is a long segment but it's part of a much larger interview about her career:
While Remini insists there were dozens of influencing factors fueling her decision to exit the notoriously controlling Church, none were more persuasive than her 9-year-old daughter, Sofia.

"She was getting to the age where the acclimation into the Church would have to start," Remini revealed of the process, which begins with auditing. It includes having children answer questions like, Have you ever pretended to be ill? Have you ever decided you didn't like some member of your family? Have you ever been a coward?

"I started thinking of my own childhood and how I grew up resenting my mother because she was never home," Remini explained. "It's funny; somehow my father, the guy who left his kids and never paid child support, was excluded from my resentment and I grew up resenting my mother for not being home to make food, like all my friends' moms were. But my mom thought she was doing something good; she thought she was helping the planet. That's what the Church tells you."

Like many churches that actively exclude non-members, Scientology reinforces a "Church First" mantra, which became harder and harder for Remini to swallow. "In my house, it's family first — but I was spending most of my time at the Church," she added. "So, I was saying 'family first,' but I wasn't showing that. I didn't like the message that sent my daughter."
Remini soon began to speak to her friends within the Church, many of whom she'd known for nearly three decades, about implementing changes, yet she was only met with opposition.

"We had a chance to make a change from within, but they didn't want to," Remini said. "That showed me they didn't actually care, which went against everything I thought we stood for. They only cared that their lives would be disrupted if they stood with me. They didn't care about doing the right thing. That showed me everything the Church taught me was a lie…

"In the Church, you're taught that everybody is lost," Remini explained. "They say they're loving, caring, non-judgmental people, but secretly, they were judging the world for not believing what they believed. To me, that is not a spiritual person. That's a judgmental person and that is the person that I was. I was a hypocrite, and the worst thing you can be in this world is a hypocrite."

After the maelstrom died down, Remini turned to what has always saved her: her work. First, she competed on Season 17 of Dancing with the Stars, where she placed fifth. The glitz and the glamour of ABC's ballroom staple put Remini in touch with a feminine side she'd never before known.

It also taught her how to celebrate life. "Before, I would be going to the Church right after this lunch," she said. "There's no going to dinner with friends and having a glass of wine — I never did that in my adult life. I always thought people who had a glass of wine at dinner were alcoholics. It was so crazy to me because you can't get counseling the next day at the Church if you've had a drink, so most Scientologists don't drink. Not that that's a bad thing, but it also prevents you from having fun because your mindset is to wake up early and go to the Church every single day. There's a lot of work required to retain your place in the Church."
I didn't know that Scientologists frowned on drinking a glass of wine! They talk a good game about how they're so progressive and accepting, but of course that's not the case. Leah also said that she's learned to love herself, and that her good friend Jennifer Lopez taught her how important that was.
Scientology has responded to this interview, and they of course trashed Leah, as they always do. This is their default position – an ad hominem attack, and it's predictable, ineffective and quite dated. It would be funny if they weren't such a scary organization. (Although their power has definitely diminished the past few years.) Here's what they said.
"It comes as no surprise that someone as self-absorbed as Leah Remini with an insatiable craving for attention would exploit her former faith as a publicity stunt by rewriting her history with it, including omitting that she was participating in a program to remain a Scientologist by her own choice, as she was on the verge of being expelled for her ethical lapses."
Wah wah wah. Leah's "ethical lapses" include daring to ask how her old friend, head David Miscavige's disappeared wife, Shelley, was doing.
This great interview reminds me that Leah may be writing that tell-all we heard about last year. I do hope that's in the works. For now she's promoting her appearance on the finale of The Exes, which aired earlier this week.