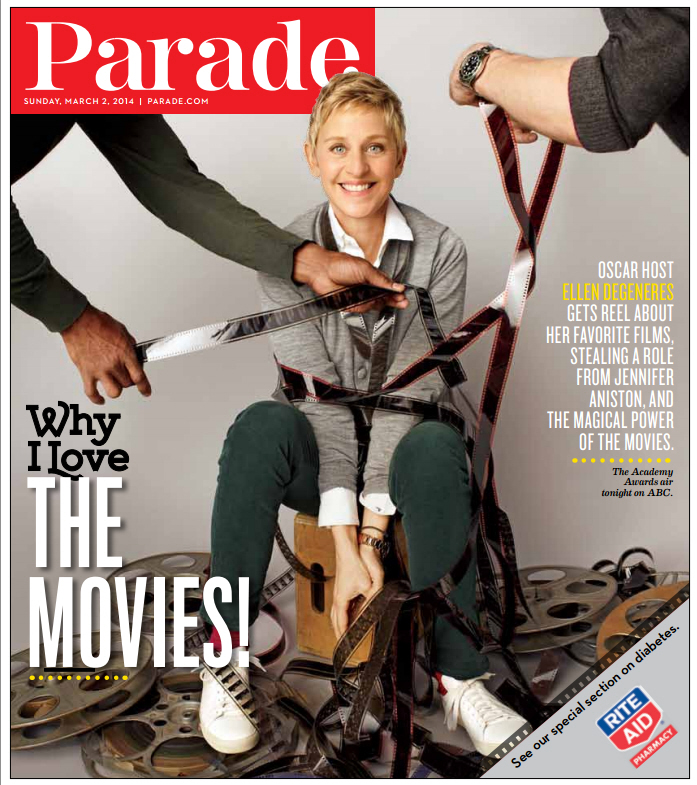 I'm so happy that Ellen DeGeneres is hosting the Oscars this year. Have you noticed how little drama there's been in the lead-up to the Oscars? At this point last year, we already had dozens of insider-y stories about Seth MacFarlane and how he was changing everything, blah, blah. I'm glad the Oscar producers have finally settled on something that works: get someone non-controversial and funny and just do it like that. Anyway, Ellen covers this weekend's issue of Parade. You can read the full Parade piece online here. Some highlights:
Her two favorite movies: The World According to Garp and Out of Africa. "I love stories that are inspirational yet have a lot of heartache, because I think that's what life is. Life is filled with struggles and yet there's always beauty, and that's what I get from those films."

On why she initially said no to hosting the Oscar broadcast again (she earned an Emmy nomination for her emceeing duties in 2007): "Everybody who works with me thought I was crazy. But the person who lives with me—Portia—was on my side. She thought, 'I don't need to go through this, either. She's gonna be stressed.'"

On why she ultimately agreed to do it: "I thought, 'All right, let me scare myself again.' It's good to do something that scares you."

On her commitment NOT to do her trademark dancing on Sunday's Oscar broadcast: "I'm not going to be dancing. I dance on my show. I don't think people need to see that every time I do anything."

On the pride she takes in her supporting role in the 1999 comedy EDtv: "Jen Aniston is my friend and she recently reminded me that I beat her out of that. I got the part and Jen Aniston didn't! That'll probably be the only time that happens."

On being the inspiration for the film Miss Congeniality, in which Sandra Bullock starred: "Miss Congeniality was written based on me. When I was getting ready to cohost the Emmys, the writer saw me [on TV] learning how to walk in a dress and heels. My stylist at the time—a man—was teaching me, and it was hilarious. The Miss Congeniality writer saw it and thought it was brilliant."

On perhaps following Oprah's lead and taking on an occasional dramatic film role: "Okay, I'll do that. Put that I'm available for small roles. If they give me the right one, I promise I'll be nominated for an Oscar, if not win… You know what? I can tell people that on Oscar night."
It's weird that she doesn't act that much anymore, because I've always thought of her as a gifted comedic actress. I mean, she doesn't have range or anything – her characters always have to be droll and witty – but for what she does, she does it well. I LOVE the Miss Congeniality story too – I've never heard that before. So Ellen's dude stylist had to teach her how to walk in a dress and heels. Amazing.
So, do you think Ellen is going to hit a homerun with her second time hosting the Oscars? I think she will. I think she'll be lighter and more family-friendly than Tina Fey and Amy Poehler (no jokes about supermodel vagina), but Ellen will do more "bits" and such and I bet they will all be funny.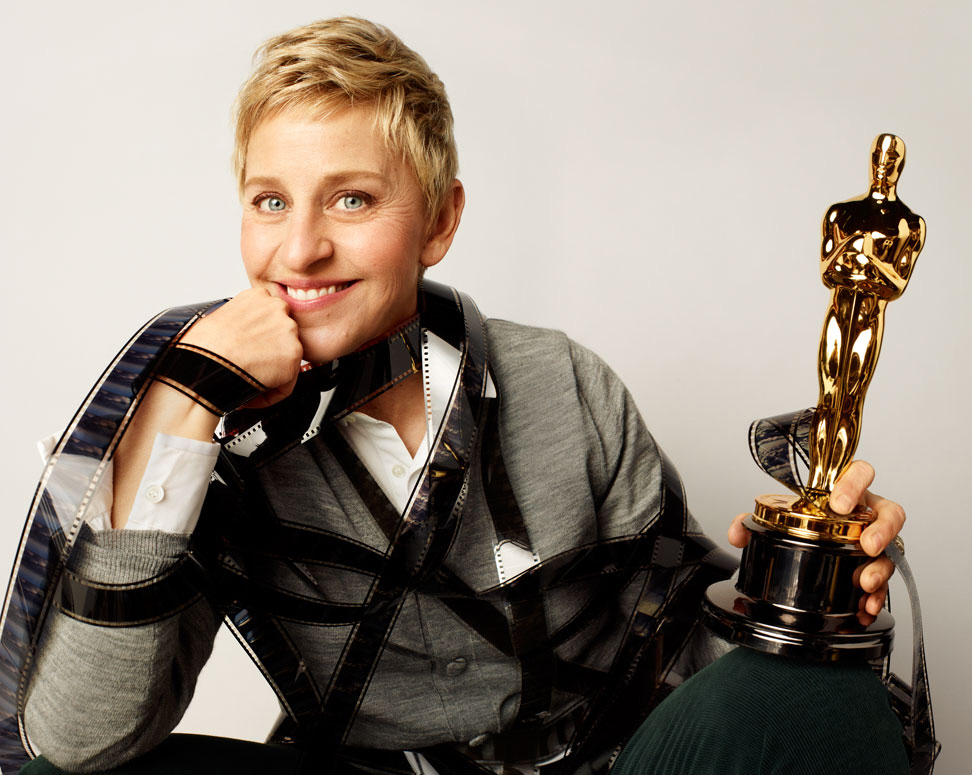 Photos courtesy of Parade.