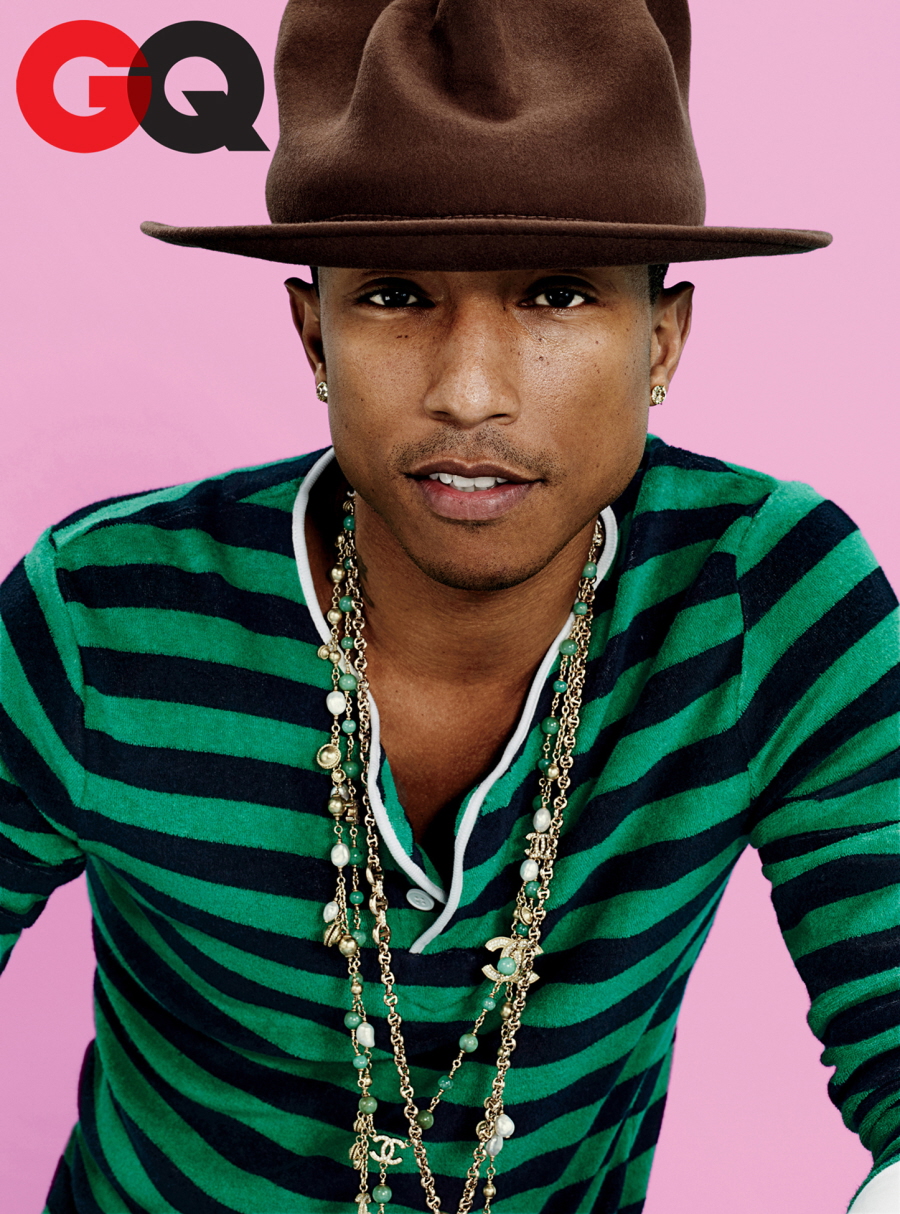 Will we be referring to "Oscar-winner Pharrell Williams" on Monday? Your guess is as good as mine, but I do think Pharrell has a pretty good shot at winning Best Song at the Oscars for "Happy". It's an easy song to love, you know? Anyway, Pharrell has a new profile in GQ, and here's what happened: I began reading this early Thursday morning and I had to stop because it was so absorbing and I had to get back to work. I had to return to it later, and I don't regret taking the time to read the whole piece. If you don't know that much about Pharrell, it's a good starter piece and I think he comes across as a really nice guy. He seems weird and "different" and like he's a really cool dude, just unconventional. The piece is all about how he's going to release a new solo album, G I R L. Some highlights:
His first solo album, in 2006, In My Mind: "Crickets," he says. "I wrote those songs out of ego. Talking about the money I was making and the by-products of living that lifestyle. What was good about that? What'd you get out of it? There was no purpose. I was so under the wrong impression at that time."

Why he couldn't hear the universe's purpose for him: "I couldn't hear it. The money was too loud. The success was too much. The girls were too beautiful. The jewelry was too shiny. The cars were too fast. The houses were too big. It's like not knowing how to swim and being thrown in the ocean for the first time. Everything is just too crazy. You're like, flailing and kicking and whatever, and you know what happens, don't you? You sink. My spirit sank. I just felt like, 'F–k, what am I doing?' "

Does he still have the diamond-covered Rubik's Cube? He says yes, but these days it doesn't come out much. "I don't wear big, crazy stuff" anymore, he says. What do you think about it now? Does it make you feel awesome, that you had a diamond Rubik's Cube? "No, I was out of my mind. It was ridiculous. But that's how caught up I was." You can leave it to your son. "Here's a diamond Rubik's Cube. This is your inheritance." He gives me a skeptical look. "No, hopefully his inheritance is a great education and a positive outlook on life," he says. Then he stands up to walk across the street and get a cupcake.

Why he named his album G I R L: "I instantly knew that the name of the album was called G I R L, and the reason why is because women and girls, for the most part, have just been so loyal to me and supported me. There is no breathing human being on this planet that did not benefit by a woman saying yes twice. Yes to make you, and yes to have you. Point-blank. If women wanted to cripple the economy, all they gotta do is not go to work. Period. Work at work, work at home. Okay? If they wanted to end our species, cripple our species—seriously! Like, women can look out into space at all the stars and go, 'You know what? I can actually end all the human life on this planet right now. All I gotta do is just say no.' There's a huge value placed on that—you know, on something so simple like if all our talk-show hosts late at night all were women, that's a very different world."
The diamond-covered Rubik's cube is my favorite part. The GQ writer goes off on this very non-judgmental history of Pharrell being "the best possible version of the worst possible guy" and how Pharrell spent several year worshipping the money and the luxury and the THINGS and how it all culminated with a diamond-encrusted Rubik's Cube which Pharrell flashed on BET in 2006 for no reason really. Pharrell also claims he has synesthesia about his childhood, that he sees colors when he hears sounds and his childhood is awash in burgundy and blue. His mom would also write "143" on his notes instead of "I love you" (one letter, four letters, three letters). Basically, spending three pages with Pharrell is like an acid trip. But a really cool acid trip where you want to eat cupcakes and look at trees.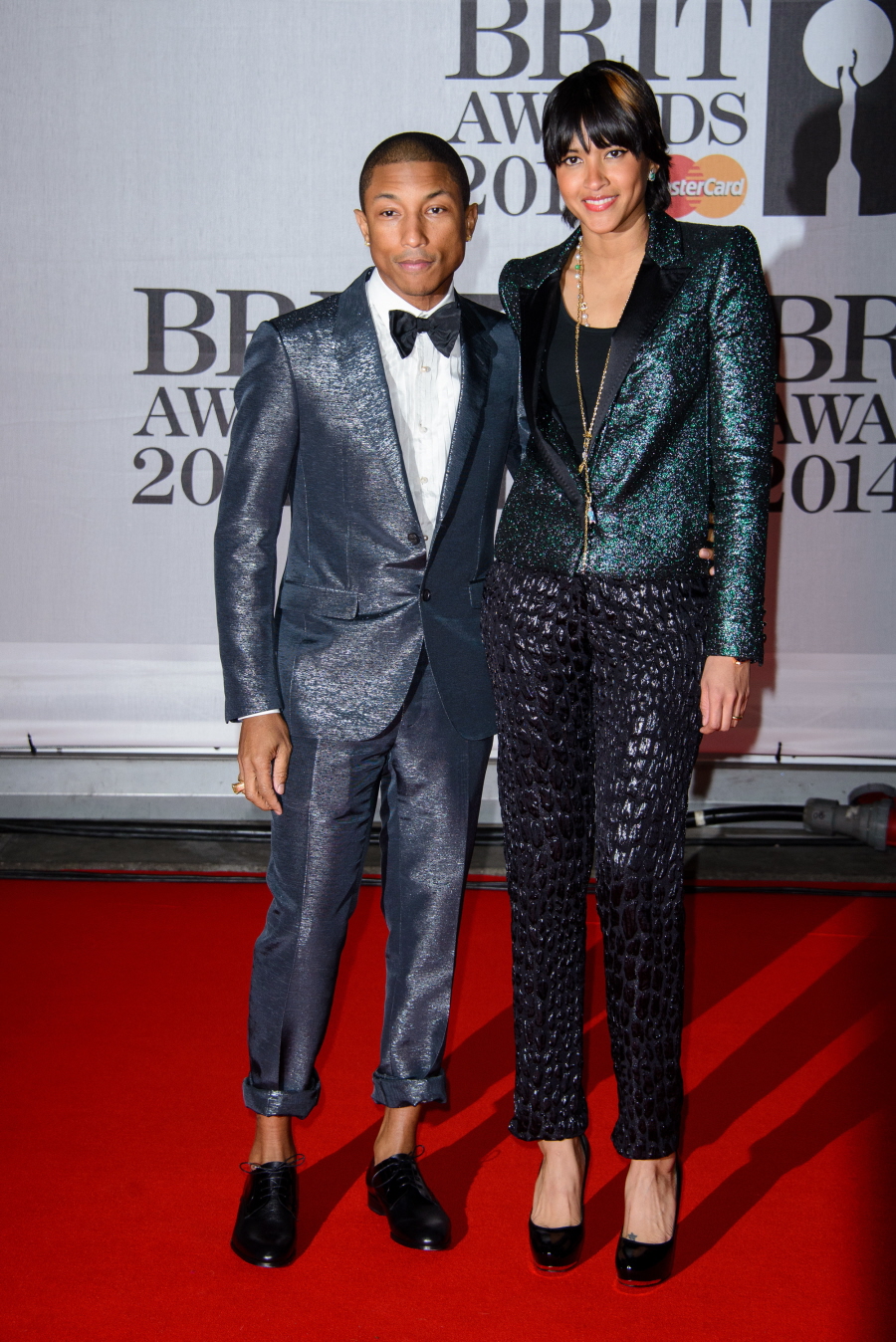 Photos courtesy of WENN and Paola Kudacki / GQ.