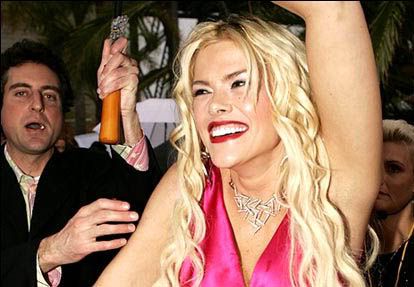 One doctor is responsible for prescribing all 11 drugs found in Anna Nicole's suite at the time of her death. The psychiatrist who said she heard Anna plead "don't leave me" while taking a bath during their last meeting, Dr. Khristine Eroshevich, may have had a personal relationship with Anna but like her other hangers-on she was all too willing to enable her drug habit. The prescriptions were under three different names, and none were prescribed to Smith. Eight were for Howard K. Stern, one was under Erozhevich's name, and two were written out to an unknown person, Alex Katz, which may have been an alias.
What's more is that over 600 pills were missing from prescriptions that were under 5 weeks old. It is not known if Anna took all the pills or if someone disposed of them at some point:
_ Chloral hydrate, the sleep medication blamed as the leading causing of Smith's death, was prescribed Jan. 2. About two-thirds of the bottle was gone, according to records, which also show 62 tablets of Valium missing from a two-week-old prescription.

_ Records show Smith had two prescriptions for the muscle relaxant carisoprodol, prescribed Jan. 2 and Jan. 26, and one for methocarbamol (aka Robaxin), prescribed Jan. 2. Some 415 of the carisoprodol pills were missing as well as 33 of the Robaxin pills.

_ Also missing were 79 tablets of anti-seizure meds Topomax and Klonopin and at least two dozen diuretics, antibiotics and antivirals.

Amazingly, the documents did not mention the methadone or the Ativan found in Smith's system. Nor was there mention of who prescribed Smith human growth hormone, which she was said to have been taking about the time of her death.
According to those numbers, if all of those pills were consumed by Anna, each day she would have had to take about: (I am counting the day the drugs were prescribed as well as the day she died)
4.5 Valium
Nearly 12 muscle relaxants
About two anti-seizure drugs (although it is unclear when these were prescribed)
Along with the sleeping medication chloral hydrate and methadone, if she was still on that
This seems possible to me given how incoherent she sounded in interviews, although other people around her may have been helping themselves to the prescriptions. It's also possible that someone who was in her hotel room that morning got rid of some of the pills. It doesn't make sense that someone would dispose of some of the pills and not all of them, though. Howard K. Stern was said to have flushed pills down the toilet after Daniel's death, according to a witness. I should be careful pointing the finger at that litigious creep. It is thought that he is planning on suing a bunch of high-profile reporters that have been openly calling him a murderer and suspicious character.
Meanwhile that unlikely other baby-daddy, Prince Von Asshat or whatever, really has filed a defamation suit against Bill O'Reilly for calling him a fraud for claiming paternity of Dannielynn.
It is thought that the DNA results showing Dannielynn's real father will be announced next week. Howard K. Stern has not provided DNA and was not able to substantially stall the paternity case.