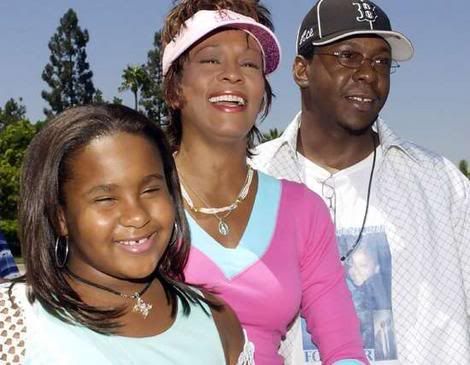 In what is an incredibly unsurprising decision by the Orange County Superior Court, newly rehabbed Whitney Houston has been granted custody of her 14 year-old-daughter Bobbi Kristina from her marriage with sometimes R&B singer, Bobby Brown.
Here's the story from The New York Post:
ORANGE, Calif. (AP) — Whitney Houston's 14-year marriage to Bobby Brown will officially end this month, and she will get custody of their teenage daughter, a judge ruled Wednesday. The singer dabbed her eyes with a tissue as Orange County Superior Court Judge Franz E. Miller ruled that the divorce will become final April 24. Brown did not attend the hearing.

In court, Houston testified that she did not need spousal or child support and that the couple's 14-year-old daughter, Bobbi Kristina, could not depend on Brown.

"He's unreliable," Houston told the judge. "If he says he's going to come, sometimes he does. Usually he doesn't."
I'm glad Whitney finally seems to be getting her life back together after her marriage to Brown. I missed the ultra glam 90's Whitney (yes, I know The Bodyguard wasn't exactly A Star is Born, but by George she did look good in that movie) and it would be good to have her bring back an album after so many rubbish wannabe singers are entering the charts nowadays. It doesn't look like Brown is going to give up this decision without a fight, though:
Brown's attorney, Ram Cogan, said he will seek to overturn the judge's decision.
I don't know whether Brown would really seek to overturn this decision. Judging by the fact that he was not in court and he had difficulty baliling himself out of jail (after failing to pay child support payments to his child from a previous relationship), I think the chances of him actually showing up to fight the decision look marginal at best.