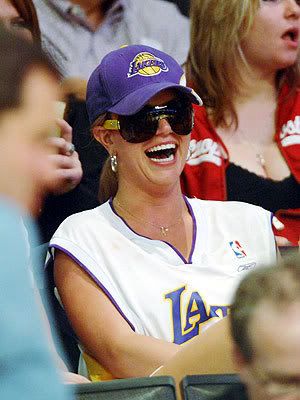 Singer Howie Day's publicist was more than willing to tell Page Six that he was the bloke seen playing tennis with the bald mother of two at the high priced Promises rehab facility. The British rags were quick to claim that Britney was seen romping and groping in the bushes with her tennis partner that day, and now Life & Style says they're a new item.
I think they paired off to play tennis together, that the British papers made up that makeout session, and that Life & Style based their article on that dubious romp among the shrubbery, but it's Britney so anything is possible. They also say that Britney is planning to bring Day to her cousin's wedding in two months. If they're still together, that is:
The detoxed "Toxic" star is dating musician Howie Day, according to the new issue of Life & Style.

Spears met Day while the two were at rehabbing at Promises in Malibu "and fell hard for him" reports the mag, which claims that she's going to bring him as her date when she attends her cousin Erin's wedding on June 2.

"Britney just lights up and seems back to her old self when she talks to Howie or tells people about him," an "insider" tells the mag. "She thinks he's very talented — and says he's the best kisser ever!"

But not everyone is thrilled about the romance. Spears' mother, Lynne, is concerned about Day's past: he's been arrested twice and was sent to rehab as part of his probation.

"Lynne wants Britney to be with someone outside the music industry," says the Spears family insider. "Howie is always on the road and exposed to influences that are discouraged in rehab."
I actually know who Howie Day is as he opened up for Tori Amos when I saw her tour in the fall of 2002. He's a good musician and I liked him enough to buy his debut album at the time. He's a kind of soulful singer with a catchy pop alternative sound. You can listen to samples of his music through Amazon.
I'm not really buying this romance. I think the two met in rehab and if they were dating we would have seen them out together already considering how much the paparazzi stalk Britney. They may have played tennis together, but I don't really think they even made out afterwards. This wedding is far enough out in the future that Life & Style won't really be held accountable if Britney doesn't go or bring this guy as her date.