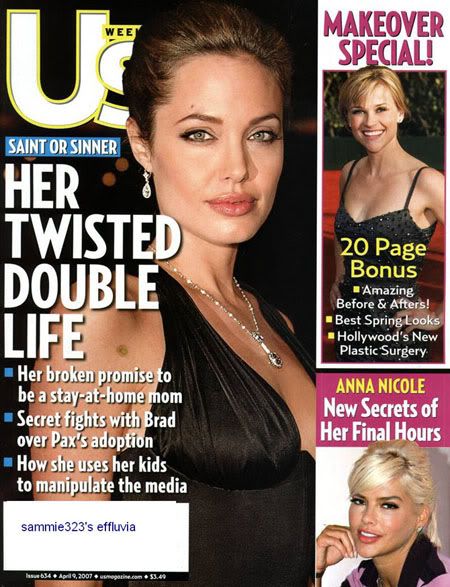 Page Six is reporting that there's a good reason why all the tabloids are running stories about how Angelina and Brad's relationship is in trouble now that she's adopting with abandon and jetting around for her career. Angelina bypassed all the rags and went straight to People with the exclusive photos of newly-adopted Pax.
The Post repeats the questionable story from Britain's News of the World that Angelina is about to adopt a one year-old African girl from Chad to "balance the races" in her family and give Zahara another African Jolie-Pitt playmate.
If that happens and Angelina does adopt another baby girl, they say, she better be more generous with the pictures or the tabloids will continue to skewer her. They also say that Angelina puts the kids in daycare despite having four nannies at home and that she placed a ban on cellphones in the facility so that no one takes pictures of her children:
If Angelina Jolie adopts a fifth child from Chad as expected, maybe she should let some other publication besides People run exclusive photos of the child.

Sources say Us Weekly, Star and other celebrity weeklies are so fed up with getting scooped by People, they've turned on Jolie and Brad Pitt with a vengeance…

When Jolie is in L.A., even though she has four full-time nannies, she leaves her three eldest kids at the $931-per-month preschool/day-care center on the Warner Bros. lot, Star reports, where other parents are upset with the special treatment Jolie gets. One flashpoint is a ban on cellphones because Jolie fears parents will take pictures of her kids.
As for what the tabloids are reporting, Radar Magazine has a good recap and I read the US Weekly article. All of the rags except US Weekly center on the speculation that Brad and Angelina are having serious trouble in their relationship. US Weekly focuses on how Angelina is looking like a hypocrite for not staying at home with the kids like she promised. They mention her one-day trip to Chicago alone to do test screening for a new film along with the fact that she has a boatload of work coming up.
US doesn't miss the "trouble in Paradise" angle, though, and has an inset article claiming that Brad and Angelina have hit a rough patch. They cite a relationship expert who warns that they could have problems because of Angelina's flightiness and warn that they're expanding the family too fast and need to work on their relationship. Us also runs a full-page story with Angelina's past exploits, below, reminding us how wild and dark she used to be.
Star Magazine has the headline "Angelina Walks Out," but they said the same thing last week about how Katie Holmes was planning on leaving Tom Cruise and the article was just based on the fact that she wanted to go to Louisiana to film her new movie and Tom ended up tagging along. I'll read the Star article once I have access to it and let you know what I think, but I bet that they're either using the story that Angelina went to Vietnam without Brad or her one-day trip to Chicago as the basis for their claim.
According to Radar's recap, Star says that Angelina is leaving the kids in daycare and pissing off the staff with her demands, which include that parents not look at her when she's there to drop off and pick up.
OK! says that Brad wants a normal life and wants Angelina to stay home, and that he's looking for a way out of the relationship.
Life & Style says that Brad is pleading with Angelina not to adopt again and say that Jennifer Aniston sent them a card and gift for Pax, which mightily pissed off Angelina.
I always think that these tabloids are making up the stories based on known facts and paparazzi photos and have little if any insider information. How much insight does it take to think that a couple, even one with a shitload of help, would be having trouble in their relationship with four young kids at home and constant travelling?
The way that People garnered Angelina's good graces was by running puff pieces on her pediatrician and a favorite co-worker at the UN. She's sure to blacklist all these tabs from future pictures now that they're vilifying her.
Thanks to Sammie's Effluvia and popbytes for these scans.