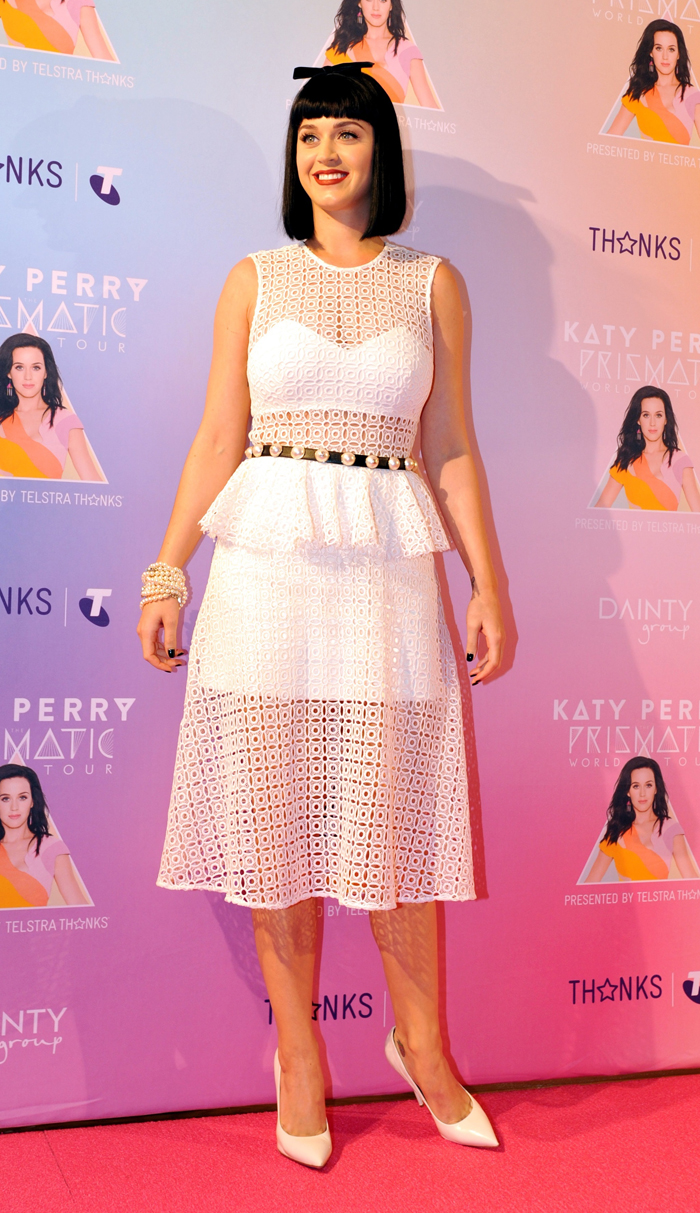 Here are some photos of Katy Perry in Sydney to talk about her upcoming Prismatic world tour. She'll be performing throughout Australia this fall, and her people want to sell some advance tickets. I (somewhat jokingly) predicted Katy would go "goth" again after she and John Mayer broke up for the third time last week. Sure enough, Katy stepped out looking like a star from The Craft. I feel bad for anyone in the wake of a bad breakup, but Katy is so predictable.
Katy's ennui didn't last long. She quickly cleaned up her act (again) in the interest of promotion. Katy stopped by the Sunrise morning show and touched upon many topics. She predicted the weather and discussed her notorious kiss with Miley Cyrus at Miley's LA concert. This kiss: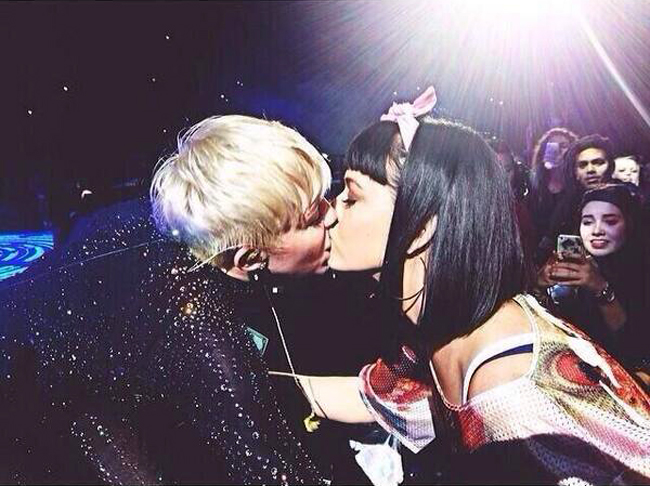 Katy admits that she kissed a girl …. and didn't like it. Let's do this:
On her "incredible" hair: "It's vitamins. And Flintstones."

Does she ever get overwhelmed? "Sure, I'm a human. A little bit. You know, I try to treat everyone with a normal vibe, and I think whatever energy you're putting out is the same energy you get back. And so if you are kinda open and grounded and normal, I think people, they resonate with that and they treat me the same way.

On Lorde's early break: "She's very mature. She's an old sage of sorts. I think it's a whole different world growing up with the internet."

On staying in shape for the tour: "I have to be very focused right now. It's kinda like I've cut out all alcohol, all fatty foods, a lot of dairies. I go home, and I'm mostly gonna have vegetarian with some protein on the side. Some like, grilled chicken. I'm almost 30, guys. My body does not snap back anymore. I can't just go around eating McDonalds like I used to"

She's the biggest female in the world? "No, I'm not. Beyonce is. Duh. [Mariah Carey] is fabulous … for a throwback."

On the Miley liplock: "I went to her show, which is amazing. It's very colorful. She has this one part where it's like a kiss cam. I just walked up to her to give her like a friendly girly kiss, you know, as girls do, and then she like tried to move her head and go deeper, and I pulled away. God knows where that tongue has been. We don't know. That tongue is so infamous!"
[From Yahoo! Sunrise]
I really don't have any idea what Katy's talking about with most of this stuff. She's sweet and hard working but kind of vapid. I don't blame Katy for questioning where Miley's tongue has been, but — let's face it — the men Katy has been with aren't any less choosy with where they put their own tongues. Russell Brand? John Mayer? They've been a lot less selective with their tongue placement than Miley. Enough said.
Here's a video clip of Katy's appearance on Sunrise and some pictures of Katy at the airport.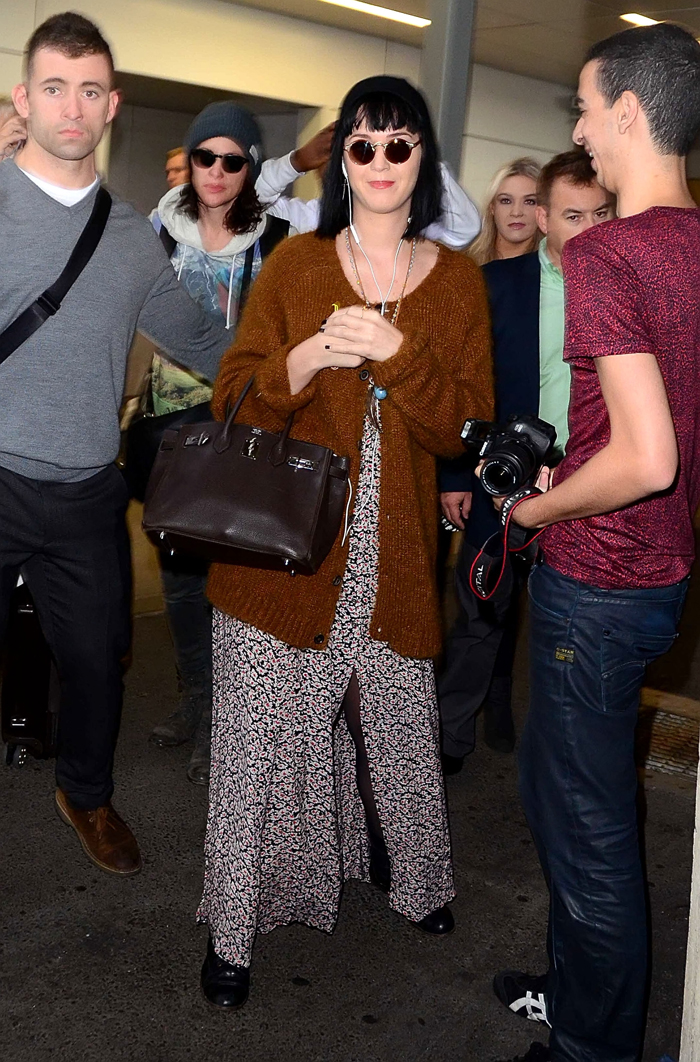 Photos courtesy of Miley Cyrus on Twitter & WENN