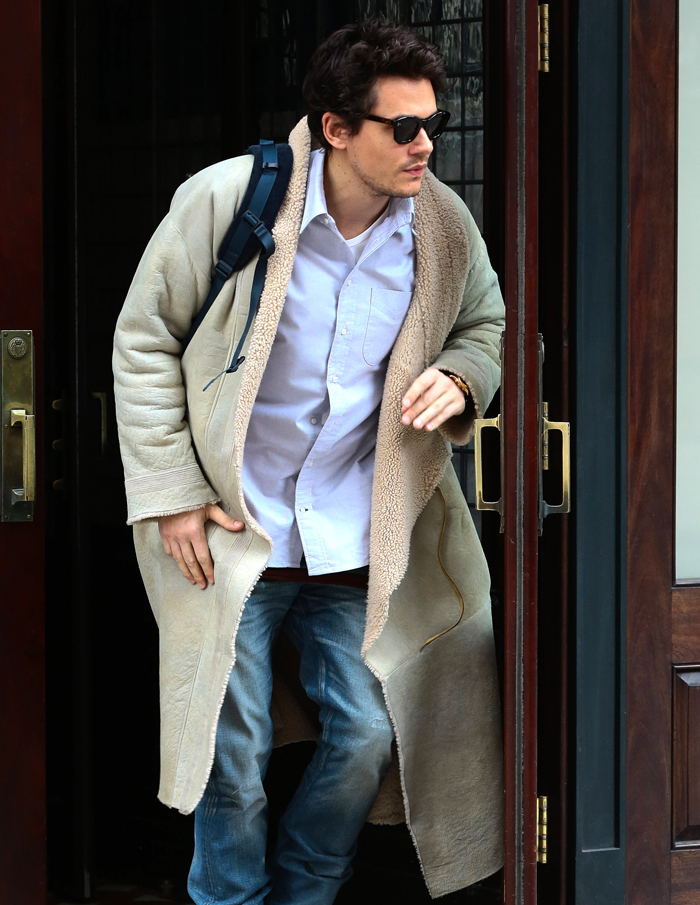 Here's a photo of John Mayer attempting to go unnoticed as he left his NYC hotel yesterday. He's doing the Bieber walk and has the shades on, so I can't get a grasp on his mood besides the usual "douche" vibe. Maybe I should be nice — a new report from E! says Katy Perry dumped John a few days ago. Is the greatest love affair of our age over all over again?
Not that we didn't see this coming. They've already broken up a few times — most recently last March before going for a third round in June. Kaiser, CB, and I had a little in-house bet on how long they would last before ditching each other again. We're all pretty sure John wanted to end this thing a long time ago. They were promoting their joint single with coupley Vanity Fair portraits, but live interviews revealed that John looked super uncomfortable when Katy touched him in public. Then she started playing the "engagement" ring game again. I bet John started treating Katy like crap until she dumped him. I hate it when guys do that:
Katy Perry and John Mayer have called it quits.

A source close to the pair exclusively tells E! News that Perry broke up with Mayer within the last few days.

No other details about what prompted the "Dark Horse" singer's decision were forthcoming, but Mayer was noticeably absent from Perry's side on her recent trip to London and Milan. She returned home to Los Angeles on Friday.

Despite some early ups and down, the musical pair fast became one of Hollywood's hottest couples, sweetly gushing about each other in interviews and collaborating on the song "Who You Love," off of Mayer's latest album, Paradise Valley.

The duo have been the center of engagement rumors for quite some time now, with the most recent round of are-they-or-aren't-they being sparked by the huge diamond ring Perry was wearing at the Elle Style Awards last week in London.

Perhaps the glittering accessory was just for style after all.

A source told E! News in November, however, that the next step seemed "inevitable," and that all of their nearest and dearest were really rooting for them to stay together. "They are so perfect together," the insider added.

The Prism artist once called Mayer a "genius" and told E! News, "I've been a fan of John's for years before I got to actually kiss him."

About their musical collaboration, she added, "I've been such a fan, I think he's so incredibly talented and gifted and a genius songwriter. So to be a part of anything he was doing was just natural."

The two first went public with their off-and-on romance in summer 2012. They split briefly, reconciled, called things off again last March, but then seemed to be going strong once again.
[From E! Online]
"They are so perfect together" *sniff* Is it possible for John to be perfect with anyone? He's a lone wolf. The guy is happy enough to get with a woman initially, but he always gets the itch and ends up looking trapped. I hope this story is true and Katy gives some good dish for her next Vogue cover. She trashed Russell Brand that way, and you know John deserves the same game.
CB mentioned that John was probably dying to give his version of events to the paps yesterday. We should applaud him for his self-restraint — as hilarious as it would have been for him to pull that stunt again.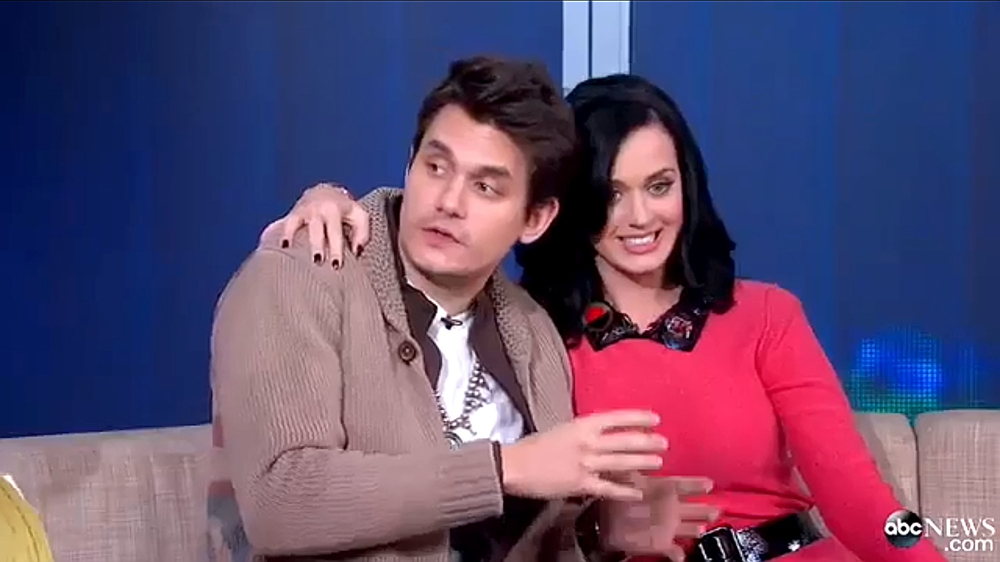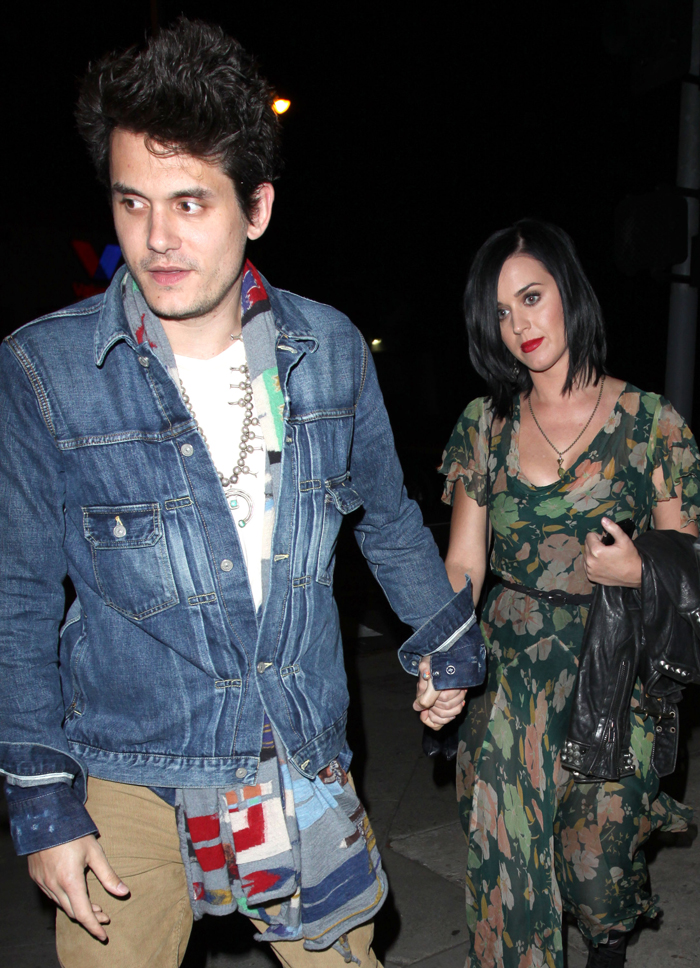 Screencap courtesy of GMA; photos courtesy of Fame/Flynet & WENN