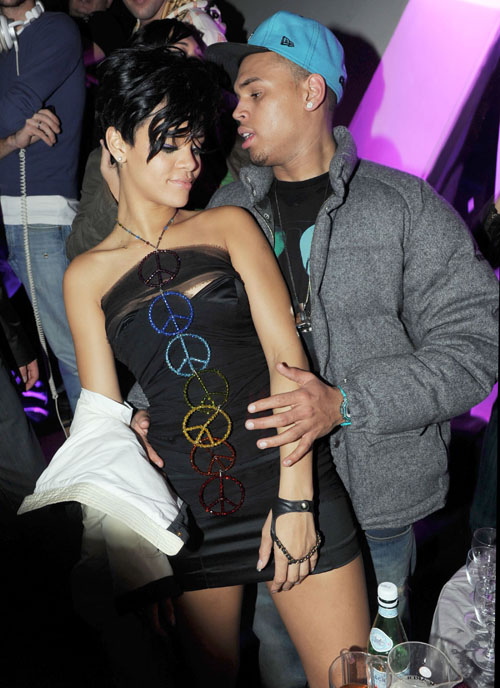 Chris Brown and Rihanna have canceled their Grammys performance. Chris Brown was wanted for a domestic battery felony involving an "unknown female" who called 911 after a domestic dispute early Sunday morning. Both Chris and his girlfriend Rihanna attended Clive Davis' Grammy party on Saturday Night together, and while Rihanna was thought to have been involved LA police say that they do not release victims' names. Brown turned himself into police last night and was released on $50,000 bail.
Singer Chris Brown has turned himself in to Los Angeles Police in connection to a domestic violence felony criminal threat incident, Usmagazine.com has confirmed.

He was driven in a black Escalade Sunday and was lying down in the backseat, a source tells Us.

"He turned himself in around 7 p.m. to one of our stations and is being interviewed by detectives now," officer Karen Smith tells Us.

Brown, 19, was taken into custody at 6:30 p.m. and was booked for criminal threat at 7:41 p.m. He posted $50,000 bail and was released.

The case is being presented to the Los Angeles County District Attorney's office; additional charges may be filed.

He is due in court March 5.

Brown is being investigated for an incident that occurred early Sunday morning near Hancock Park in L.A.

An unidentified woman phoned 911 and claimed she got into a fight with the singer and he attacked her.

Police say the woman had visible injuries. When officers arrived, they found the victim, but Brown had already left the scene, police say.

Both Brown and his girlfriend Rihanna pulled out of Sunday's Grammy Awards at the last minute
Presumably Chris Brown has canceled his Grammys appearance to attend to this matter. The incident is currently under investigation by the Los Angeles Police Department, and their spokesperson was careful to point out that any visible injuries change the charge from a misdemeanor to a felony. These can be very small injuries, "as small as a scratch". It is possible that while this is obviously an argument that has gotten out of hand and escalated to violence, this doesn't mean that the woman is severely injured. Reports do not suggest she was hospitalized, so hopefully this is the case.
A conflicting report suggests that Rihanna and Chris Brown were in a car accident leading up the Grammys, but this hasn't been confirmed.
Rihanna's rep declined to address any of the rumors, simply saying she was well.
Usher has also bowed out of his Grammy commitments. Josh Groban took his place at Clive Davis' pre-party party, and confirmed that there was a family emergency.
Usher canceled a performance Saturday night to rush to his ailing wife's side, according to a report.

The R&B singer skipped Clive Davis' pre-Grammy bash after his wife Tameka experienced complications from plastic surgery in Brazil, "Access Hollywood" reports.

A neurosurgeon is reportedly on the way to South America to aid Usher's wife of a little over a year.

The "Love in this Club" crooner's cancellation was due to a "serious illness in the family," Davis announced at the party, but didn't elaborate further.
Brazil isn't a third world country, but I'd feel more comfortable having my surgery done near my home by a surgeon recommended by my family doctor. Most people consider plastic surgery to be a low risk operation, and it is as you are theoretically in good health, unlike surgery to treat an accident or illness. Obviously any surgery can go wrong, and I hope Tameka, who gave birth to her 5th son (her second with Usher) in December, recovers well. At this stage all that is confirmed is a family illness.
Rihanna and Chris Brown are shown in Paris on 12/19/08. Credit: Fame. Usher and Tameka Foster are shown on 12/31/08. Credit: PRPhotos