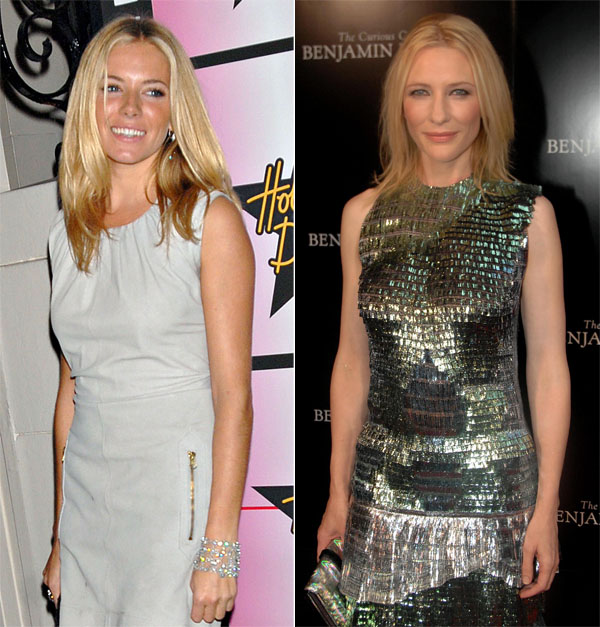 Remember how Sienna Miller was "too young", "too thin" and "too beautiful" to be starring as Maid Marian to Russell Crowe's Robin Hood in Ridley Scott's Nottingham? All of that was according to Sienna's strategic leaks in the on-going debate over was-she-fired or did-she-jump? Some sources (Sienna's) claimed that Russell Crowe was bloated and overweight, and they just didn't compliment each other physically. Some say (me) Sienna was just fired and had to say something to save face.
So the Nottingham film production was in desperate need of a new Maid Marian. Allegedly, the first actress that was asked was Kate Winslet. Coming after the revelations that Sienna was too "young and thin", some saw Winslet's name being mentioned as a possible replacement as a bit of an insult, as if Winslet was "old" and "not thin".
Cate Blanchett's name was also mentioned as a replacement, but the initial word was that Cate had no interest in doing another big-studio picture after Indiana Jones and the Kingdom of the Crystal Skull. Plus, Cate has obligations in Australia now with her theatre work. But word is coming out that Blanchett will be the replacement Maid Marian. Good. They should have gone to Blanchett first and not even messed around with Sienna. The Telegraph has details, including a bitchy back-handed insult from one of the actors about Sienna Miller. Hurray!
Cate Blanchett looks more and more of a certainty for the role of Maid Marian in Sir Ridley Scott's forthcoming film Nottingham after Sienna Miller was apparently deemed too slim and youthful for the part. "I think Cate Blanchett is set to take the Maid Marian part," says Mark Strong, who has already been signed up to play Sir Guy of Gisbourne, at the London Film Critics' Circle Awards, at the Grosvenor House hotel, in Park Lane. "She is a wonderful actress and it would make it a much classier film if she was in it."
From The Telegraph
Haha, "classier". Everything is classier with Blanchett, but methinks that comment was about Sienna Miller. After being ejected from Nottingham, Miller is in talks to do a Broadway play, which I guess means that all of the married men in New York better watch themselves. Sienna Miller is still doing the on-off thing with Balthazar Getty, so who knows?
Sienna Miller is shown on 11/7/08 at the launch of Hollywood Domino in London. Cate Blanchett is shown on 12/10/08 at the Benjamin Button premiere in Sydney with her husband, Andrew Upton. Credit: Frame