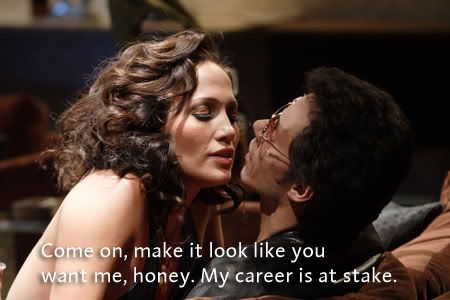 Jennifer Lopez's new Spanish-language album, "Como Ama Una Mujer," is tanking in the sales rankings. It has sold less than 50,000 copies since it was released over a week ago and is at number 10 on the charts behind a collection of Elton John's greatest hits.
What's more is that her movie career is in jeopardy since her last two films are seen as flops and haven't even come out yet.
The massive attempts to save Jennifer Lopez's singing career — and even her acting pursuits — aren't going too well.

This week, Lopez's first Spanish album, "Como Ama Una Mujer," sold a very measly 49,452 copies, according to hitsdailydouble.com. The album finished at No. 10 for the week, behind a repackaging of Elton John's greatest hits.

On top of that, she started her film career by playing the murdered and much martyred Selena.

The failure of "Como" is alarming for many reasons, not the least of which is that Lopez's already questionable recording career is now in severe jeopardy.

She was never a great singer in the first place, depending on backup vocalists like Ashanti to carry her through thin times. And Lopez's last English album, "Get Right," was a sales disaster.

But her movie career is also in need of resuscitation, if possible. Lopez is currently sitting on two unreleased duds: "Bordertown," co-starring Antonio Banderas and directed by Gregory Nava, and "El Cantante," which co-stars husband Marc Anthony as Hector Lavoe.
El Cantante is slated for release on August 1, but people are worrying about the Spanish title, which some say is misleading since the film is all in English. A distrubutor has not yet picked up Bordertown, which was met by boos when it was shown at the Berlin film festival. It is said to give a B-movie treatment to the serious subject of the unsolved murders of hundreds of young Mexican women.
Lopez has done away with the J.Lo moniker, saying that's all part of her diva past. She went on to say that she identifies herself as a Puerto Rican woman, and that's who she is now:
"I'm not J.Lo any more. That's all gone with all the ridiculous stories about tantrums and Egyptian sheets. That's all my past. I'm Jennifer Lopez."

"I am incredibly proud of my culture and I think I am a woman who is totally defined by my culture. My temperament, my body shape, the way I am is all very much Puerto Rican."
Maybe she should go back to demanding high thread count sheets because it doesn't seem like embracing her roots is working out for her. Pictures below are of predicted flop El Cantante, co-starring her husband Marc Anthony, found at Allmoviephoto. There are also pictures of J.Lo in British Elle, thanks to Go-JLo.