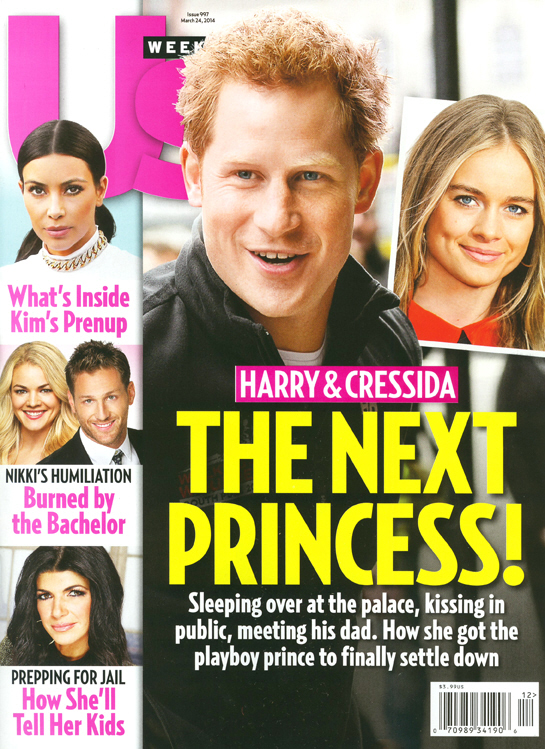 All of the tabloids (American and British) are saying that an engagement is going to happen any day now between Prince Harry and Cressida Bonas. Lord, I hope it happens soon. I'm being serious. It will be so much fun to cover another royal engagement, and I think Cressida will handle the whole business of being a "royal bride" very differently. Anyway, as you can see, Us Weekly is all over Cressy and Harry. Highlights from the cover story (via Jezebel) include: Harry calls her "Cressy," her family is "rich but unconventional," and Cressy's family nickname is "Smally" (she's the youngest kid). She listens to Mumford & Sons, she spent six months serving pizza in Sydney and she and Harry love to go out for burgers. They also go bowling, and Harry's bowling name is "Ginger Queen" (priceless) and Cressida "does a regular commute" with commoners to her theater marketing job.
As for the pending engagement and how Cressida is handling everything, well… E! News has a story and it's full of wonderful, funny details. Details like… Duchess Kate is "advising" Cressida passive-aggressively.
It sounds like Prince Harry and Cressida Bonas are moving closer to marriage! The 29-year-old royal and his 25-year-old girlfriend have already started planning for their future together, a royal source reveals exclusively to E! News.

"Harry and Cressida have made a point of talking about marriage and what changes they're going to have to make to their life of late," the source says. "According to friends of Cressida's, the couple have decided to try and keep their semi normal lifestyle as long as physically possible."

"Up until now Cressida has loved the fact they can have a lot of freedom in public, they don't hit the headlines when they go to dinner and they can enjoy their relative anonymity around Chelsea," the source continues. "But they are fully aware once they decide to proceed to marriage things will get a little crazy and the attention on them will increase. So it's very much a 'let's enjoy this while it lasts' before they move forwards."

The royal insider adds that Kate Middleton has been super helpful when it comes to dealing with the increasing spotlight on Cressida.

"Kate's been brilliant with Cressida and has been giving her advice," they say. "She likes her very much and has offered her tips on how to keep her normality. Kate's been there and done it and, while she knows Cressida won't be as talked about and followed like she was, she needs to get a real slant on what happens."

As for Harry's impending proposal, the source dished, "Cressida has also had initial talks with the palace about what will happen once they do announce their engagement and the way things will work. Harry has told his crowd that he knows he will wed Cressida but he wants to ensure their life doesn't become a circus. He's not half as important as William with regards to the throne and wants his privacy to reflect that. They want to be able to enjoy normality far more than Wills and Kate can. They're not surrounded by the protocol like the elder royals—they can sway the opinion as young royals. They both feel they deserve the chance to live out their married life in as normal a way as possible."

The source says that the lovebirds aren't living together yet. "She's been staying at his for months but they've not moved in together as such," they added. "She likes her space! And he's away so much anyway. So they're kinda living together but not made a home yet!"
"Kate's been there and done it and, while she knows Cressida won't be as talked about and followed like she was…" HA. I mean… hahahaha. It's true that Kate was followed a lot and she was a "celebrity" for years while she waity'd for William to propose. So, in that sense, Cressida doesn't have it as badly as Kate because Harry will actually propose to Cressida within two years of dating. Which is something that Cressida might be able to passive-aggressively throw in Kate's face. Also, I suspect that Cressida is not going to need the same kind of intensive "princess lessons" that Kate needed (and perhaps still needs). Cressida is tight with the York princesses, and Cressida has been rolling deep with royalty and aristocrats since birth. She'll known instinctively how to behave, I think.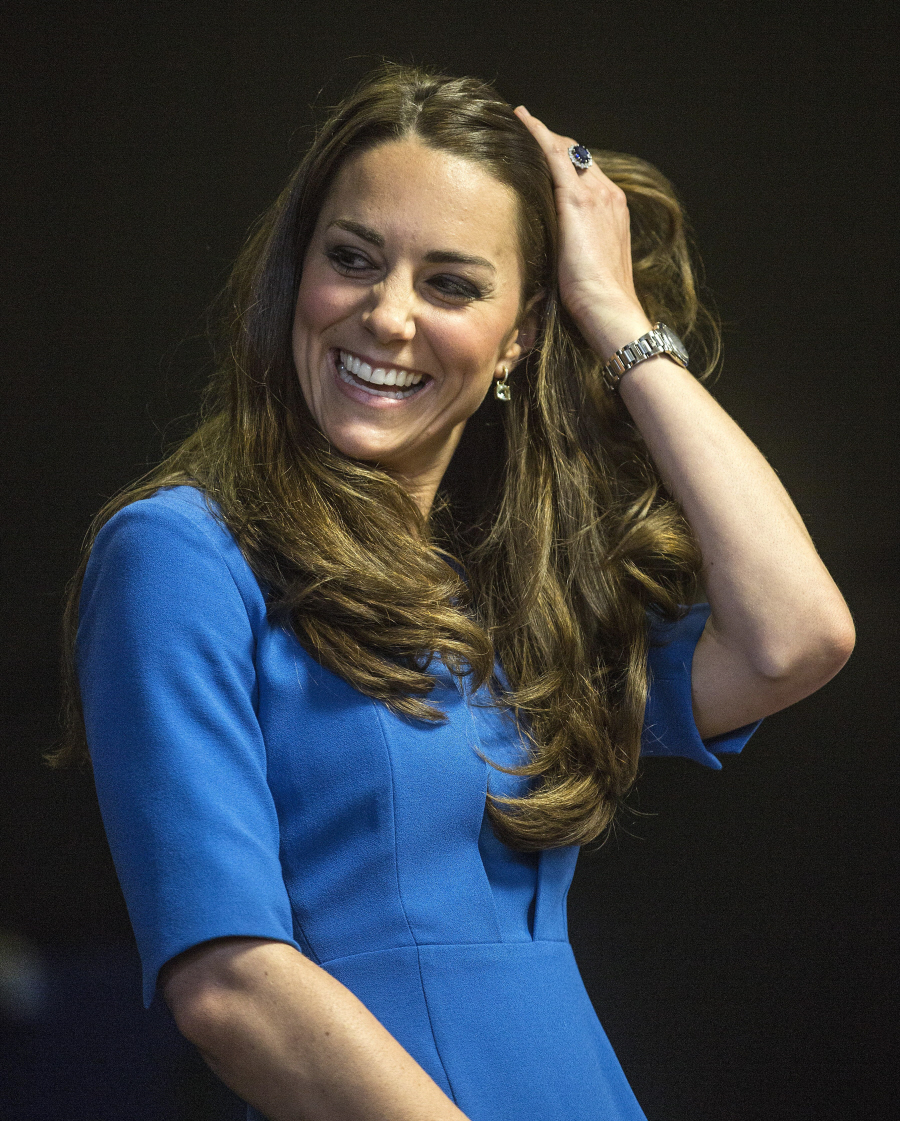 Photos courtesy of Getty, WENN.