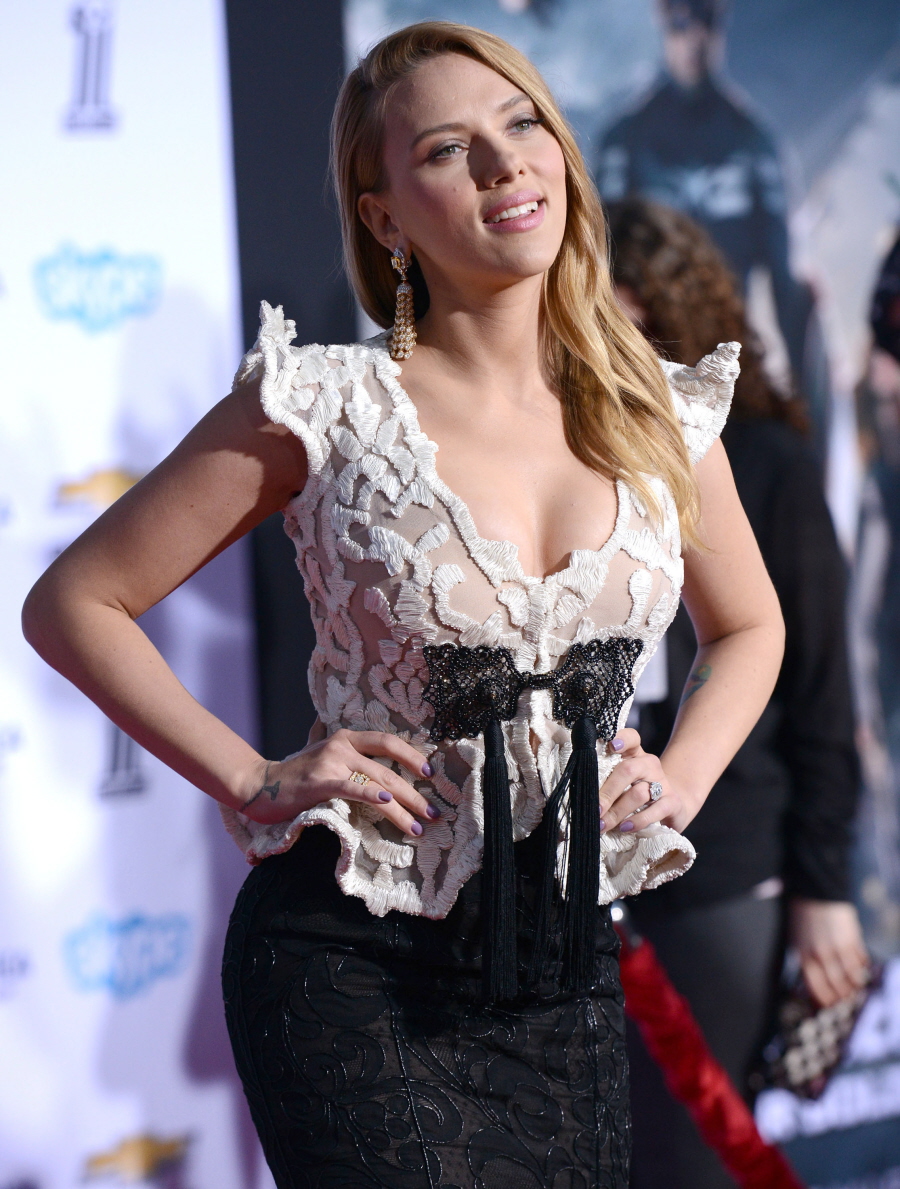 Scarlett Johansson is promoting her alien-seductress movie, Under the Skin, at the same time as Captain America: The Winter Soldier, a confluence of promotional tours which I'm sure upsets Marvel. Also upsetting Marvel, I'm guessing? The fact that ScarJo can't give an interview without making news on various divisive, controversial and politically sensitive issues. Scarlett is still getting SodaStream questions… even though she's been very clear that she has no regrets about withdrawing from Oxfam in support of SodaStream and their West Bank factory. And in her new interview with The Guardian, she defends them even further. And she goes on the record (in the worst way) about her friend Woody Allen, who directed her in films like Vicky Christina Barcelona and Match Point. You can read the Guardian piece here. Let me excerpt the Woody Allen stuff first, and here it is in context:
Last month Dylan Farrow, Allen's estranged daughter, published an open letter in which she accused him of abusing her and condemned the film industry's silence on the matter. In it, she pointed a finger at actors who have worked with Allen, including Johansson. It must have been a very uncomfortable experience being named in the letter, I say. How did you respond to it? "I think it's irresponsible to take a bunch of actors that will have a Google alert on and to suddenly throw their name into a situation that none of us could possibly knowingly comment on. That just feels irresponsible to me."

And what has she made about the backlash against Allen? "I'm unaware that there's been a backlash. I think he'll continue to know what he knows about the situation, and I'm sure the other people involved have their own experience with it. It's not like this is somebody that's been prosecuted and found guilty of something, and you can then go, 'I don't support this lifestyle or whatever.' I mean, it's all guesswork."

So, has it had an impact on her relationship or affection for him? "I don't know anything about it. It would be ridiculous for me to make any kind of assumption one way or the other. "
So… Scarlett says Dylan is irresponsible for naming her and other actors for working with Woody. And Scarlett sounds like she completely doubts Dylan's story. While I think "irresponsible" is the wrong word to use, I do think that Dylan Farrow put dozens of actors (who have worked with Woody) in very awkward positions. Do they comment either way? Do they defend their director or do they malign him on Dylan Farrow's say-so?
As for the Oxfam/SodaStream controversy… I don't know, I can still see where she's coming from. I know that's not a popular opinion and like 90% of you think Scarlett is an idiot for choosing her SodaStream contract over her Oxfam work, but Scarlett has her reasons:
Was the whole thing just a bit of a mistake? But she shakes her head. "No, I stand behind that decision. I was aware of that particular factory before I signed it." Really? "Yes, and… it still doesn't seem like a problem. Until someone has a solution to the closing of that factory to leaving all those people destitute, that doesn't seem like the solution to the problem."

But the international community says that the settlements are illegal and shouldn't be there. "I think that's something that's very easily debatable. In that case, I was literally plunged into a conversation that's way grander and larger than this one particular issue. And there's no right side or wrong side leaning on this issue."

Except, there's a lot of unanimity, actually, I say, about the settlements on the West Bank. "I think in the UK there is," she says. "That's one thing I've realised… I'm coming into this as someone who sees that factory as a model for some sort of movement forward in a seemingly impossible situation."

Well, not just the UK. There's also the small matter of the UN security council, the UN general assembly, the International Committee of the Red Cross, the International Court of Justice… which all agree that they're in contravention of international law. Half of me admires Johansson for sticking to her guns – her mother is Jewish and she obviously has strong opinions about Israel and its policies. Half of me thinks she's hopelessly naive. Or, most likely, poorly advised. Of all the conflicts in all the world to plant yourself in the middle of…

"When I say a mistake," I say, "I mean partly because people saw you making a choice between Oxfam – a charity that is out to alleviate global poverty – and accepting a lot of money to advertise a product for a commercial company. For a lot of people, that's like making a choice between charity – good – and lots of money – greed."

"Sure I think that's the way you can look at it. But I also think for a non-governmental organisation to be supporting something that's supporting a political cause… there's something that feels not right about that to me. There's plenty of evidence that Oxfam does support and has funded a BDS [boycott, divest, sanctions] movement in the past. It's something that can't really be denied." When I contacted Oxfam, it denied this.
Yeah, I'm still on Team ScarJo here. Flame on! I'm defending her. I don't think her decision was about greed at all. I think she believes in SodaStream, she was aware of the West Bank factory and she's okay with it. And it feels like people are pissed off at her for not being able to solve the Israeli/Palestinian issue in a month. She's right – if she had withdrawn from SodaStream, would that have changed anything in the West Bank? No. Is SodaStream going to close down that factory any time soon? Probably not, and that has nothing to do with Scarlett and everything to do with the company being loyal to their long-time employees.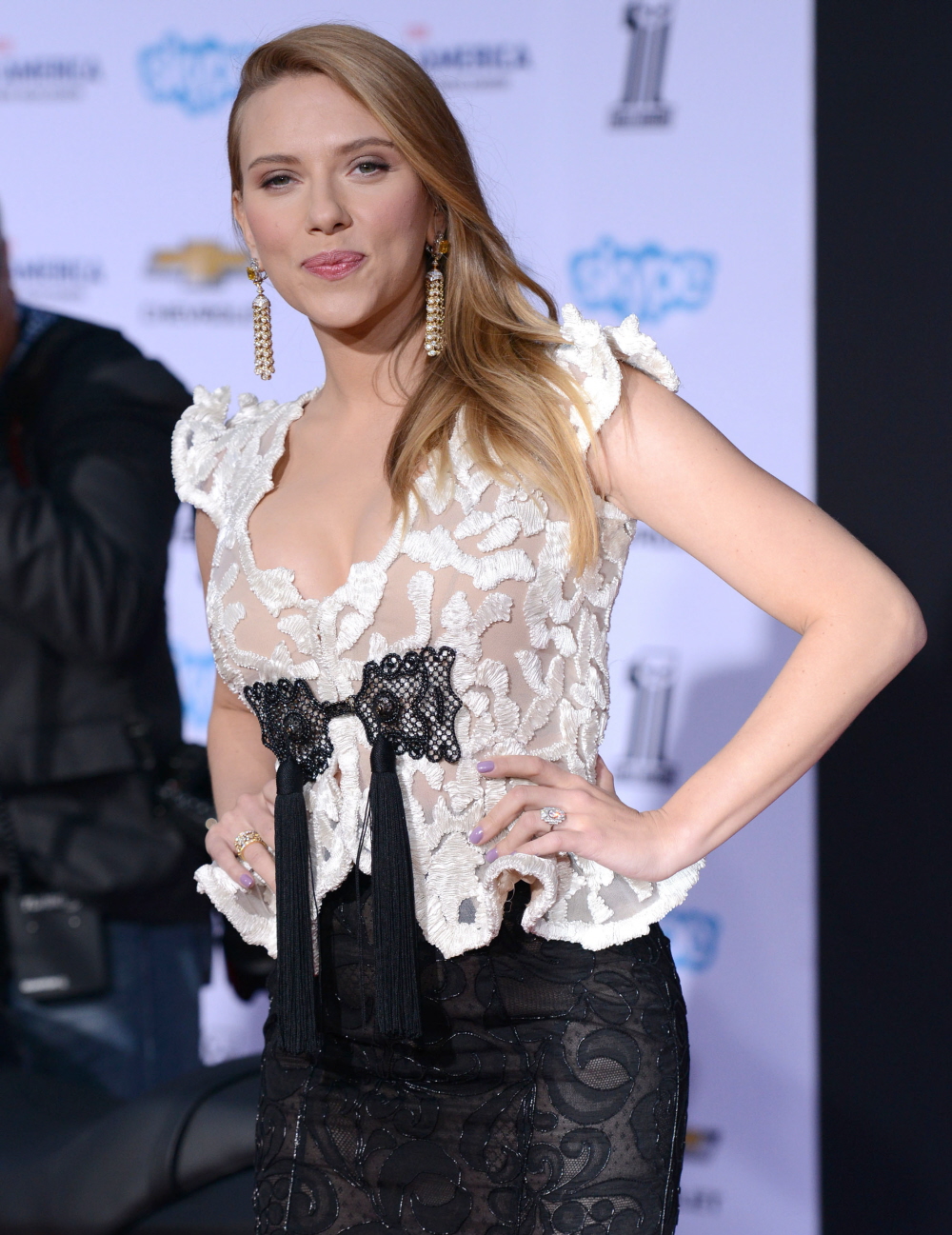 Photos courtesy of Fame/Flynet.