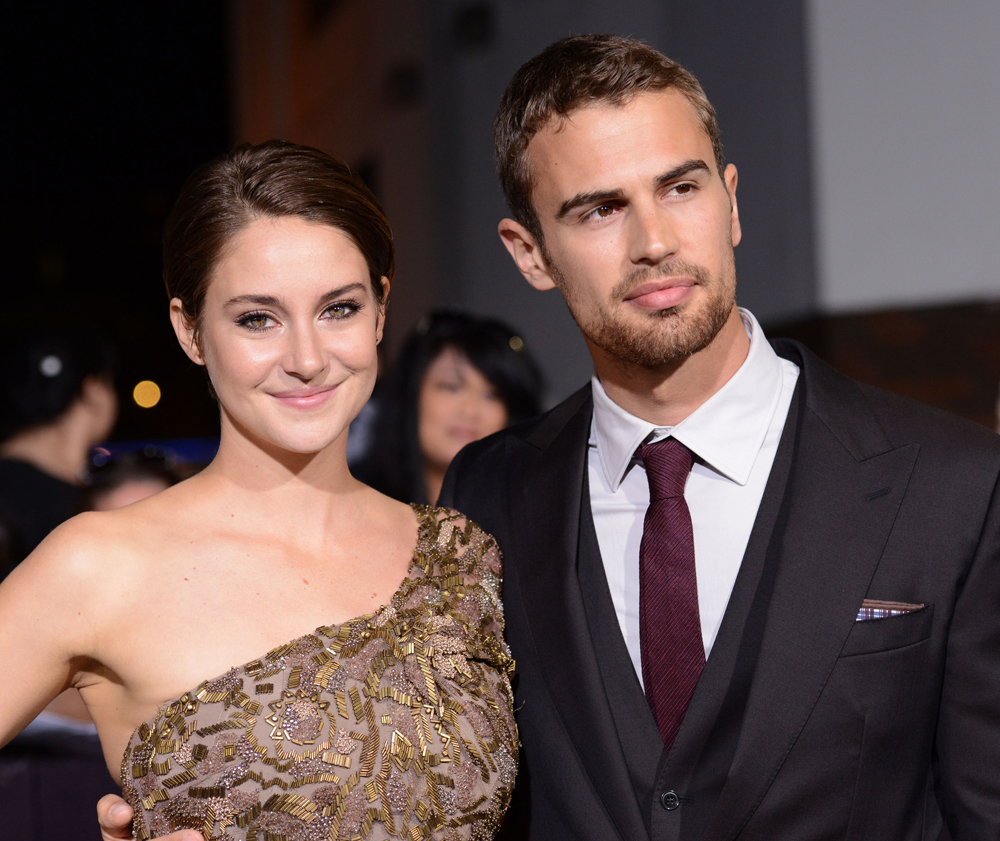 Shailene Woodley and her sunshine vadge continue the Divergent promotion nonstop. Here she is with Theo "The Next Leo" James at the premiere that Kaiser covered yesterday. I completely agree with Kaiser about Shailene's fuggy fashion here. The dress is wayyy too mature for her, which could be why she decided to stick out her tongue all over the carpet. She wasn't doing a full Miley, but Shailene was trying to "young up" the dress a little bit. Maybe?
We're supposed to wonder whether or not Shailene and Theo are hitting it together. My instincts tell me they are completely platonic. She's hugging on him in these photos, but she hugs everyone. Almost every interviewer mentions that she hugs them several times. Plus Shailene told Hollywood Reporter that Theo is "such a solid human" and "a rock among the waves." Theo is totally Shailene's bro.
I'm starting to grow a little fatigued by Shailene's perpetual enthusiasm during this press tour. She's lovely and amusing, but I have to wonder whether she sleeps. Wait, I know — she sleeps by dangling upside down from a tree like a sloth. See? It's so easy to crack a joke. Here are some more assorted soundbites from the past day or so:
Shailene questions your bra-wearing habit: "I feel passionate about just shifting our paradigms and stirring things up. I'm wearing a bra now, not like a padded bra, a little sports thing, and I feel like it's maybe important to start looking at things differently even if you don't change the way that you do it. just look at it differently, just think about it differently, just question things that you never really questioned before. I think with that will come a lot of educated knowledge and a lot of curiosity and a lot of positive shift."

What does she worry about? "Lots of things. I think, number one, the food that we eat. The water that we drink. The products we put on our faces. It sort of seems like everything nowadays is dictated by advertisements, which I'm not a fan of. There's this big push to be skinny, be tall, have a small waist. It's almost like we're obsessed with our prepubescent selves, we're obsessed with like this need to have everything be flawless and everything be thin and that's just not, especially for women — I'm a fan of hips and I'm a fan of breasts and a fan of owning your body and not feeling self-conscious because you have some fat. That's sexy. Fat is sexy, to an extent. Being unhealthy is not optimal but I think it's important to start owning ourselves."

Her ultimate beauty secret (beyond sunshine vadge): "Get in a bath and look at your body and be like, 'Wow, thank you so much for hosting my mind and my heart,' like as women you know, and also be pregnant with the world. I think that's really beautiful beauty advice, like, close your eyes and think about all of the other women out there who aren't in positions to be on a red carpet in Hollywood tonight enjoying this beautiful weather and all of these beautiful smiles and put those women in your womb and be pregnant with them and send them love."

Will she grow her hair back? "I keep saying, 'I'm not going to cut it again. I'm going to grow it out. But then I cut it yesterday because I was like, 'It's getting bushy.'"

On being compared to Bella & Katniss: "It's totally flattering just to be compared to characters like that. Also, I don't personally know Kristen or Jen but they both seem like strong, confident women and so I'll take a comparison. That's a compliment, right?"

Is she really this whimsical? "I try and do me," says Woodley, who hugged every reporter on the red carpet. "I do what makes me happy, I suppose. So if people relate to that, that's awesome."
[From Time, People, E! Online & Hollywood Reporter]
I guess Shailene decided to stop trashing Twilight if she now thinks it's "flattering" to be compared to Bella Swan. Someone at Summit must have had a word with their star.
What is going on with that stuff about being "pregnant with the world"? I don't even know what that means. She's talking about body appreciation, but does Shailene actually get into the bath and imagine herself pregnant with every other woman in the world? With the beautiful weather and the body as host of the mind and heart, and ugh. She's sweet, but I just have to laugh. Shailene is the crazy roommate who "borrows" your bed pillows to knit herself leg warmers and save the world. What she says makes no sense at a certain point.
I look forward to seeing what this weekend brings for possible Divergent success. The movie will likely recoup its budget and qualify for a sequel. Rotten Tomatoes has it sitting at a 27% rotten rating, but that didn't stop Twilight from taking all of the money.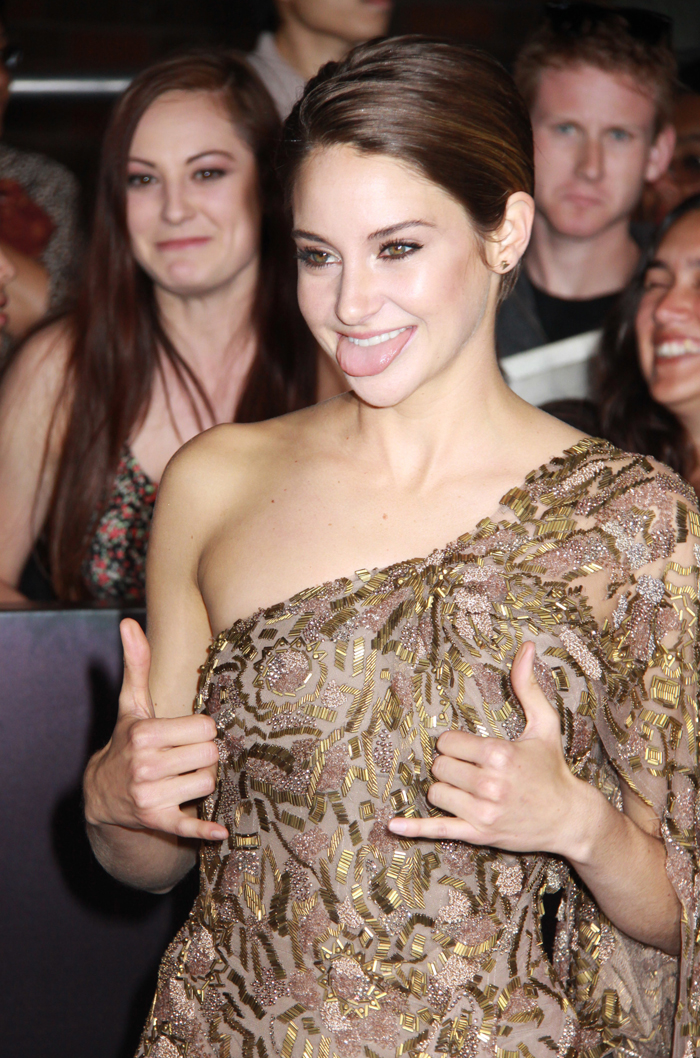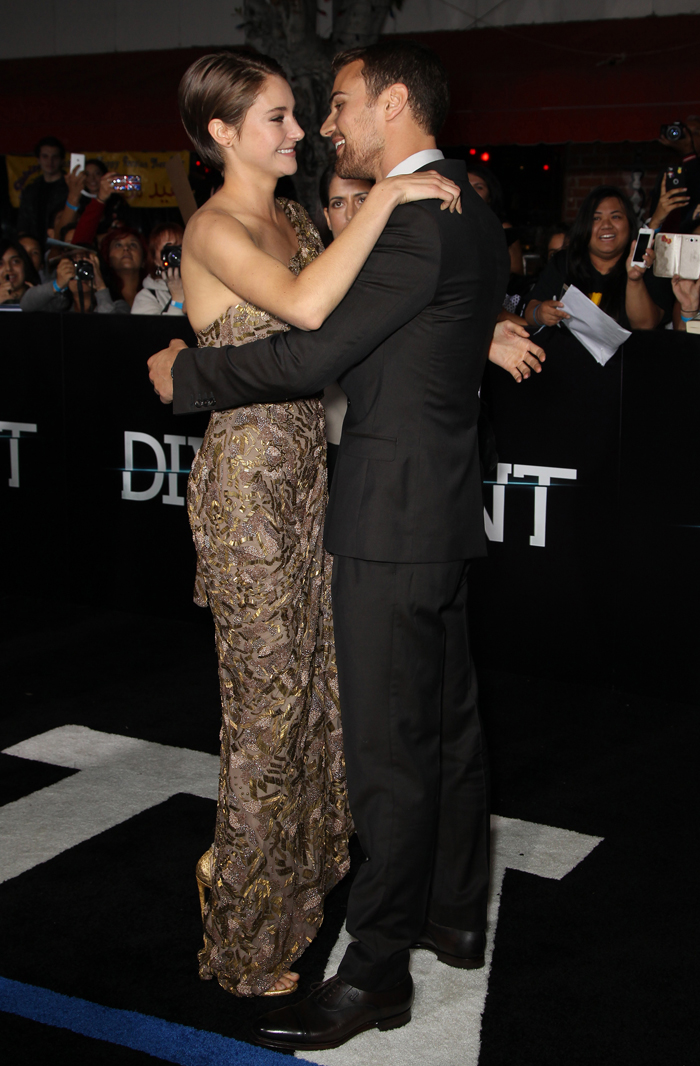 Photos courtesy of Fame/Flynet & WENN