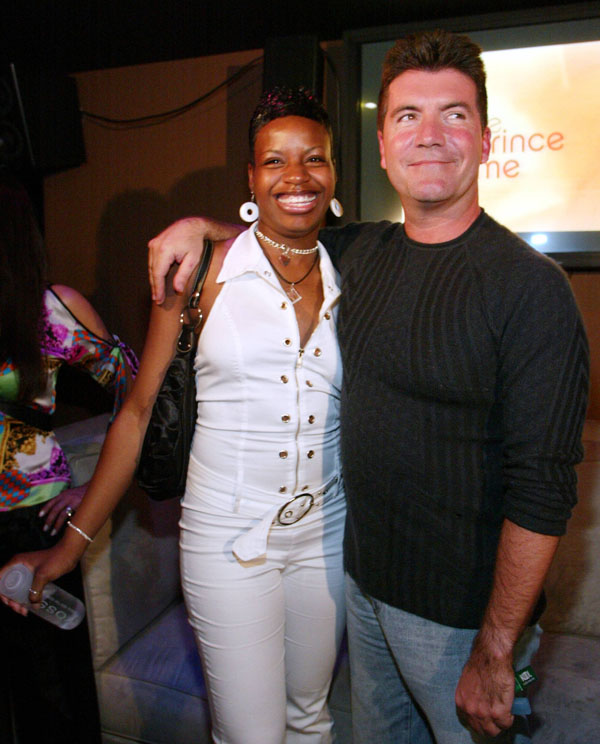 It was kind of a mystery how American Idol winner Fantasia Barrino was able to keep one of her massive homes in Charlotte, North Carolina, after she failed to pay the mortgage. The $1.3 million home was about to be put up for auction in early January, but somehow Fantasia struck a deal and was able to keep it. This was after she almost lost another home in Charlotte after failing to pay fees to the neighborhood association and after she was sued by a car dealership for failing to make payments on her $240,000 Mercedes.
Now we know how Fantasia was able to keep her home after all her money problems. American Idol judge Simon Cowell stepped in and secretly made payments on the house. He is said to have not wanted to let anyone know or to draw attention to himself, but the National Enquirer found out about it and is running this story in their latest issue:
Court papers show that her 6,500 square-foot house, which Fantasia bought in 2007 for $1.3 million, was to be sold off Jan. 12 to satisfy an unpaid load.

But then at the eleventh hour [Cowell] galloped to the rescue – enabling Fantasia to reach an agreement with her mortgage holders and stop her home from being auctioned.

"Simon didn't want to take any credit for it, he just wanted to help her out of a jam," disclosed the insider. "He was hoping to keep his good deed a secret. He didn't want to cause Fantasia any further public embarrassment."

The singer's problems were caused by overspending, divulged a close source.

"Fantasia was particularly naive. People around her told her she was a star, so she spent like a star. Fantasia has learned her lesson the hard way."
[From The National Enquirer, print edition, February 16, 2009]
It sounds like Fantasia wouldn't have been out of a place to live if she lost that home as she supposedly has another house in the area, which she may have purchased for family. That was kind of Simon to pay the mortgage for her anyway. He's worth at least $200 million, according to Wikipedia, but he didn't have to help her and it sounds like he did it out of the kindness of his heart. Simon is a pain in the ass but he seems to have a soft spot. Usually it involves attractive women who sing well.
Fantasia recently told E! News that she was hoping to get a reality show and that she would return to school to complete her GED, as we reported last week.
Update: Thanks to commenter Kimble who noted that Fantasia said on the red carpet at the Grammys that she didn't have Simon Cowell's number and that he didn't help her with her mortgage payments.
Simon Cowell and Fantasia Barrino are shown on 3/10/04 at an American Idol party. Credit: Splash News