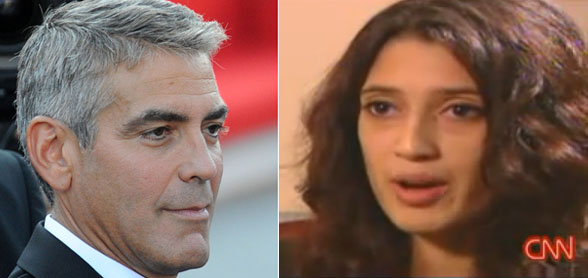 George Clooney's latest romance isn't with some cocktail waitress, stripper, or whichever actress happens to be lucky or unfortunate enough (depending on your perspective) to live on the same block or star in a movie with him. According to The National Enquirer, he's romancing a highly educated well connected woman from Afghanistan who works as a poet and journalist. 26 year-old Fatima Bhutto, the niece of assassinated Pakistani Prime Minister Benazir Bhutto, is said to be the object of Clooney's affections, and he's also said to be uncharacteristically serious about her, especially considering how smart and independent she is:
Although [Clooney] has been able to keep the relationship under wraps, in private he is gushing to pals about the raven-haired Fatima, say insiders.

"He's still out there with his usual assortment of Hollywood eye-candy hanging from his arm," a source told The Enquirer.

"But George insists those days could be coming to an end if Fatima wants to take their relationship to the next level and spend some serious time with him in the U.S."

George and Fatima – who lives with her stepmother and half brother in a plush suburb of Karachi – met at an international conference last year.

George quickly fell for her, revealed the source. "Fatima was educated at Columbia University… and knew of his heartthrob rep, but she didn't take his advances seriously because she thought their age difference – not to mention where they each lived – would make a serious relationship impractical.

"But George has courted her by phone and e-mail and arranged to meet her abroad when their schedules allowed it. Now he wants her to spend time with him in Hollywood."
[From The National Enquirer, print edition, February 16, 2008]
Yes, right, his Playboy days are coming to an end, sure. Bhutto works as a journalist in Pakistan and there's little chance she would move to America to be Clooney's girlfriend. If this woman ever expressed a desire to be more available to him, Clooney would probably bail. He did last a while with Sarah Larson but she was completely unchallenging and it's doubtful that their relationship would have gone anywhere if it wasn't for that motorcycle accident they suffered together early on. Clooney is an unapologetic bachelor and falling for a lovely accomplished woman who necessarily lives far from him is just another way he'll ensure he remains single for the foreseeable future.
Here's a link to an interview with Fatima Bhutto (link leads to video) talking about Pakistan's political climate after her aunt's assassination.