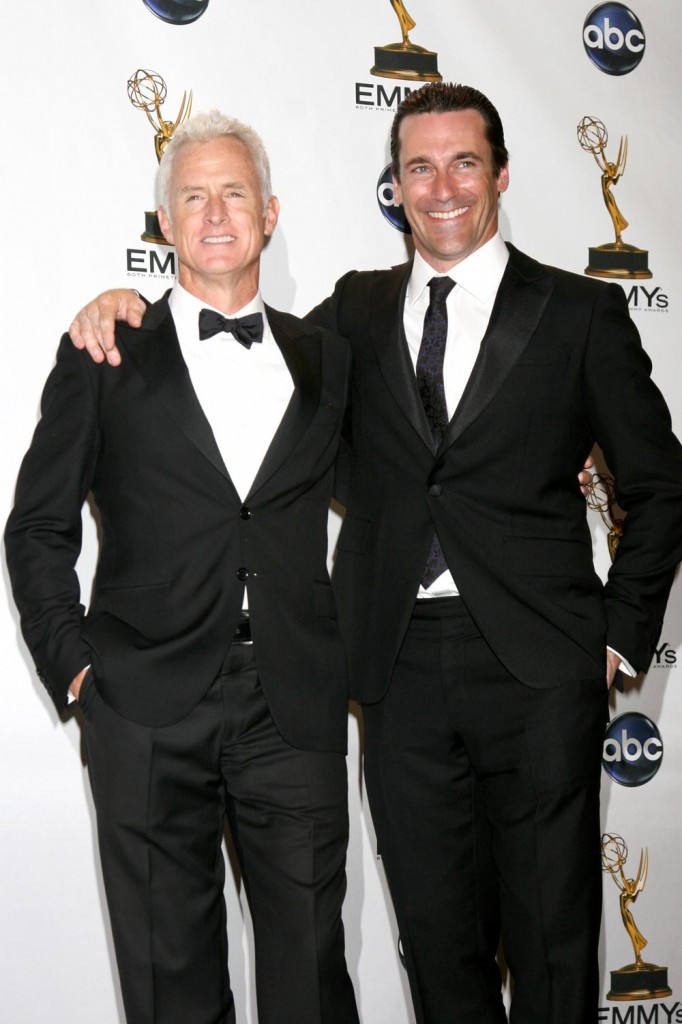 Mad Men is one of the most brilliant shows on television. It hurts me – causes me actual, physical pain – that the second season is over and that I have to wait until the summer for my Mad Men fix. So I take whatever pleasure I can from seeing John Hamm, John Slattery and the rest of the cast of Mad Men at awards shows.
This past weekend, the show picked up a writing award at the Writers Guild of America Awards. John Slattery, Mad Men's boozy, womanizing, heart-attack-prone boss was on hand, and talked to OK! Magazine about how people aren't really all that different today from the 60s portrayed on the show:
On the award-winning show Mad Men, John Slattery stars as Roger Sterling, a skirt-chasing, booze-swilling executive at a 1960s ad agency.

But, cautions the actor, don't think that just because the show is set in a vastly different business world than most people know today, that the overly ambitious, scheming characters on the show are mere relics of history.

"I think people are still just as filthy-minded as they were then," the Emmy-nominated actor explained to OK! at the Writers Guild Awards in New York. "Only you just can't act on it now."

In fact, the 46-year-old feels that it's this dark, conniving side of humanity that audiences are relating to. "I'm being glib, but I think what anybody responds to is that it's truthful and it's universal," said John. "These are people who are thinking the stuff people are thinking today."

And John has the stats to back his theory up — In just two seasons on AMC, Mad Men has wrangled three Golden Globes and six Emmys. Though it's set in the hustle and bustle of the ad biz, the topics being dealt with — adultery, prejudice, sexism — are universal.

"It's just a really well-written show," Slattery, who is married to George Clooney's first wife Talia Balsam, told OK!. "And I think the cast felt similarly that we didn't do the show because it would be a huge success, we did it because we liked the writing."


Mad Men, which also stars Jon Hamm, Elisabeth Moss, Christina Hendricks, January Jones and Vincent Kartheiser, begins filming its third season in May.
From OK! Magazine
I agree that people are probably thinking the same things, but that our modern standards for decency and political correctness probably preclude most people of acting on it. For those unfamiliar with the show, in the past two seasons John Slattery's married character has had an affair with the red-headed secretary, hired a hooker to go to dinner with him, left his middle-aged wife for a different young secretary, all while drinking and smoking heavily. He's pretty awesome, in other words.
Slattery's guest starred on several shows, most notably as the politician who wants Carrie Bradshaw to pee on him in Sex and the City. He's also a big theatre actor in New York, and he's been married to Talia Balsam for many years. His real-life wife plays his wife on Mad Men, too!
John Slattery is shown with his wife Talia Balsam at the SAG Awards on 1/25/09, and at a NY Comedy Festival event on 11/5/08. He is also shown with Jon Hamm on 9/21/08 at the Primetime Emmy Awards. Here are a bunch of gratuitous photos of Jon Hamm with his partner, Jennifer Westfeldt, for good measure. Credit; WENN