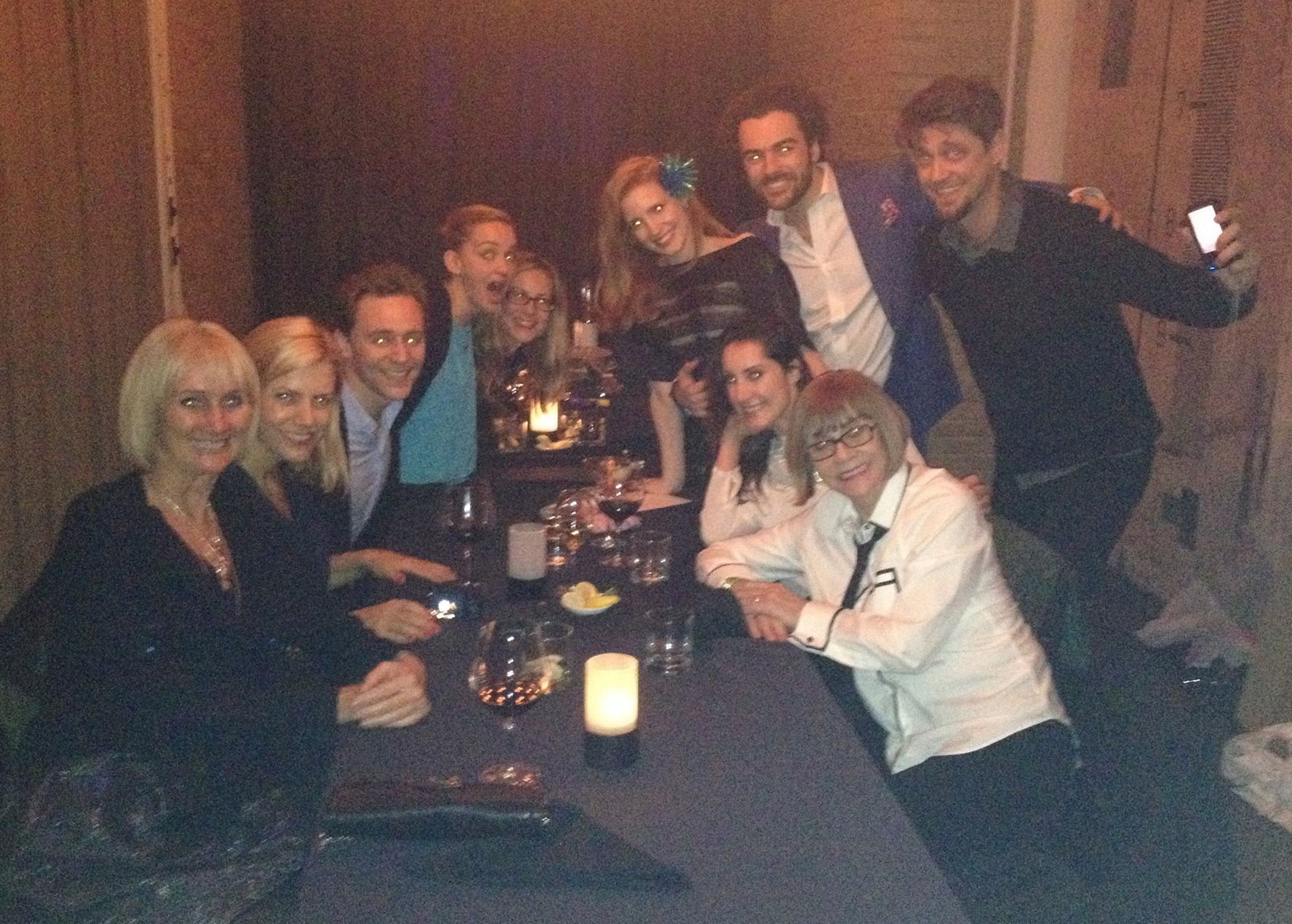 I was seriously geared up to write a "Where in the world is Tom Hiddleston?" story today. He missed all of the promotional stuff for The Muppets – which, to be fair, his part is basically a cameo, but still. He also missed all of the promotional work for The Pirate Fairy, which just had its premiere over the weekend. I knew Tommy was working on Crimson Peak in Canada, but I'm absolutely shocked that he hasn't managed to fly to LA or NYC to make some appearances somewhere on behalf of The Muppets or The Pirate Fairy. What gives, Hiddles?
Well, Tommy did have a night off while working in Toronto, but he spent it with Jessica Chastain and her friends. You see, Jessica had a birthday. She is ~~~ years old (probably 36 or 37, I guess, but she lies about her age). And Jessica and Tommy are working together in Crimson Peak and wouldn't you know? Tommy made a guest appearance in Jessica's Facebook photos from her birthday party. Jessica wrote:
Hello lovelies
My friends have traveled to Toronto to begin the Birthday festivities. There was a delicious dinner at Brassaii, ping pong matches, crazy dancing, and karaoke. The past few years has been so wonderful and full of work that I sometimes feel like I live on a film set. It was great to spend time with my nearest and dearest. It's a reminder of what's important in life. Xxjes
I'm not seeing any other movie stars in these photos besides Jessica and Tommy. The film also stars Mia Wasikowska and Charlie Hunnam, and if I had to put money on it, I would have suspected that Charlie would be Jessica's type, not Tommy. But no Charlie or Mia at the party. So, did Jessica Chastain invite her new boyfriend Tommy Hiddles to her birthday party? Or are they just work friends and he wanted to do karaoke? Look at Tommy pouring through that karaoke book. I want to know what he sang!!!!!! I feel like it was probably an Aretha Franklin song. Or Talking Heads.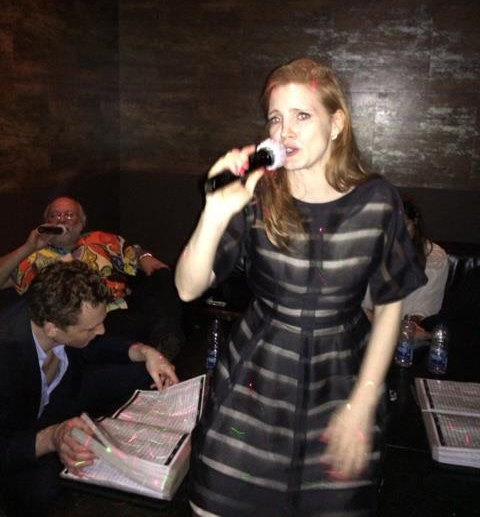 The idea of Chastain and Hiddles together… I don't know, I'm not really feeling it. I like both of them a lot, but I think Jessica is too conservative, too quiet for him. He needs someone more energetic I think. But they're probably just friends…?
Here are some pics of Hiddles & Chastain from February 2012 (a pre-BAFTA tea party).
Photos courtesy of JC's Facebook, Getty, WENN.