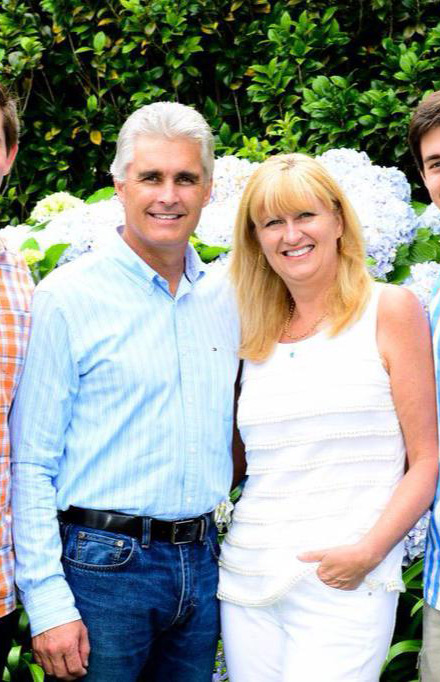 Above is a photo of Steve Neild, known to the public as Kate Gosselin's bodyguard boyfriend, with his wife and two young adult sons. (I cut the sons out.) Neild's wife, Gina, posted the photo to Facebook in mid-January. Her profile is semi-public in that anyone can see the photos she posts, and Radar just noticed that Gina has been including Steve on her page. This is despite the fact that Steve has been rumored to have been sleeping with Kate Gosselin for at least five years. Kate famously flipped out on Steve's behalf on the last episode of her reality show. Numerous eyewitnesses have seen Kate and Steve looking like a couple, most recently this month.
So Steve and Kate are still together, and I wonder if Kate is still paying him to show up or if Steve just sees her when it's convenient for him. What is Steve telling his wife? Is he telling her it's strictly business and is she buying it or is she just putting up a good front for the public? Is Steve's wife staying with him for the sake of their kids? Also, what the hell does Steve see in Kate? Is he a masochist? I'm really curious.
Meanwhile Kate's ex husband, Jon, is ranting about how upset he is that his children will be featured on a on-off TLC special in June. He told E! [via Radar] that he "was heartbroken to learn my children are participating in yet another TV project, especially an 'update' special. Even without a current television show, they still live a very public life. They're still constantly in and out of the media; updates are given practically daily via social media." Jon added that he's outraged that TLC "didn't feel the situation warranted even a simple phone call to me." Shouldn't Jon be mad at Kate, not TLC? Kate is pulling the strings. Also, it's not like he has room to talk. He wished death on Kate, on camera, as part of some trumped-up plot for his Couple's Therapy reality show appearance. He's also repeatedly threatened to seek custody of his children, something he hasn't followed up on. I'm not saying he's wrong, I agree that his kids should be kept off television and social media, I'm just saying he's not in a position to take the high road.
These are older photos of Jon and Kate, they're screenshots from E!'s recent videos, I just loved their expressions.