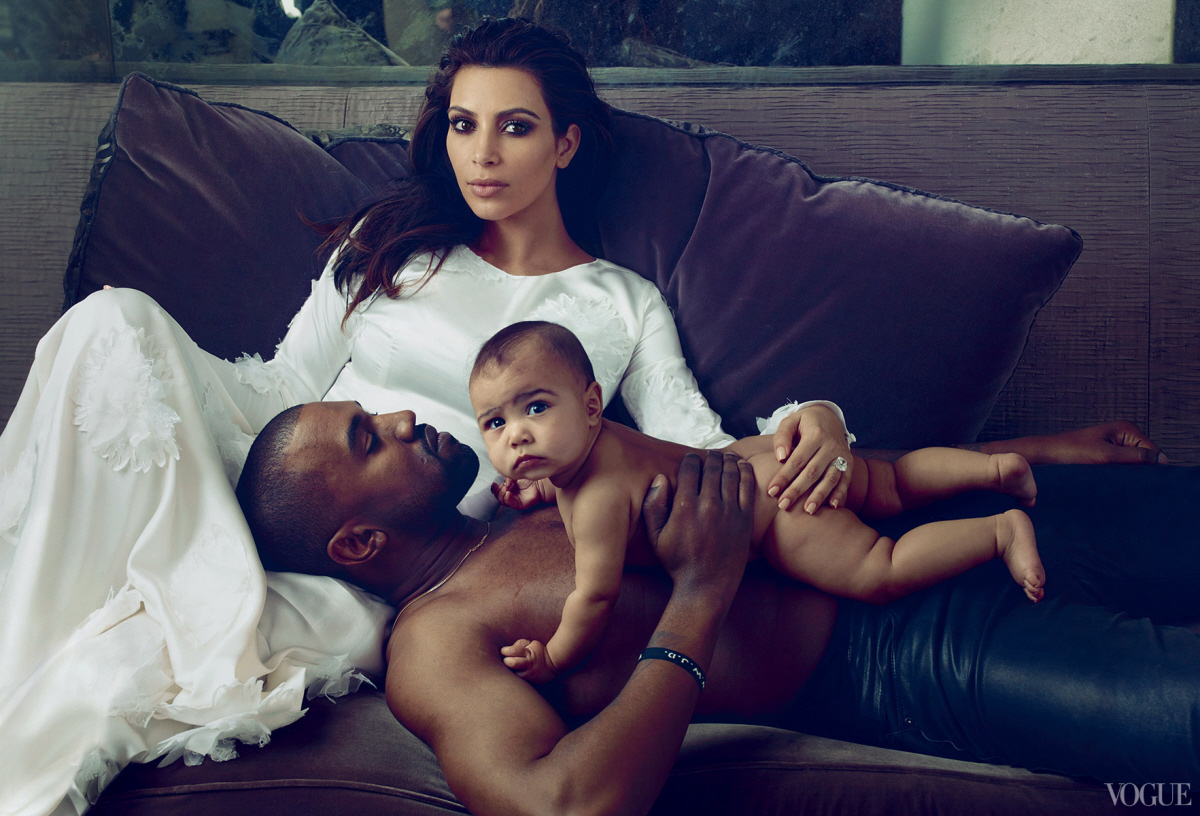 Vogue released two more Annie Leibovitz photos from Kim Kardashian and Kanye West's photoshoot. Is it wrong to love the one with Nori? Because I love it. This is pretty much the first time we've ever seen little IgNori in her daddy's arms, and her expression of WTF-bewilderment perfectly captures how many of us feel about all of this nonsense. Vogue has also released the first part of Kimye's interview, which you can read here. I was just going to do highlights, but then I got to Hamish Bowles comparing Kim to Sophia Loren and Ava Gardner (OMG), so you're getting everything Vogue released:
The fast-cooling Los Angeles afternoon air is filled with the scent of eucalyptus and mimosa, the gurgle of water as it tumbles down a fountain wall into a picture-perfect azure pool, the exultant strains of Pharrell Williams's "Happy," and a chorus of "Old MacDonald Had a Farm," performed in unhappy a cappella by Annie Leibovitz and Kris Jenner.

The frantic warblings of this unlikely duo are intended to entertain the geographically named North West, perched between her father, Kanye West, creative polyglot, and his fiancée, North's mother, Kim Kardashian, cultural phenomenon—or Kimye, as the media has dubbed the telegenic pair while it relentlessly tracks their every move. North ("Kanye's side of the family calls her Nori," says Kim) is poised on her mother's knee, a knee that is currently enveloped in a fall of Lanvin satin the color and consistency of double cream, fashioned by Alber Elbaz into a wedding dress of fifties haute couture magnificence. The dress is a fitting complement to Kim's voluptuous movie-star beauty, with her flashing Ava Gardner looks and Sophia Loren figure that have helped to establish a new contemporary body paradigm after an era of waifs.

Small wonder that Kim idolizes Elizabeth Taylor, whom she first became aware of as a supportive friend of Michael Jackson. Taylor once lent Kim her Cleopatra cape for a photo shoot, and Kim conducted Taylor's last interview (by phone and e-mail), about her legendary jewels. "Everything seemed so selfless for her," Kim remembers. "We talked about the jewelry and how it ultimately didn't belong to her; she just wanted to help people." When Taylor's estate was sold to benefit the Elizabeth Taylor AIDS Foundation, Kim even acquired some of those jewels herself. She also went to look at Taylor's house. "It was just so enchanting," she remembers, "with a garden with really pretty trellises and beautiful roses, but it wasn't realistic for me to purchase. It only had a one-car garage."

Although North has inherited her father's furrowed, quizzical brow, the pretty ten-month-old who is the focus of all this attention seems an island of preternatural serenity in the roiling sea of frenetic activity that is la vie Kimye.

North's parents have already involved her in their creative lives. "I take pictures of her all the time and dress her up," says Kim. "I put Kanye's big chains around her, and I put a little Louis bag and some Jordans, and I was like, 'What up, Daddy?' " Kanye, meanwhile, has made an adorable little stop-frame video of North caught in her natural movements that he's edited to make it appear as if she's break-dancing.

"Anybody need anything?" asks the agelessly glamorous, apricot-skinned Kris, fluttering eyelashes as thick, long, and lustrous as a hummingbird's wings. "Water? Vodka? Get on my train!" she laughs. "Just kidding!" Kris (who, as Kim notes, "goes by the name of Lovey, not Grandma!") is an astute businesswoman and an executive producer of Keeping Up with the Kardashians, now in its eighth season. Her home office is stacked with Kardashian product and magazine spreads—there is even a framed copy of her estranged husband Olympic gold medalist Bruce Jenner's 1979 GQ cover.

When Kim was an impressionable little girl, she remembers, her fashion-mad mom "would always wear really tight—she was into Vicky Tiel, Moschino, or Chanel—with huge Moschino heart earrings. She had an amazing body and was always so in shape. One time Kourtney and I sat in my mom's closet—we must've been eight or nine—and we were like, 'If Mom dies, we're going to write down who gets what.' We went through every last piece of her wardrobe. We were so mean then!"
OMG. LUCIFER'S HOMEGIRL MADE IT INTO VOGUE. "Anybody need anything?" asks the agelessly glamorous, apricot-skinned Kris, fluttering eyelashes as thick, long, and lustrous as a hummingbird's wings. Jesus Christ. I mean… what in the world? Did Lucifer write this himself?
So, obviously, this interview is going to be a total trainwreck and it will probably eclipse the photoshoot which – full disclosure – I kind of like.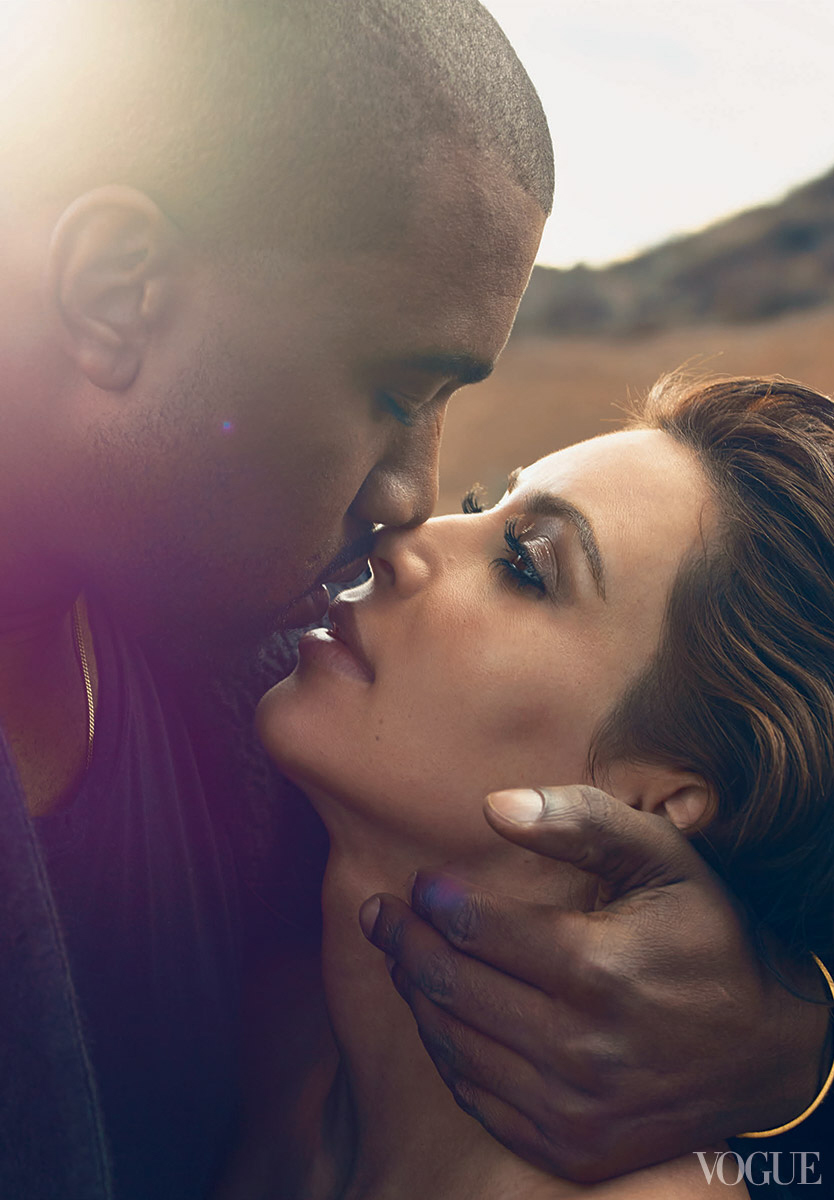 Photos courtesy of Annie Leibovitz/VOGUE.