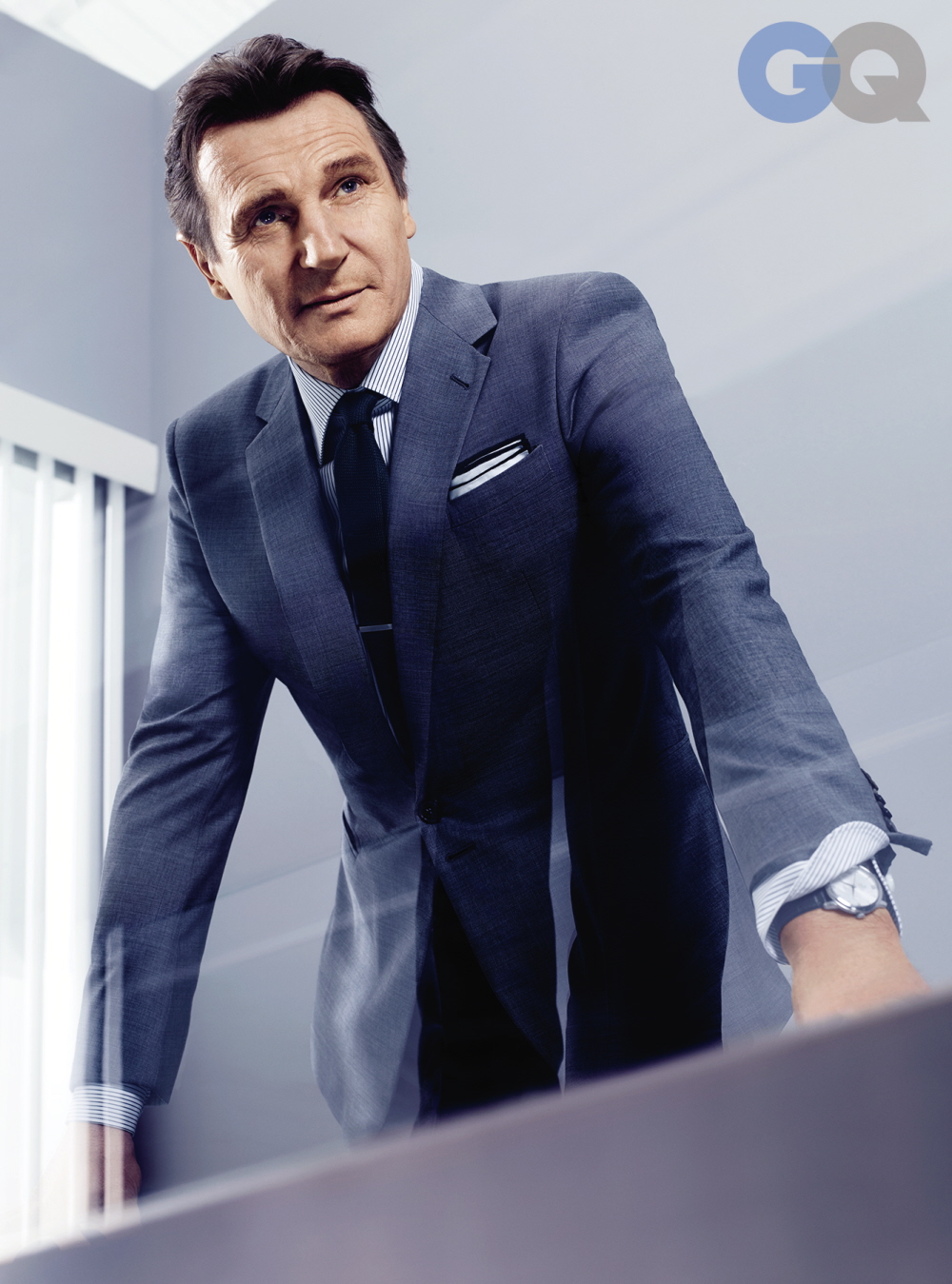 OH YES. The big man got a GQ cover too. GQ has done multiple covers for their April issue – we've already covered the Pharrell Williams cover, the Kit Harrington cover, and now we finally get one with a BIG MAN. A man who likes to talk. A man with something real to say. I swear… Liam is like a fine wine. He just keeps getting better and better every year. You can read the full GQ piece online here (the print edition is out on April 1st, and this is one of the best Neeson interviews I've ever read) and here are some highlights:
On the movie Taken: "I wanted to do more physical stuff. I really thought it would be kind of a little side road from my so-called career. Really thought it would go straight to video. But it just got great word of mouth. I was stunned."

On who he wants to work with that he hasn't yet: "I'd love to work with Denzel. I have such admiration for him as an actor. I see an incredible nuance of someone who's so comfortable in front of a camera. There's an intelligence there; there's an absolute truth. I've never seen that man portray anything less than the truth. It's pure."

On working with Woody Allen on Husband and Wives: "It was a good experience. There was a lull; a quiet came over the set when he came on. We were out at four in the afternoon. It was f–king great. However, there was one incident—people think I've made this up, but no. There's a scene where I'm going down on Judy Davis, right. Judy and I are in bed—obviously covered up—and as I'm going down, Judy's having this monologue in her head. And the crew are all ready, and we're waiting for Woody. No-show. It's starting to get a bit uncomfortable—it's a bed scene. Anyway, he came out after about twenty minutes and said, 'Okay. Camera starts on Judy. Liam, I want to just see the top of your head. Okay, we know where you're going.…' So there was no apology; nothing. What happened: His lawyer had gotten in touch with him to say Ms. Farrow has found naked photographs of her adopted daughter [Soon-Yi]."

On his kids: "I think they do know that I'll always be there, no matter what happens. But the thing Tasha and I really wanted to instill in them was manners. That may sound like such a basic thing, but I've heard so many adults say, 'Oh, my God, your sons—they look you straight in the eye. They're very polite and mannered.' It makes me proud. And it can get you through a lot, in a way. Just showing respect for your fellow man."

On being a single father: "It's just still a day-to-day thing, you know? My boys are teenagers. They're experimenting. They're flexing muscles and sometimes dangerous avenues, and you think, 'F–k. If Tasha was here, someone could share this.' But yeah, we're doing all right, you know? There's a worry nowadays, with every parent I've spoken to. It's f–king drugs. It's a virus. A teenager can take it and suddenly they can be hooked, and it changes their life and their family's forever. That's my constant worry. And I trust them, and they're sensible boys, but it can be just that chemistry that doesn't work. And now there's talk of legalizing it.… It's like, f–k.… I was never into drugs, but I had a bad motorbike accident in 2000 and broke my pelvis, my heel. I wasn't supposed to last the night. And when they took me to the hospital and gave me morphine, ugh, I thought, 'This is how I want to go, with a big f–kin' jar of this stuff.' And then when they give you that drip that you give yourself every six minutes…I knew I was hooked, because I was counting those f–king drips, the seconds until I could push that button, and it was instantaneous, that high was."

On why he gave up drinking: "I was just—I was drinking too much. It started since my wife died. Pinot Noir: That's all I drink. I was never into spirits or liquor, hard liquor. And I gave up the Guinness years ago, because it just—past an age, it sticks to you, you know? So last year, I just thought—they've been throwing these action movies at me, and I thought, 'Okay, let's just change it a little bit.' And it's been great. I love it."

On dating: "I'm keeping myself to myself. And I like it that way. I'm not hunting. I'm the opposite of a—what would a male cougar be? Is there such a thing? Whatever it is, I'm not that."

On Catholicism: "I remember going to confession once, and I had to learn the word masturbation in order to confess it. I wound up confessing it to one of these missionaries, and he f–king just lit into me. 'YOU DID WHAT? YOU HAVE TO STOP THIS EVIL PRACTICE.' Then I remember opening the door, and I could see all these old ladies waiting, and… F–k's sake."

On letting go of his role in Lincoln: "Natasha died in March, and then—I want to think it was toward the end of April, Steven got together a reading, and we all sat: Sally Field, John Lithgow. Oh, just great actors. And Doris Kearns Goodwin, and Steven, of course. We started reading this, and there was an intro, and then I see 'Lincoln:' where I have to start speaking, and I just—a thunderbolt moment. I thought, 'I'm not supposed to be here. This is gone. I've passed my sell-by date. I don't want to play this Lincoln. I can't be him.' I was thrilled that Daniel played him, and when I saw the film, I was like, 'He's f–kin' Abraham Lincoln. This is perfect.' Perfect."
I'm not sure if I was supposed to laugh when he said, "This is how I want to go, with a big f–kin' jar of this stuff" but I did. That's just a funny line. I know he's being serious and trying to talk about how easy it would be for his kids (or any kids) to get hooked on drugs, but I just got an image of Liam on morphine saying, "Yes. This is it. This is everything!" Of course I also laughed at the confession story (that's amazing). Also: I'm so happy that he's not drinking anymore! Liam and I can be non-drinking sisters! Yay. The rest of it just golden too. I love this interview.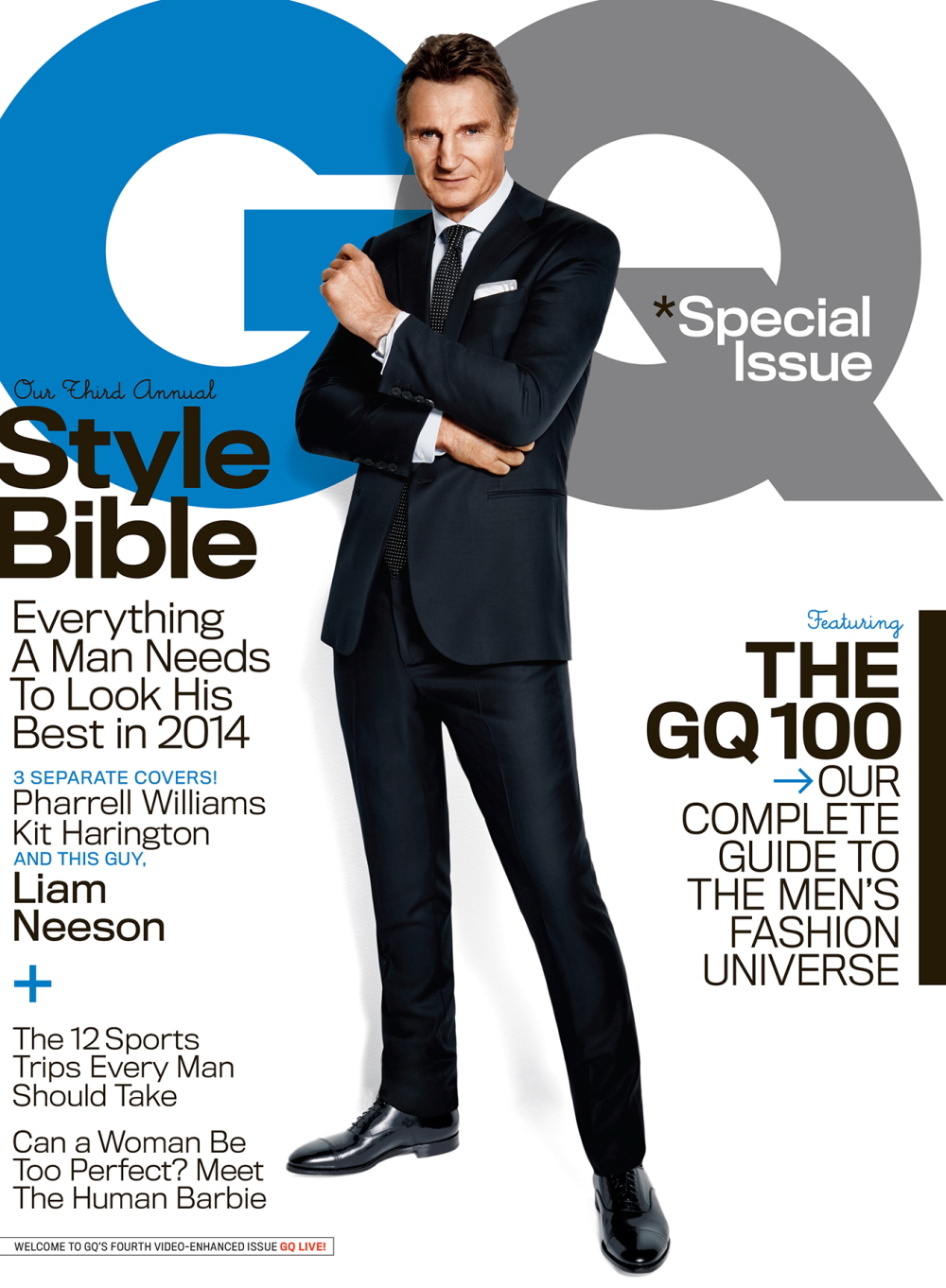 Photos courtesy of Paola Kudacki / GQ.