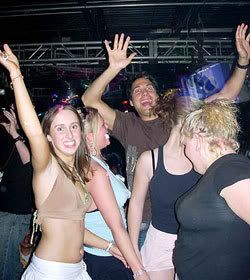 It sounded like Joe Francis had come to his senses when he announced he was going to surrender and serve his time for the contempt of court charges U.S. District Judge Richard Smoak handed down last week. Some wet t-shirt contest must have been going on at about the time he was going to turn himself in, because yesterday came and went and Francis is still on the run:
From NewsHerald.com:
"Girls Gone Wild" founder Joe Francis told Fox News' Geraldo Rivera on Monday that he would comply with a Panama City federal judge's order to surrender to authorities to begin a jail sentence for contempt of court.

But by 4:30 p.m., Francis had not turned himself in at the federal courthouse.

"I'm not trying to hide at all," Francis told Rivera. "I'm on my way to Florida right now to turn myself in and comply with the judge's order. I would never run from justice. I would never not comply with a judge's order."

Francis did not answer calls to his cell phone on Monday.

His corporate lawyer, Michael Burke of California, said he was "getting everyone together" Monday morning so Francis could turn himself in. He could not be contacted later in the day.

Deputy U.S. Marshal P.J. Joanos said he had tried unsuccessfully most of the day to contact Francis' lawyers. At about 4 p.m., Joanos said, Burke called and reported that Francis had not turned himself over to the authorities anywhere in the country.

"I can tell you that Mr. Francis is being treated as any U.S. Marshals' fugitive," Joanos said.
Come on! I find it hard to swallow the fact that Joe Francis is being treated as any U.S. Marshal's fugitive. All they have to do is send the police to Hyde, Scores, any Spring Break event, or Paris Hilton's house and he surely would have been found by now! Francis is making a laughingstock out of the Panama City court system, and hopefully someone makes him serve longer than a few measly days in jail for being such an ass.
Update: Joe Francis was arrested at the Panama City airport at 6:30 am EST.