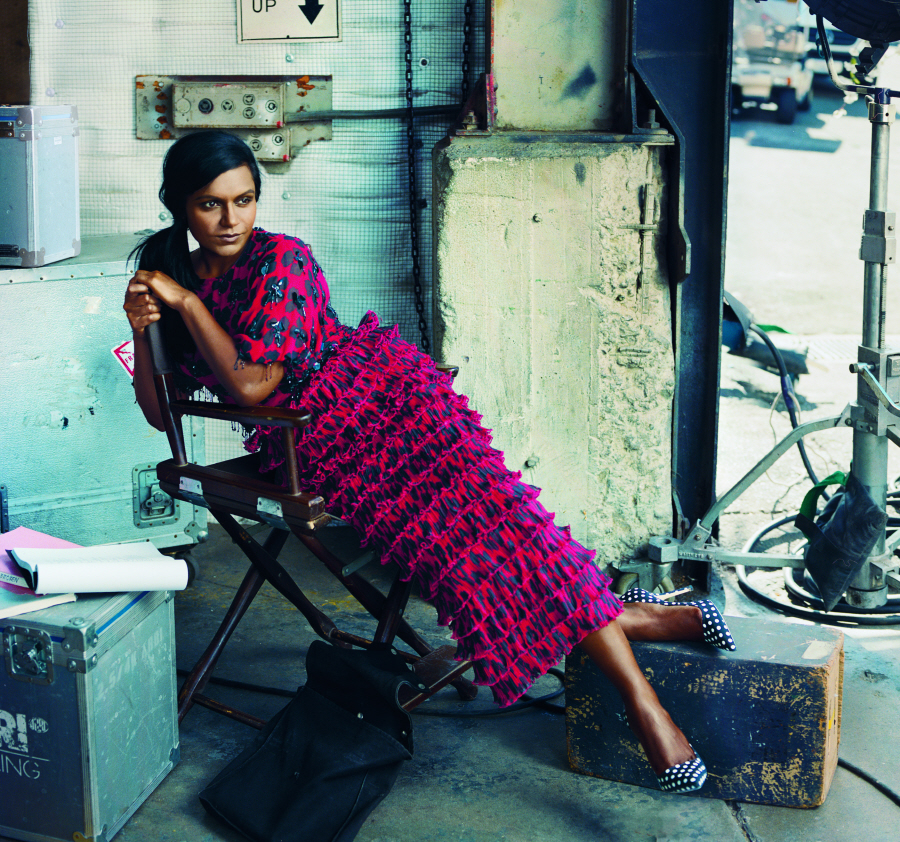 Mindy Kaling has her first-ever Vogue feature, unfortunately in the April issue (with Kimye on the cover). It's almost like Anna Wintour just closed her eyes and muttered, "Just put all the fat people I hate in this issue." Kimye, Kate Upton, and now Mindy. Perhaps she included a photo of Victoria Beckham pregnant too. But, I'm proud of Mindy. She's deserves to be in Vogue! You can read the Vogue article here, and here are some highlights:
Mindy on her appetite: "I feel the same way about clothes as I do about food. I want everything."

Trying on clothes in front of Vogue: Kaling emerges from the dressing room in a voluminous printed dress and studies herself in the mirror. "It takes supreme confidence to put this on and not belt it," she says. "When you're dealing with volume, you really need to go shopping with friends." Petite and a fluctuating size 10, Kaling spins a lot of her own body-image issues into The Mindy Project, and much of the humor on the show stems from her awareness that she isn't a size 2 blonde. Her character seesaws between insecurity and an almost delusional self-confidence, and says things like "I don't want coffee cake—I'm still full from that chia seed I had last night."

Self-image: "There's a whole list of things I would probably change about myself. For example, I'm always trying to lose fifteen pounds. But I never need to be skinny. I don't want to be skinny. I'm constantly in a state of self-improvement"—she does barre exercise and occasional spin classes—"but I don't beat myself up over it."

Dressing rules: "When I'm at my thinnest, I tend to wear things that don't show off my body. But when I'm bigger, I'll go body-con, which comes from a place of 'This is my perimeter, in case you were wondering if I was actually much bigger.' "

Not playing it safe: "It's really tempting not to take chances. But I don't want to be fearful. I don't want my tombstone to say, she hid her imperfections well on the red carpet."
The Vogue write-up is actually rather charming, although I don't think they should have put her size in there. But they compare her to Lucille Ball and Carol Channing, which is pretty awesome for Mindy. I also understand this: "I'm always trying to lose fifteen pounds. But I never need to be skinny. I don't want to be skinny." I got to an age where I feel similarly. Would I like to lose some weight? Sure, and I work out and try to eat better. But I no longer think, "Ah, if only I was skinny." Even when I was at my thinnest… I still wasn't "skinny." It's a pipe dream for me, so I've accepted my body for what it is.
CB also sent me this Today interview – Mindy is very cute here.
Visit NBCNews.com for breaking news, world news, and news about the economy
Here are some photos of Mindy at Paleyfest earlier this week. Some of you said that Mindy looks like she got lip injections? Maybe? Her lips looked weird in the Today interview too. But her makeup is much too dark here and that outfit is a catastrophe!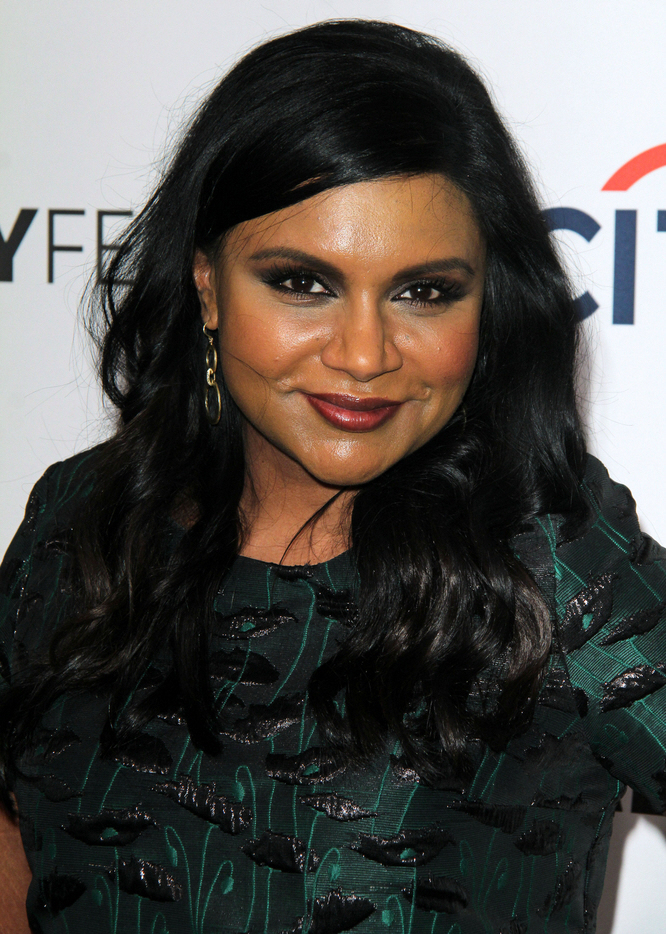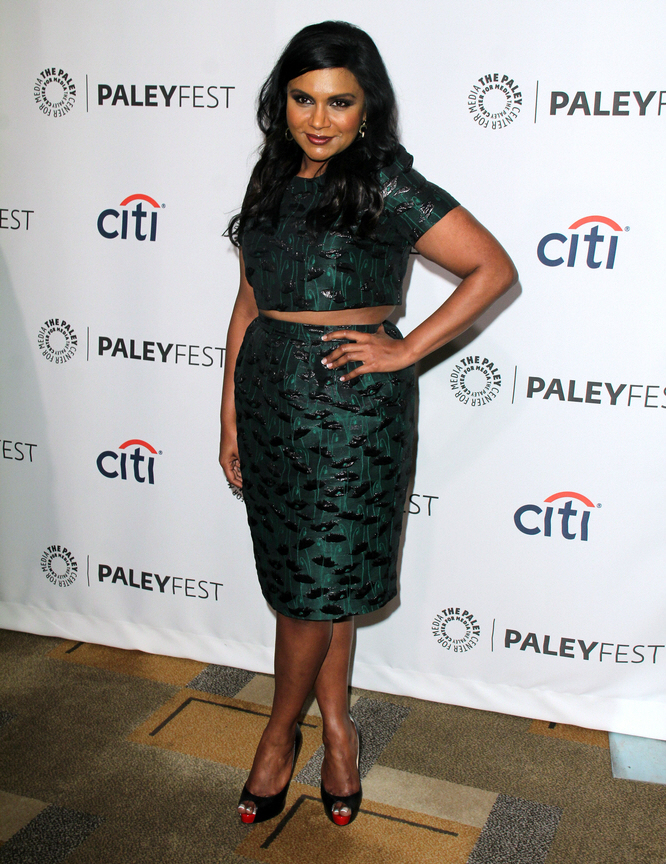 Photos courtesy of VOGUE/Norman Jean Roy and PR Photos.