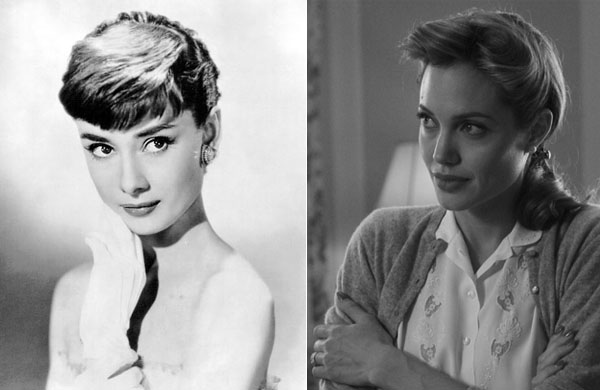 In a poll conducted by Sky HD, Audrey Hepburn was voted "top screen beauty of all time", beating out Angelina Jolie, Halle Berry, Julia Roberts and Grace Kelly. My beloved Gravatar, Ava Gardner did not make the top twenty! What the…? And yet Cameron Diaz and Jennifer Aniston made the list?
Even though Audrey Hepburn made number one, there is a distinct lack of the old-school glamour goddesses of Hollywood's Golden Age. There's no Rita Hayworth, no Greta Garbo, no Katherine Hepburn. I actually think Audrey Hepburn deserves this honor – her or Grace Kelly, two of the most beautiful women to ever walk this earth. Here's the complete Top 20 list of "Most Timeless Beauties":
1 Audrey Hepburn
2 Angelina Jolie
3 Grace Kelly
4 Marilyn Monroe
5 Sophia Loren
6 Catherine Zeta Jones
7 Elizabeth Taylor
8 Keira Knightley
9 Halle Berry
10 Brigitte Bardot
11 Julia Roberts
12 Vivien Leigh
13 Nicole Kidman
14 Cameron Diaz
15 Doris Day
16 Scarlett Johansson
17 Charlize Theron
18 Jennifer Aniston
19 Michelle Pfeiffer
20 Liv Tyler
Audrey Hepburn has been named the ultimate screen beauty in a survey of Hollywood actresses through the ages.

The star of Breakfast At Tiffany's and Roman Holiday was chosen ahead of modern stars including Angelina Jolie, Keira Knightley and Halle Berry.

While blondes have more fun, brunettes appear to have more enduring appeal. Of the top 10 actresses, only three – Grace Kelly, Marilyn Monroe and Brigitte Bardot – are blonde.

The poll of nearly 2,000 film fans put Hepburn in first place, citing her perfect bone structure and almond eyes. Jolie was second, although she was a favourite with younger voters, and Kelly was third.

Nicola Moulton, beauty and health director of Vogue, said: "A great cinematic beauty by definition has to look amazing in motion, not just in pictures. Audrey Hepburn is clearly a timeless beauty explaining why she is the nation's choice, though a personal favourite of mine has always been Vivien Leigh – she was not only breathtakingly beautiful but had an astonishingly expressive face. Unlike many actresses her expressions never run counter to her beauty, which seems an essential point of her being rather than just a quirk of genetics."
From The Daily Telegraph
Though I adore Angelina, and think she's one of the most beautiful women of Hollywood today, the old-school goddesses are better. Give me Bette Davis over Liv Tyler, or Eva Marie Saint over Kiera Knightly. Beauty is in the eye of the beholder, but there's just something better about the goddesses of times past. Better to "discover" a woman's beauty through her talent in some old movie than have it forced down your throat by the 24-hour gossip cycle.
Audrey Hepburn and her first husband Mel Ferrer are shown below on 10/22/64. Other photos are stills from her films Breakfast at Tiffanys and Sabrina Fair. Credit: WENN. Angelina Jolie is shown in stills from 2006′s The Good Shepherd