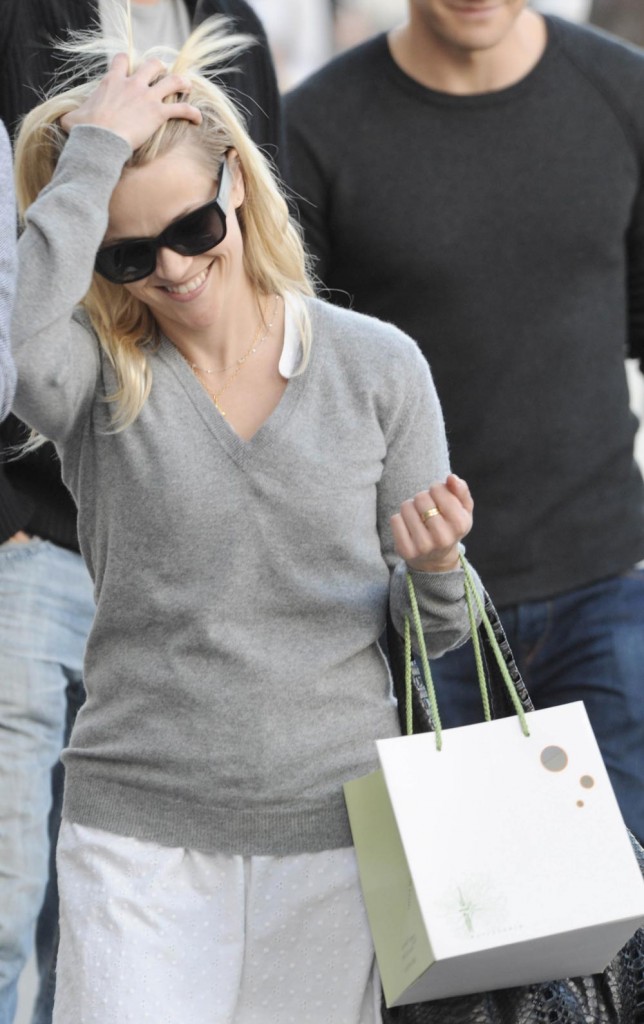 Reese Witherspoon is so embarrassing. According to her kids, at least. It seems like her kids Ava and Deacon think she's totally uncool, especially when she sings in the car and when she wants to sing along to Carrie Underwood – at a Carrie Underwood concert. Can't you just hear the little Reese-doppelganger Ava rolling her eyes and saying, "Muh-OM!" To be fair to Ava, I hate when people at concerts try to out-sing the professionals.
Reese has a sense of humor about it, though. She sees it all as her kids keeping her real and grounded. She sees herself as "a regular embarrassing old mom." However, not many "embarrassing" old moms get to do the dirty with Jake Gyllenhaal, so she's probably not all that bad. Reese gave an interview to Parents magazine, and People has the details.
She might be an Oscar-winning actress but to her two kids, Reese Witherspoon is sometimes, well, just embarrassing, she says in a new interview.

To illustrate her point, the actress tells the story to Parents magazine of taking her 9-year-old daughter Ava to see country star Carrie Underwood.

"She said, 'Mom I really appreciate you taking me to the concert, but will you please not embarrass me in front of Carrie Underwood by singing because she's a real singer and you're just, like a movie singer," says Witherspoon, who won a Best Actress Oscar for playing singer June Carter Cash in 2005′s Walk the Line.

But apparently her vocal chops haven't impressed her daughter. "I love to sing around the house and in the car," she says, "but my daughter hates it."

Still, she appreciates that Ava and son Deacon, 5, see her as just their mom. "Realizing you're not anything special to the kids is always a great sort of reminder that you're just a regular person," the actress tells the magazine, which hits newsstands Feb. 17. "A regular embarrassing old mom."

The kids however, haven't seen Mommy at the multiplex. "They know what I do for a living – that I'm an actress," she says. "But they haven't seen any of my movies. Yet."

Witherspoon, a self-described working mother, says her acting schedule, while very demanding at times, allows her the freedom to peek in on the kids at school. "I do get to be there for school fairs, plays … It's so shocking to see my children in school having an entire life without me."
From People Magazine
A few days ago, Reese was photographed with some kind of bulge in the belly-baby area, and some sites were gossiping that Jake had gotten Reese pregnant. I really doubt it, though. Reese is such an old-fashioned girl. Although, if I remember correctly, she got knocked up with Ava before she and Ryan Phillippe were married, though they hurried up and did an old-fashioned shotgun wedding before it turned scandalous. Most likely the bulge was just a big lunch or a bad shirt.
Reese Witherspoon and Jake Gyllenhaal are shown out in Venice Beach, CA on 2/7/09. Credit: SplashNews