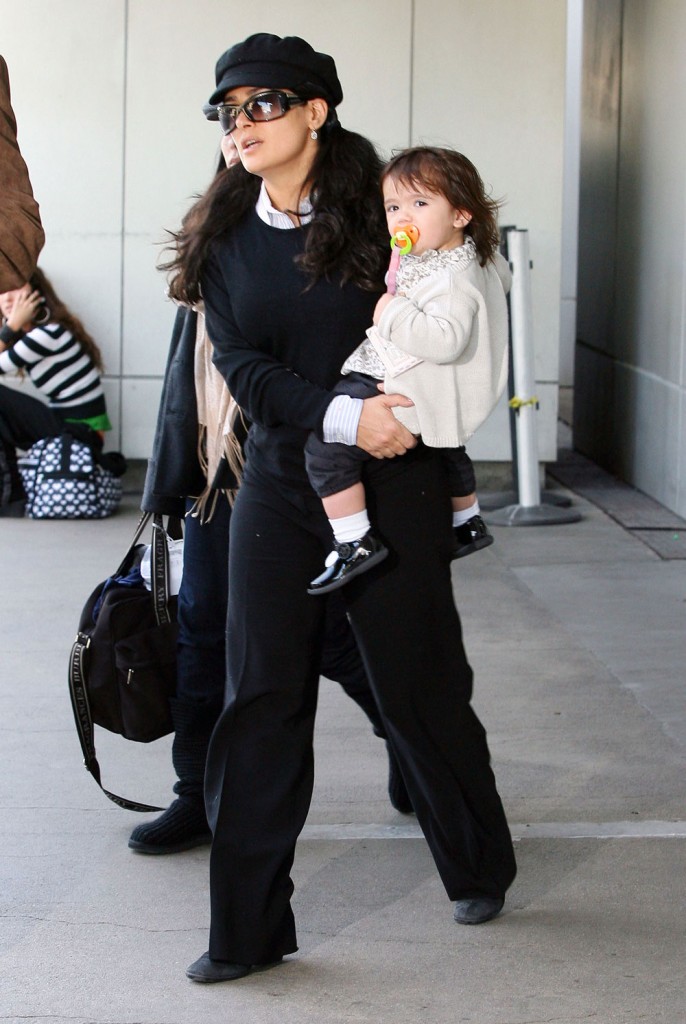 Salma Hayek has spoken about her daughter on Rachel Ray's TV show, saying that she is convinced she has a sixth sense and sees ghosts.
The actress also has her hands full with Valentina, her daughter with (Francois-Henri) Pinault. At 16 months, the girl already is trilingual – she speaks English, Spanish and French – and seems to have developed a sixth sense.

"Last night she saw a ghost. I'm convinced," says Hayek, "Last night she woke up and her eyes were open. And she's looking at one specific point and she's going, 'No no no no, au revoir,' which means goodbye in French … And she's looking at someone, but there's no one there.

I was so scared, and I'm like, 'Yes, au revoir, whoever you are, get out!' And then she started saying it in English: 'Bye bye, bye bye!' I guess she was trying in different languages to see what nationality this ghost was to go away. It was terrifying!"
I can't believe little Valentina is trilingual, and can say 'goodbye', 'au revoir' and 'no'. I have a child exactly the same age as Valentina, and she says 'juice'. That's it. She also doesn't say it with meaning, anything can be juice.
This story reminded me that when I was a child I used to have dreams about things that were about to happen. For example, I once had a dream about a fire at the end of my street, then a few days later the shops at the end of the street did burn down. And no, I didn't light the fire! Various people I know claim to have had similar experiences when they were small, but not as adults – are children just more open to this? Psychics often suggest that only people that have open minds about ghosts and fairies will actually see these things.
So, while some of you might think Salma is crazy, perhaps Valentina did see a ghost. Obviously her language skills aren't up to explaining to Salma what she did see – unless she was trying to tell her mother to go away.
Salma Hayek is shown at the airport with Valentina on 1/19/09. Credit: Bauergriffin