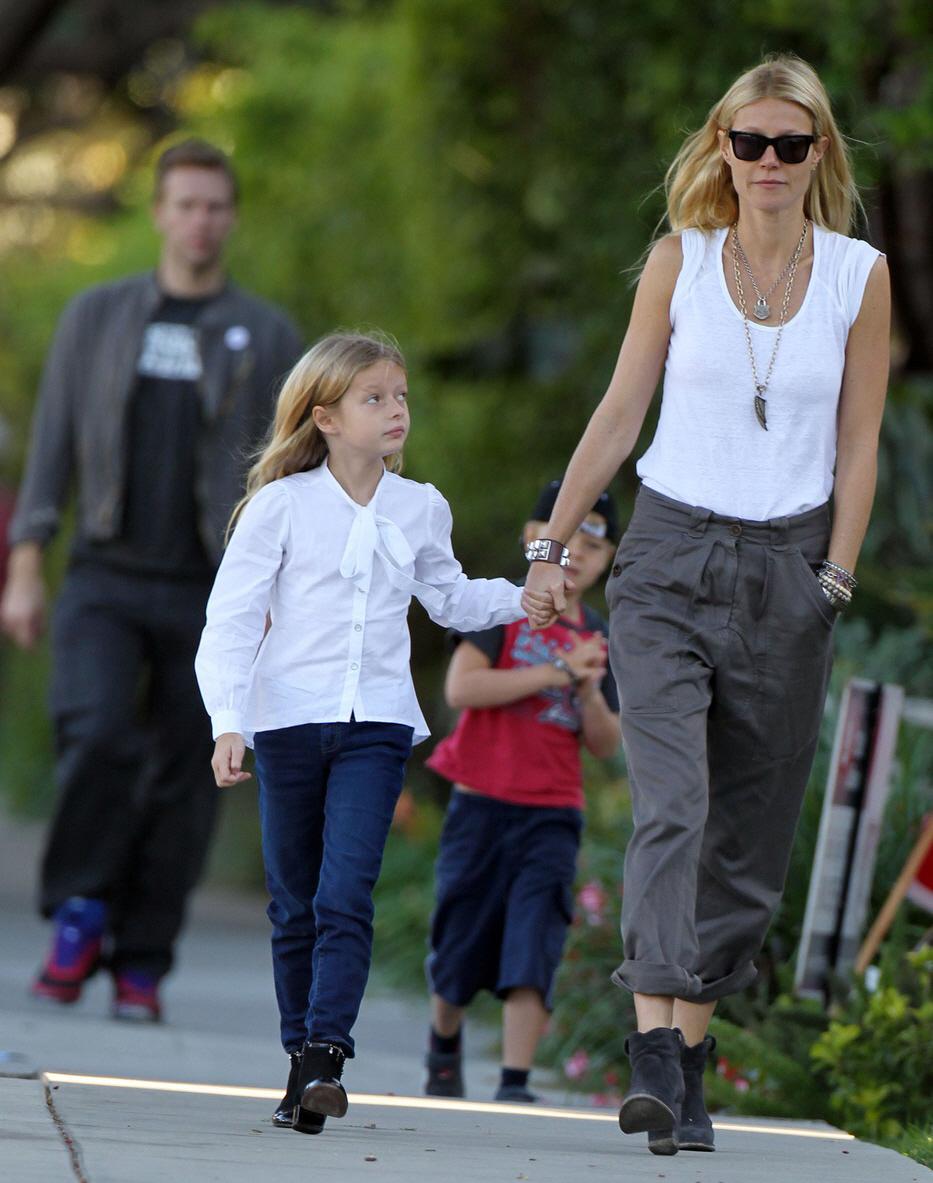 I was trying to find the first mention of this in our archives, but all I could find was the story about how Gwyneth Paltrow's London neighbors hate her and think she's a gauche, tacky American. But I do remember reading – months ago? – that Goop's LA neighbors hate her too. I guess I just never wrote about it. The main complaint from Goop's LA neighbors is that she and Chris Martin erected a huge black gate on their property which violated many of the community standards and/or zoning laws. The neighbors asked Gwyneth and Chris to take the gate down, but they did not. And now the neighbors are complaining to Radar:
Gwyneth Paltrow and Chris Martin are staying civil post-split, but it's a different matter entirely when it comes to their neighbors! RadarOnline.com has exclusively learned that the angry residents who live close to the couple's $10 million mansion in Brentwood, Los Angeles, have accused the pair of being the neighbors from hell — and now, Paltrow and Martin are even facing prosecution!

Paltrow and Martin bought the home in 2012. According to neighbors, Paltrow immediately planted four layers of huge fir trees surrounding the property and installed a huge nine-foot black gate that violated zoning laws in the posh neighborhood. A complaint was filed with the Los Angeles Department of Building and Safety. But a year later, they still haven't torn it down and their livid neighbors are demanding action.

The couple should have replaced it with a smaller gate within 45 days or incurred a $900 fine. A Los Angeles City Council spokesman said that for that particular property the height limitation is 3.5ft — more than five feet shorter than the one the couple currently has. But this is only the start of the list of complaints by neighbors, who have spent more than a year living next to what one described as a 'building site.'

"There was always work being done at the house," one neighbor reveals. "I only got annoyed when the workmen would illegally park in my driveway and they hadn't even spoken to me about it."

When faced with such issues, neighbors were forced to go through a middleman instead of approaching the famous duo directly.

"I spoke to a guy called Oliver who seems to deal with all their issues to do with their neighbors, the house and community," the source says. "He sorted it. We never got to see Gwyneth; we'd only go through Oliver," the source explains.

Other neighbors confirmed that Paltrow is barely seen in the neighborhood, despite saying in an interview last year that she was desperate to drag the family to Los Angeles so that their kids Apple and Moses could go swimming and 'pick avocados.' Instead, neighbors say it's been Martin who's been overseeing home base for the family.

"We used to see Chris walking the dogs," neighbor Hilda McGonigle reveals. "He was a really nice guy. He was the one with the talent; she was the one just writing cook books. To some people, their issues might get on people's nerves, but I personally didn't care. I didn't have much time for her, but I liked him."

Now that the couple has split, another neighbor says, "It's weird timing … he was building a studio in the back of the house, so it makes no sense he wanted to leave here. He seemed happy. But she wasn't as popular with the street."

In fact, some neighbors were even scared to speak about her on the record. One said fearfully, "I don't want anything bad to happen to me, so I can't say anything. Last time I did, then it was difficult, so now I don't want any problems."

McGonigle explains, "It's a really active community, but we don't see much of them. When they moved in they had Do Not Trespass signs put up at their school and all over their property. Then they had the big gates put in and four layers of trees. I actually felt bad for them, as there was so much media intrusion when they moved in, I had paparazzi blocking my way into my own drive. It got so bad the police got involved. There was no sense of privacy, but I know it annoyed the neighbor next door."

Still, she insists that the couple should take down the gate, even as they focus on their divorce. She insists, "It's against the zoning laws to do it, as it ruins the sense of community if everyone had those gates."
Is this just typical sexist BS? It seems like Chris was the one around more and actually talking to the neighbors and Gwyneth was the one with her nose in the air, ignoring the peasantry and so she got blamed for all of the neighbors' complaints when it was really about Chris and Gwyneth BOTH? Now, all that being said… yes, it wouldn't kill Gwyneth to deign to speak to her peasant neighbors or to work out some of the issues people have with the big, ugly gate.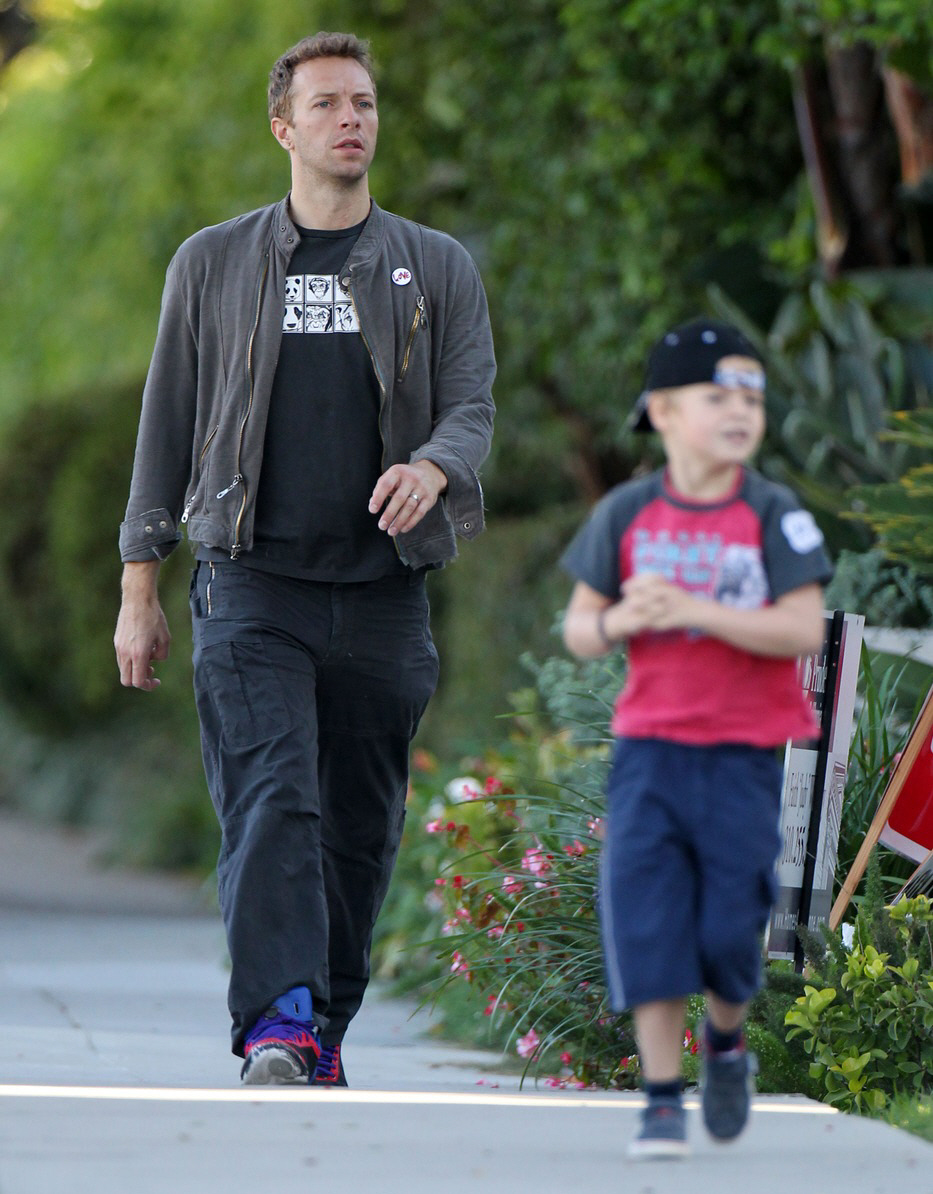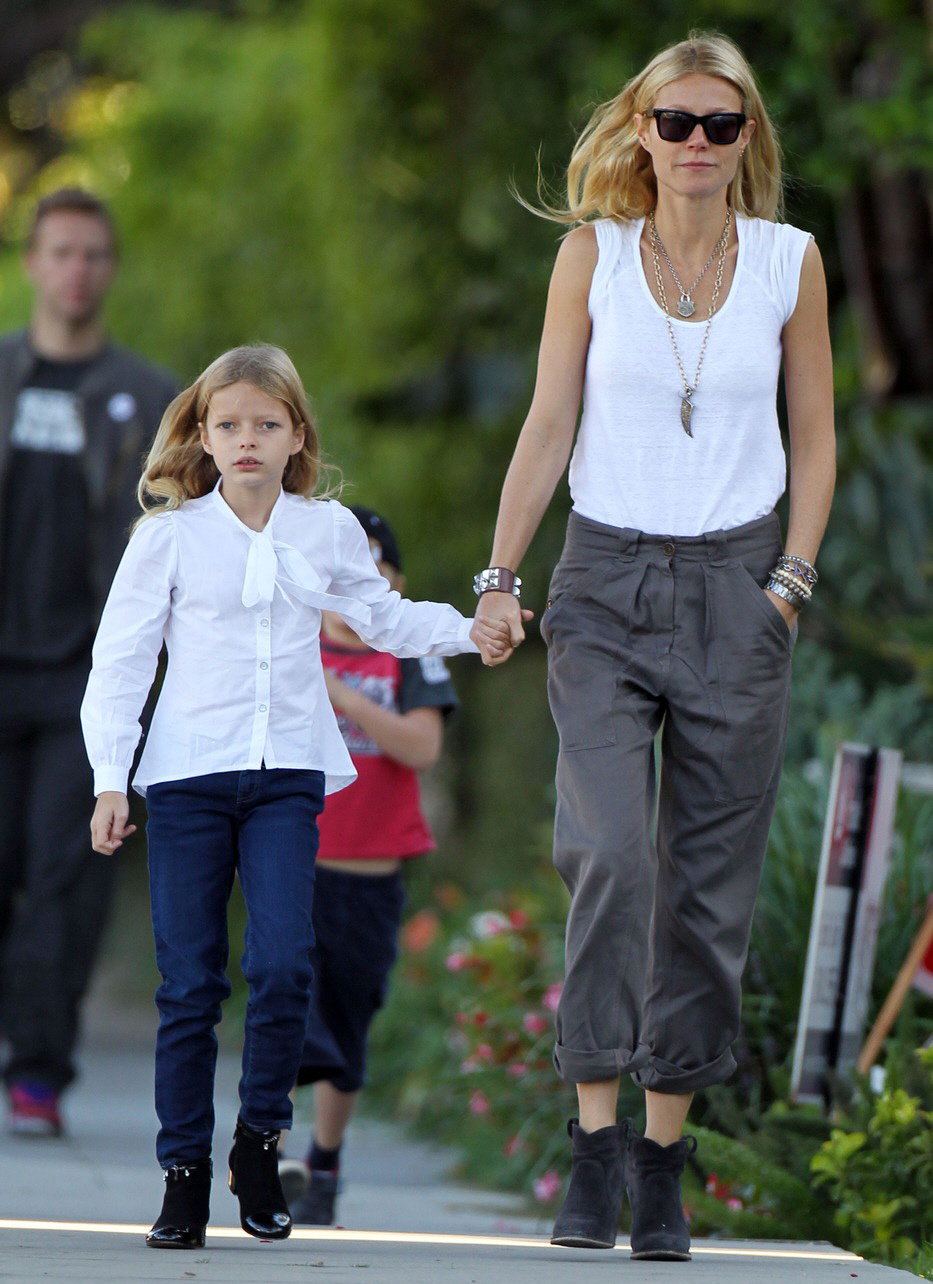 Photos courtesy of Pacific Coast News.