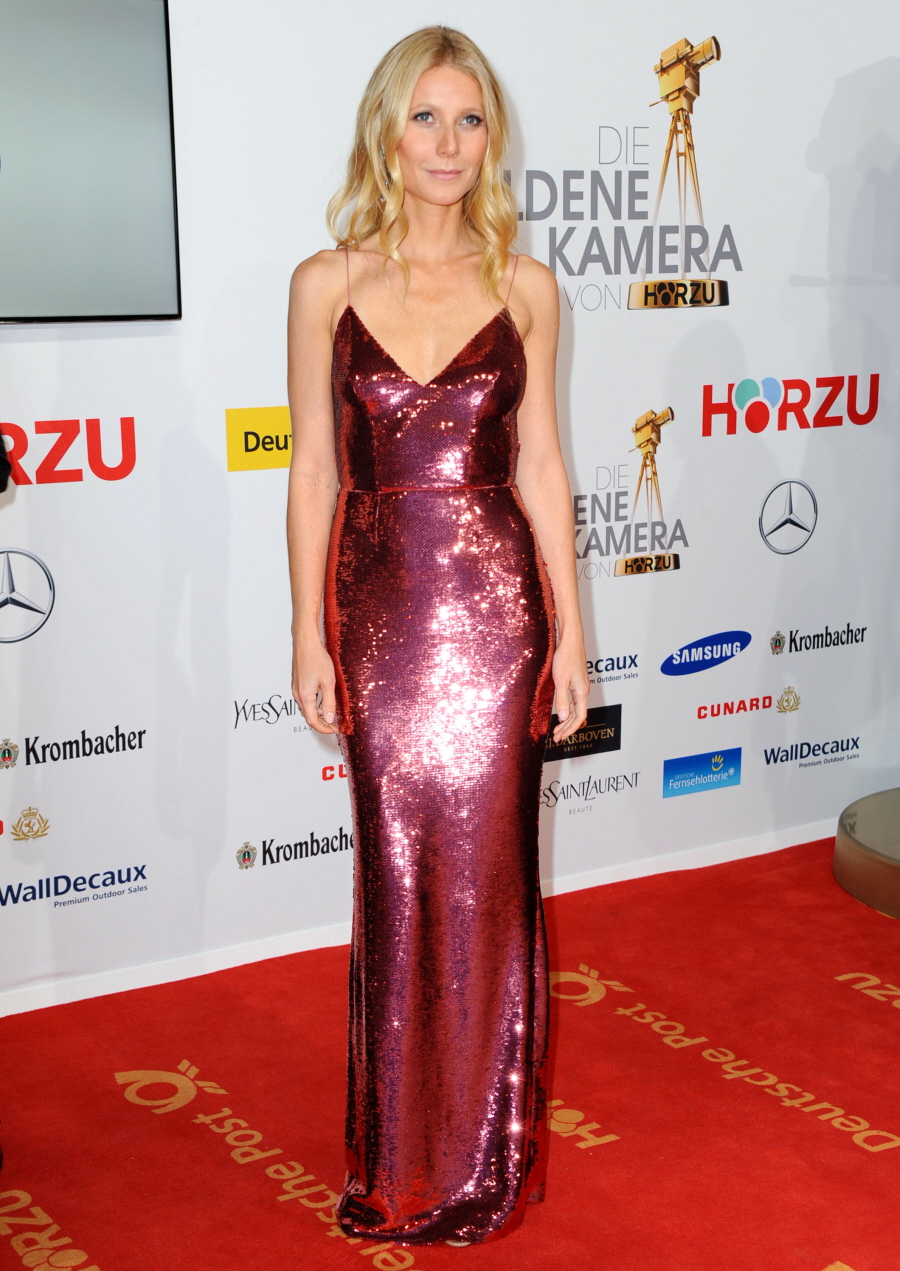 Here are some photos of Gwyneth Paltrow at Saturday night's Goldene Kamera Awards in Germany. Goop actually won an award and everything. She took home a prize for "top female international actress"… which I guess was for Iron Man 3? Sure. Matthew McConaughey took home the international dude prize as well. As for the dress… I don't have an ID. I like seeing Goop in this color, and I don't hate the sequins. But the execution of this dress is rather… budget, right? Like, Vanna White would wear a version of this on Wheel of Fortune. Update: the dress is Prada! I should have guessed that from the nipple-darting.
In other Goop-news, you know how Gwyneth is so much better than you and she knows everything there is to know about being rich, about design, about clothes, about diets, about cleanses, and about, well, everything? Well, Gwyneth and Chris might have an ulterior motive for moving to LA last year. They might have moved out of London because… (gasp!)… their neighbors thought they were gauche and nouveau-riche. Apparently, Goop and Chris bought the property adjoining their London mansion, and they spent years renovating and combining the properties to make one gauche mega-mansion and the neighbors were just sick of it:
Gwyneth Paltrow and Chris Martin are reportedly planning to sell their £7million London mansion after a series of rows with neighbours. The Daily Star reports that some residents are happy to see the couple leave after being annoyed with the extensive building work carried out on the property in Belsize Park, North London.

One resident told the paper: 'We have had years of their building works. They have taken down trees so they can park their flash cars in the driveway and they put a huge swimming pool in the back garden.'

Another neighbour said: 'The trouble is that it will probably be a similar sort that moves in and we'll have this all over again.'

The couple, who have two children Apple, nine, and Moses, seven, bought the home ten years ago from actress Kate Winslet, 38, for £2.5million. They proceeded to buy the property next door for £3.1m and join the two houses together, followed by another home to create a 33-room mansion.

Their restructuring project is believed to have included a garden and play area, three more bedrooms, a gym, a changing room and another bathroom. An insider who is close to Gwyneth and Chris said the couple are looking for a smaller home in Regent's Park to use as a base in London.

The source said: 'They decided to sell up as they never spend any time there anymore. It wasn't a great atmosphere in the street either.'

The couple relocated from London to LA in the summer, so that they could live closer to Gwyneth's family.

Mail Online has contacted representatives for Gwyneth Paltrow and Chris Martin for comment.
On one side, I guess I have to defend Goop – it's her money and her life, and if she wanted to spend all of that cash renovating her London mega-mansion, so be it. But it does sound like this was just something she did because she was bored – she renovated and went from project to project, filling her time until there was nothing left to do but start all over again on another property.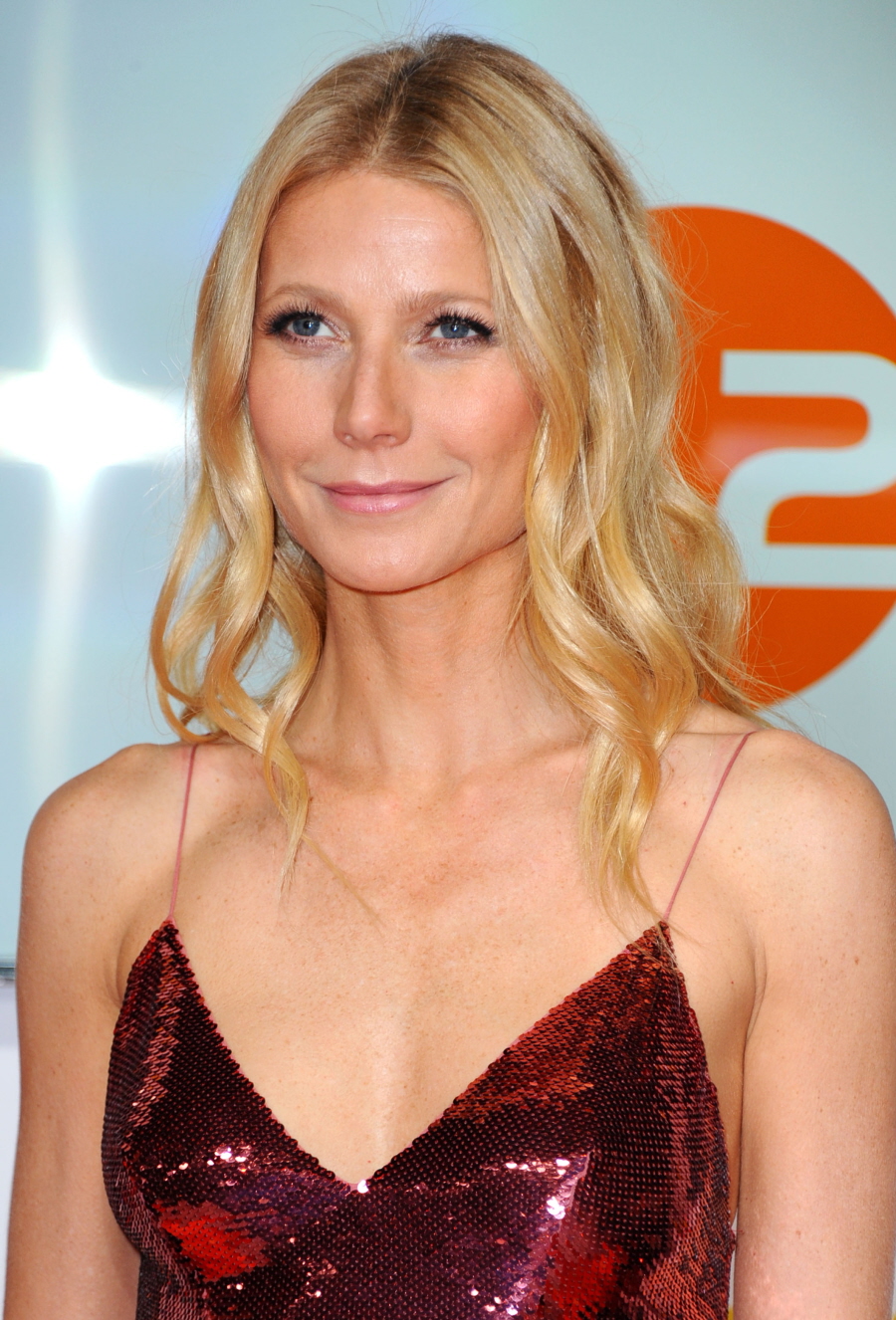 Here's a photo of Goop's megamansion: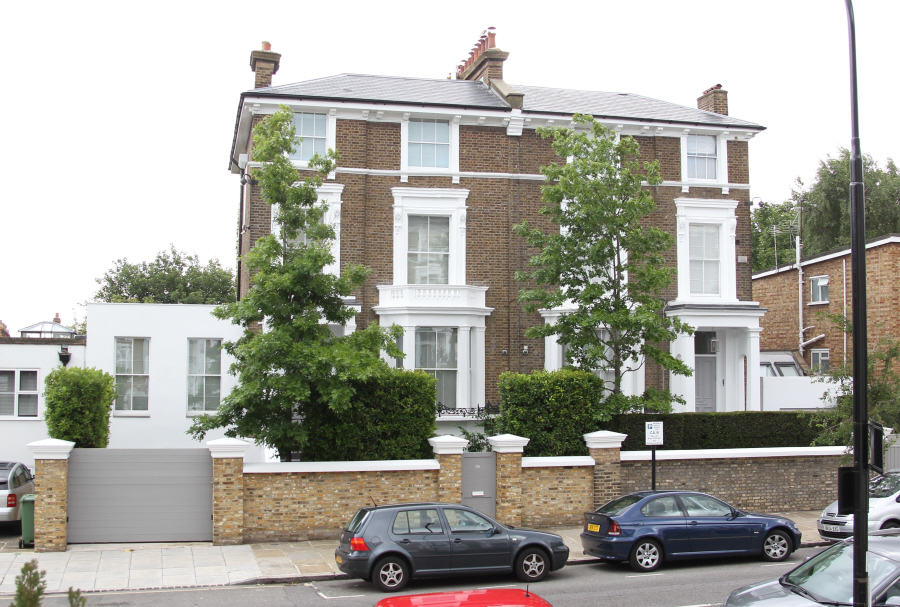 Photos courtesy of WENN.