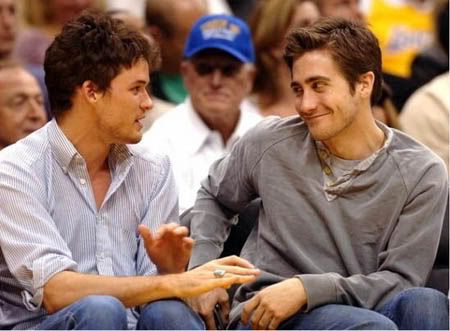 Despite an oh-so-believable rumored romance with newly single costar Reese Witherspoon, Jake Gyllenhaal is said to be spending time with his suspiciously good looking male friend, Austin Nichols, not that I can't fantasize about that:
Sure, he was just linked with Reese Witherspoon, but that hasn't stopped speculation about Jake Gyllenhaal and his good buddy Austin Nichols. The "Brokeback Mountain" star last week visited the set of Nichols' HBO series, "John From Cincinnati," according to TMZ.com, which says that the two guys spent most of the day in Nichols' trailer. The site also says they had a quiet dinner at Jar in L.A., escaping paparazzi through the back door. Last April, wishful thinkers made much of photos of an animated-looking Jake and Austin at a Lakers game. Jake's rep says they're "just friends."
The Reese and Jake rumor started in March when they were said to have hung out together at a NYC apartment and again at Reese's hotel the next night. At the end of the month, they were full-on going out despite the fact that there were no pictures and just those scant few sightings. One "tipster" wrote into paparazzi photo agency Flynet claiming to have seen Reese pick up takeout and bring it back to the car where a hungry Jake sat and tried to cover his face.
So Jake and Austin and/or Jake and Reese are just friends, or Jake is dating them both. Depending on what's really happening, Reese may be getting fashion advice or she could arrange for a hot guy sandwich if everyone is into that. That was kind of obnoxious and somewhat unlike me to say that, and no offense to our readers of any orientation. The possibilities are kind of boggling with these ambiguous hotties, although I think the former is more likely.
Here are those pictures from last April of Jake and Austin at a Laker's game.