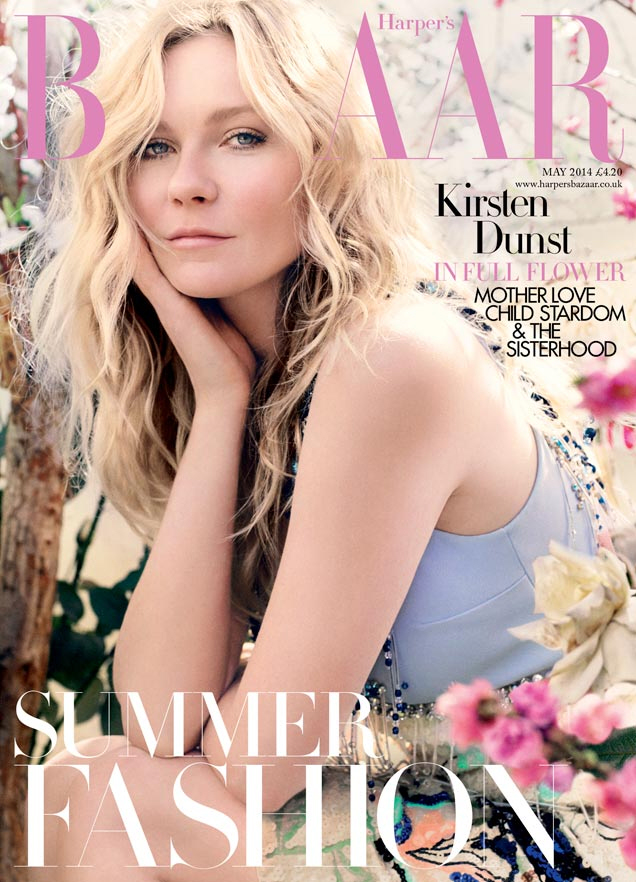 We discussed the film Two Faces of January briefly in February, when Viggo Mortensen turned up to the Berlin Film Festival. Viggo stars with Kristen Dunst and Oscar Isaac in an international thriller set in what looks like the early 1960s. Kiki is promoting that film now, with a cover profile for Harper's Bazaar UK. The photoshoot is rather lovely, I have to admit. Even though Kiki is on permanent Bump Watch (mostly because of her slouchy posture), not all of the photos are making me think she's pregnant. As for the interview… well, Kiki has some ideas about gender roles.
Kiki on Viggo Mortensen: "He's surprisingly hilarious. The first time I met him, he was very reserved. It was in an elevator. I was like, 'Hi.' He was like, 'Oh, hi.' I learned later he was very shy. So I was nervous, even a little scared, to work with him. I thought, "This is going to be intense." Then I got the whole other side, which I don't think many people know. He should do comedy, I've told him that… I'm sure he wouldn't be happy with people knowing how fun he is."

Kiki on fashion: "I cared more about outfits when I was younger… the older I get, the lazier I get. Have you ever heard of Free City sweats? They're sweatpants, but very, very comfortable. I can get very comfortable." This admission prompts another: Dunst also owns a onesie. It has monkeys on it and she has worn it once, on Christmas Eve, when she was given it by her mother's friend. "I just took silly pictures in it because it looks ridiculous."

She wants to direct: "I would love it. I love getting immersed in things and being busy all the time. It's just that I'm not going to write my own script. I don't think I can, I honestly don't. It would be easier to find a book to adapt. But, I'm not interested in directing right now. Maybe in three years. Who knows? Maybe I'll have children then. I probably will – one day – want to try it," concludes Dunst, who is dating the actor Garrett Hedlund.

Being a child actress: "None of [my friends] were actors, really. I actually underplayed myself [at school] because I didn't want to be a target. The fact that I was an actress made me nervous. I never wanted to be called names or anything. I was afraid of that."

Gender roles: "I feel like the feminine has been a little undervalued. We all have to get our own jobs and make our own money, but staying at home, nurturing, being the mother, cooking – it's a valuable thing my mum created. And sometimes, you need your knight in shining armour. I'm sorry. You need a man to be a man and a woman to be a woman. That's why relationships work…"

Her BFF Molly: "We're going to live together in a house, and who gives a **** what we eat, and who cares how many cats we have? Because you know, you have your girlfriends for life."
If Kirsten had discussed gender roles with one big caveat – "this is how I feel, this is what works for me" – I think people wouldn't feel like her statement was one big WTF. For the record, for some couples, for some families, those "traditional" 1950s gender roles work. Sometimes they don't. Not every woman needs a knight in shining armor to bring home the bacon. Not every woman wants to be barefoot and pregnant in the kitchen. And it's asinine for Kiki to generalize about "that's why relationships work," as if there aren't millions of people who don't have that kind of relationship and they still manage to have functioning families and relationships.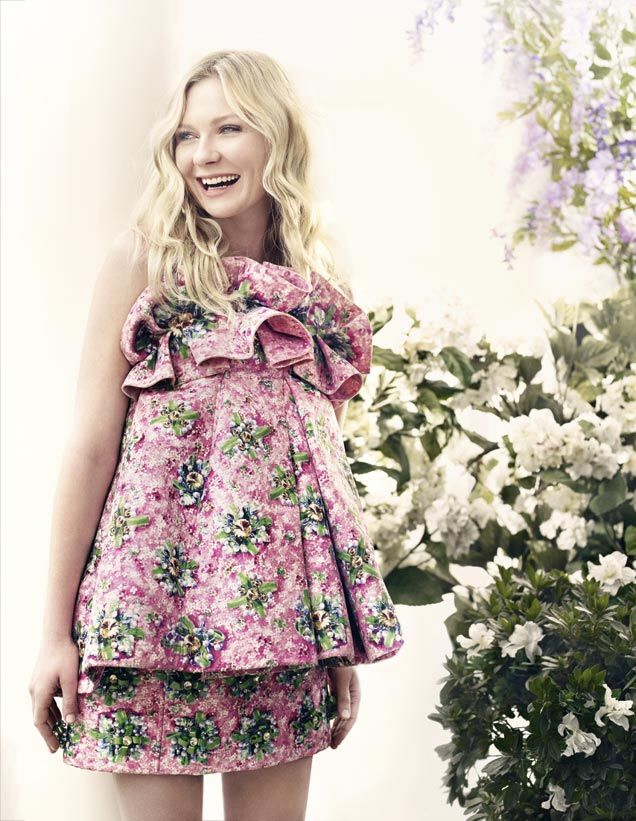 Photos courtesy of Harper's Bazaar UK.